Depending on who you are, the vast, fluorescent-bathed offices of the federal bureaucracy can serve as a symbol of government overreach, of competent management, or simply of a daily workplace grind.  But is it a world than can be mined for compelling drama? GS-14 attempts this, and meets with mixed success.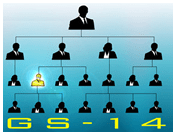 One the one hand, Jason Ford's script offers its audience a look into the follies and machinations of government employees.  For this, it generates some engaging theater.  On the other hand, it attempts to paint a heroic portrait of a maverick (hey, remember that word?) who clashes with the system, and it is in this attempt that the piece misses the mark.
The problem is that its hero Hank (Ben Fisler) strains credibility a little, and likeability a little more.  He is an IT manager overseeing the development of a new medical software program, and his uncompromising devotion to this mission drives the character like a diesel engine.  But this is only one of Hank's missions: he is also crusading to have an obviously incompetent employee fired, and crusading against the upcoming marriage of his underling Megan (played with equal verve and detachment by Sabrina Shahmir) to an undeserving loser (Sean Perry).
The play, then, chronicles Hank's struggles against bureaucracy, against incompetence, and against union headaches personified by Bonnie (Joycelene Fadlelmola), his union steward and friendly rival.  Hank also struggles against political correctness, as his newest hire Theo (a very funny Matthew Ancarrow) is on his own crusade to protest gender inequality by wearing women's clothing at all times.
Hank is made out to be a rogue hero, a Man Against the System who would be at home in an Arthur Miller play.  And the fact is, he is in the right—most of the time—but his constant moralizing and aphorism-spouting can make him pretty tiresome.  Fisler is at his best when he brings out the darker side of Hank—his failed marriage, his past drinking problem—and thereby renders his character a man rather than a mouthpiece.  Otherwise, he comes off as one of those people who are smugly confident that they're right all the time…except that in the world of this play, he is.
Though the script's credibility sags slightly on a couple of occasions, mainly in Hank's obsessive meddling in Megan's personal life, the writing itself is really quite good on the whole.  A speed-chess showdown between Hank and Theo makes a gripping setpiece, and some of Hank's sermonizing is fairly eloquent, particularly a speech in which he invokes the World War II battles of Pantelleria and Iwo Jima in a discussion of personnel management.  Ford makes up in wit much of what he lacks in nuanced character development.
You don't have to have worked in government to enjoy GS-14, though I'm sure the federal careerists are the ones laughing hardest.  As a pretty solid drama with an all-around game cast, it has a broader appeal than just to the bureaucrats that populate our fair city.
GS-14
by Jason Ford
Directed by Alex Fraser
Produced by Freedom of information Actors
Reviewed by David Winkler
Running time:  75 minutes
Read all the reviews and check out the full Capital Fringe schedule here.
Did you see the show?  What did you think?