The Gilbert and Sullivan Youth Company made another big splash this year with their ship-shape production of H.M.S. Pinafore, which was filled with wonderful performances and gorgeous singing by some of the DC area and Naples, Florida's best young actors/singers and pitter-patterers, accompanied on piano by Danielle Drobny.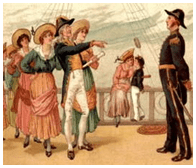 Director Pamela Leighton-Bilik was blessed with an outstanding cast of singers/actors. I especially commend her for ensuring that every W.S. Gilbert funny and punny lyric and/or phrase was clearly enunciated by all her leads and by the excellent ensemble.
Baritones Matt Satucci played and sang Sir Joseph Porter with just the right combination of haughtiness and humor, and Alexander Nicholas Bourzutschky was a commanding Captain Corcoran. Audience favorite James Beans was dastardly and out-of-sight as Dick Deadeye, and I loved hearing him hit all those bass-baritone low notes with incredible confidence.
From the moment she sang "I'm called Little Buttercup" to her plot-revealing "A many years ago", Alissa Roca captivated the audience with her gorgeous voice and her tough but charming personality as (you guessed it) the vendor Buttercup. Like Alissa, Kelsey McDonell singing the role of The Captain's daughter and Alfred Lawson, playing Ralph (pronounced "Rayf) – "the smartest lad in all the fleet", (who declares his love for Josephine), hit all the high notes their tenor and soprano roles demanded, effortlessly.
Alfred's renditions of  "The nightingale" and "A maiden fair to see" quickly introduced the audience to the beauty of his voice, and Kelsey wowed the audience with her emotional renditions of "Sorry her lot who loves too well", and "The hours creep on apace". But it was their duet "Refrain, audacious tar" that convinced me that these two young singers have the potential to have – if they choose to continue their vocal training – a successful career as professional singers.
I have seen many musical offerings in this year's Fringe Festival, but rarely have I heard such ravishing singing as I did yesterday as I listened to the talented young cast of H.M.S. Pinafore. What a joy to watch young singers having a great time on the stage. Their smiles were infectious! I am looking forward to seeing them again when they sail back into next year's Fringe.
A special kudo to Ginger Ager of Gene's Costumes, in Kensington, MD, and Tamie Gibbons, costumer from Opera Naples, in Naples, Florida for supplying the colorful costumes for this production.
H.M.S. Pinafore
Directed by Pamela Leighton-Bilik
Produced by Gilbert and Sullivan Youth Company
Reviewed by Joel Markowitz
Read all the reviews and check out the full Capital Fringe schedule here.
Did you see the show?  What did you think?