Not many who are around today ever saw the legendary Katharine Cornell on stage, for she retired in 1961. At that time, her husband Guthrie McClintock passed away, and she would not work without him, as he'd directed everything she'd done on the New York stage.  I, however, did catch her act on several occasions, in a revival of Candide which featured Marlon Brando, and in something called That Lady, in which she wore an intriguing eye patch. I saw her, too, in an all-star revival of The Three Sisters, and in Shaw's The Doctor's Dilemna. I have vivid memories of that work, and I can still hear that mellifluous voice in my inner ear.  Cornell did not move so much as float across a  stage.
But that was over 50 years ago and there won't be many who will note that Kate Burton, the star of this play, A.R. Gurney's most recent effort, hasn't really conjured up Cornell, for Burton does not have the low throaty voice or the thick luscious lips or the dark luxuriant hair, or the mystery of her model. But she has managed to create someone with all the magic, the allure, the attractiveness of the great star by bringing to her performance her own allure, her own talent, her own imagination. I never met Cornell, but I'm certain she'd have intimidated me more than does this charming Burton lady, another I've not actually met. I do know though that as the bright light at the center of  Gurney's play, The Grand Manner, she's in full command. I would call her more adorable than commanding, but adorable ain't bad.
A.R.Gurney, like his play's protagonist,  prefers to be called "Pete".  He's written this, another of his plays dealing with the influence that Buffalo, his hometown,  had on his future life. In this one, he's a young boarding school student whose grandmother has written a letter of introduction for him to the great star Katharine Cornell, for it is hoped she will agree to see him backstage after having given two  performances that day  in Antony and Cleopatra on Broadway in 1948. Though the boy is warned by her general manager (and lover) Gertrude Macy that it's unlikely to happen, when informed that he and she are both from Buffalo, Cornell comes to him fresh from her bath, with a warm greeting. During the rest of the 100 minute one-act play, set in the green room of the Martin Beck Theatre, we learn much about the inner life of a star, a woman of simple middle class Buffalo roots, who has become in the course of what will be a 45 year career onstage, the symbol of glamour, maturity,wisdom, wit, enough so to have become labeled "the first lady of the American stage". And so she remained (with an occasional conflicting mention of her colleague Helen Hayes) until she left the stage, taking, as she put it, "everything with me  including the grand piano."
It's a dilly of a play, written with the confidence that comes from an illustrious career as playwright. Gurney has always been a craft master, and he knows just how to save his surprises for their intended moments, for his plays are not known for their convoluted plots; what he does so well is gently probe and poke until by evening's end we have come to know a group of people as well as we might were we to know them for a lifetime.
Lincoln Center Theatre has given The Grand Manner a grand production in its small Mitzi Newhouse Theatre, under the baton of director Mark Lamos.    In addition to the luminous Kate Burton, newcomer Bobby Steggert (last season alone he attracted attention in Yank! and the revival of Ragtime) proved he is far more than another cute juvenile. This boy can sing, dance  and act. His performance as "Pete" is filled with nuance and surprise..  Boyd Gaines proves once again how fine an actor he is as he tackles "Guthrie McClintock" with a vengeance, managing to reveal his eccentricity, his intelligence, his barely closeted homosexuality, his genuine platonic love for his wife, the great star Cornell. In other excellent support. Brenda Wehle has caught the masculine side of "Gertrude Macy", who looked after her mistress like a wired mother hen. The view of the odd ménage (Macy, McClintock, Cornell) is a rich one, good material for a fine playwright, and Pete Gurney has mined it well.
Gurney is prolific (over twenty plays, three novels, a number of television scripts, several unproduced film scripts, and the librettos of two operas.), but he does not seem to tire. He is not repeating himself – though he limits himself to the WASP world which he knows so well, and he continues to plumb it and come up with variations on its many themes. In this he resembles Neil Simon, who has been most successful when dealing with his own world of middle class Jewish New York, Brooklyn and Hollywood life, and Alan Ayckbourn of England whose equally enormous output has been mostly devoted to the middle classes of his country, with all their surface characteristics and, more interestingly, their subtextually messy lives which are often hilarious to the outsider. All of them should have everything put into time capsules, for they've captured their times and places, and we've all been the richer for it.
————-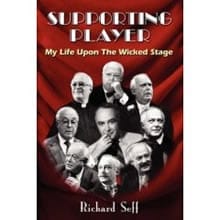 Richard Seff is author of Supporting Player: My Life Upon the Wicked Stage celebrating his lifetime on stage and behind the scenes, available through online booksellers, including Amazon.com.
Richard Seff chats with Joel Markowitz: