Kennedy Center audiences love Gavin Lee's heart-warming, lovable performance as Bert, the chimney sweep in the national tour of Mary Poppins. Gavin originated the role in London, performed it on Broadway, and has been playing Bert all around the country on this tour.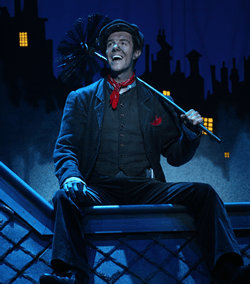 Gavin charmed the soot off of me when we chatted in this telephone interview on the morning of August 6th. For over forty minutes, we schmoozed about his career, his professional training, working with several different Marys, and his amazing dance across the proscenium arch in "Step In Time".
Joel: Thanks for sharing this time with me. How are you doing?
Gavin: Fantastic! This is my final venue on the tour. I'm leaving the tour soon, and heading back to the Broadway show [he opens August 24th]. It's been an amazing year and a half. Every city in this country is different from the city right before.
Joel: How are the audiences different?
Gavin: Without being rude – some are more sophisticated, so they are laughing and applauding at different moments. Some are laughing more at the slapstick stuff. It's amazing how different cities have such different audiences.
Joel: How are you enjoying performing in The Kennedy Center Opera House?
Gavin: I was lucky enough to come to the Kennedy Center in November to do a promotion for the show – a quick 20 minutes with Ashley Brown who was playing Mary at the time – and that was the first time I had seen the Kennedy Center – and we walked into the Hall of States and Nations – and it's such a cool place to work at.  It reminds me of the Royal National Theatre in London. It's an honor to work here. You walk around here and you see posters of past shows, and operas and musical theatre, and stars that have performed there and you get chills that you are on the same stage as them.
Joel: I still get chills when I see the poster of Colm Wilkinson who played Jean Valjean in Les Miserables, which played at the Kennedy Center before it moved to Broadway.
Gavin: Oh my God! I didn't know it started here! We were in a couple of cities that didn't sell well, and it's nice to be here where the show is doing well, and the audiences have been fantastic. And as an actor, that's all that you want.
Joel: What are some of the challenges or adjustments you have had to make while performing Bert in the Opera House?
Gavin: We are very lucky with the show. We tour with our floor also, which means we put our floor onto the Kennedy Center Stage, and they put our wings up, which means that when we stand on the stage – everything about the show is exactly the same way. It's only the minute that you walk off the stage that suddenly you are in a different place. We are very fortunate at the Kennedy Center because we have so much room. The backstage at The Kennedy Center is ridiculous! We could do the show three times over with the amount of space we have, compared to some of the cities we have been to. So, there is no actual adjustment that has to be made for the actual show. It's just how far your dressing room is.
Joel: And where is your dressing room here?
Gavin: A couple of floors down, which is a pain when you are running down for quick changes. But my fabulous dresser Martha always has the elevator waiting for me, and I'm back in my dressing room before you know it.
Joel: You have played the role of Bert for 6 years. What is it about this character that makes you keep playing him?
Gavin: It's the best role so far that I have managed to get, (and yes – it has been created on film before) and it's great to be able to create a new role on the stage. It's something I always wanted to do. Disney has been kind enough to give me – every few years – an option to take it somewhere else, to do it with a new cast. A year and a half in London, two years on Broadway, and a year and a half on tour has kept it fresh. It keeps me fit and it's so difficult. It's like an aerobics lesson every night. The role is just fantastic! I get to show off everything I can do in a performance. Who knows how long I'll be doing this great role.
The reason I am leaving the tour soon is because my wife Emily Harvey and I have been on the tour for a year and a half – and she is having a baby.
Joel: Congratulations!
Gavin: Well, thank you! We needed to be plopped down in one place for a while to start a new family. Luckily, the part came up again on Broadway and I can go straight back into the role on Broadway. I am very grateful that they are allowing me to do that. Who knows – after my wife has the baby, you might see us back out on the tour! Emily was in the DC cast for two weeks and then she had to leave because the costumes just couldn't fit anymore.
Joel: Why is Bert the perfect role for you?
Gavin: I was lucky. When I walked into my first audition the cockney accent came very naturally. I'm tall and lanky like Dick Van Dyke was in the film. When I walked into the room – I was in the right category – if you know what I mean! Everything about Bert I liked, and the best thing about the show is that there is not one scene or one note in a song that I dread every night. Normally in a show there is something that you don't like in a scene or this line has too much of a laugh, etc.
I've got to watch what I eat. On a day when I've eaten too much pasta – I can't be jumping around with a full stomach.
Like every job there are times when you just don't want to show up. But by the end of the show when the audience is always standing up giving us a standing ovation, then it makes it all worthwhile – and you thank your lucky stars that you have such a great job.
Joel: Do you ever get tired playing this role?
Gavin: Yeah, I do. We have a very brutal schedule and Tuesday through Friday we have one show and then Saturday and Sunday we have two shows each day. It really takes it out of you. As I said before – it's a very physical role, and by the time I get to Sunday night after the final performance of the week, I am totally exhausted. I don't feel like talking to anyone or making conversation backstage, I am just grateful that I have a day off the next day.
Joel: So thank God for Mondays
Gavin: Yes! Mondays are a blessed day!
Joel: Have you ever met Dick Van Dyke who played the role of Bert in the 1964 film?
Gavin: Yes! It took five years. Last November through February we did three months in Los Angeles, and finally he came. I was always told that Dick Van Dyke wouldn't come because he didn't like to fly, and he doesn't travel much and stays in the LA area, so when we got to LA, we invited him in hopes that he would come and he did. They arranged a lunch for me and him at the Walt Disney Studios, where they actually filmed Mary Poppins, and we sat and chatted for an hour and they did a quick TV thing there, and he came to opening night and then came on the stage at the end, and late in the LA run he had a cameo role – in the late bank scene where he played the Old Banker – a role that he played in the film – so it has just been amazing!
Six weeks ago I saw him again where we did a gig at The Ford's Theatre for the President just before the show arrived here. A few of us did "Supercal…" and my wife was doing a song in a quartet. I am proud to say that I can call him a pal now.
Joel: That's terrific!
Gavin: It's amazing! Of course it was nerve-wracking having him in the audience.
Joel: What scene in the show that you are not in – is your favorite?
Gavin: After six years [with the show], I am usually not sitting in the wings watching the show.  I walk off the stage, I walk into my dressing room and I watch TV, and I "zone out" – not totally. I do listen to the speaker so I know when my next cue is. To answer your question – I always think that the second scene Mary is in – when she arrives and takes the kids upstairs – and that new song "Practically Perfect" which was written for the stage show (and everyone insists is in the movie and it's not!) is a fantastic song. It just explains her 'To a T'. And it's at the magical moment when she is pulling everything out of her carpet bag, which everyone in the audience wants to see. I just think it's a great song and a great set-up from this weird out-of-this-world character. You don't know where she's from and what she's about. The song sets it all up and you know where you are going from there.
Joel: You've appeared with Ashley Brown and Laura Michelle Kelly and others in the role of Mary Poppins, and here you're appearing with Caroline Sheen. How is Caroline's take on Mary unique?
Gavin: I have had four Mary Poppins and another ten to twelve understudies. I just finished working with Ashley Brown for three years on Broadway and on the tour. It's very hard to lose your partner in crime after three years. Ashley and I are best friends, and I didn't know what was going to happen when Caroline came in for Ashley on the tour in February. It's hard for someone new to come in and try to develop a rapport with the existing cast. So it amazed me how much Caroline made it so much more English than I have ever seen it played before. And that is not taking away from Ashley being American and playing an English woman. She played it fantastically.
I was so used to Ashley, but when someone new came in – well it's just different inflections, and it's different the way Americans and English talk. Caroline would say lines and I would say, "Why yes, that's how you would say it if you were a proper English lady!" She brings such an "English-ness" to it. It's really refreshing. I actually got a chance to see the show when I was injured, and Caroline has this aura about her and she's sensual and fabulous. She can just stand there and you still focus on her. It's a great thing for an actress to have. I am really going to miss her!
(As of the time of this interview) I have twelve more performances with Caroline and then I return to Broadway with Laura Michelle Kelly who originated the role in London. I am only here at the Kennedy Center until the last week of the run, when my understudy  Laird Mackintosh will replace me and then Nicolas Dromard, who has done five weeks on Broadway as Bert, will be replacing me for the rest of the tour, beginning in Charlotte.
Joel: It's like making a full circle and returning to the beginning.
Gavin: Yes. It's been five years since I've performed with Laura in the show in London, and it's great that we now get to perform the role back on Broadway.
Joel: There are a lot of special effects in the show. What was the weirdest thing that has happened with a special effect –while you have been in the show-where you said, "Holy Shit! What's going on here?"
Gavin: The two I can think of both happened in London and they are associated with my fabulous trick of walking around the proscenium arch – which I get to do in the show  in "Step In Time". Randomly, it's on YouTube. Someone in the audience that night just happened to be videotaping it, which is very cool to have it to remember and see. I walked up the wall and then to the center of the stage, tapping away upside down and singing my lines, and then the computer crashed. I didn't panic. It didn't mean I came crashing down on the floor. It just meant the computer just stopped and jammed. Instead of walking to the other side of the proscenium arch I'm walking down, the wires just let me down in the middle of the stage. So where I stop normally in the middle of the stage, I just stopped coming down. My feet left the ceiling, so I just decided to spin around. I'm spinning and slowly descending to the ground. By luck, as I am spinning, my head just misses hitting the floor and my feet land on the floor and I finished my number. [You can watch the YouTube video here .]
When I got to Broadway and the whole cast watched me perform the dance, they said, "You've changed it. Why have you changed it by walking to the other side?" I didn't know what they were talking about, and said, "We all watched it on YouTube, and you changed it!" I said, "Oh my God! At that point I didn't know it had been recorded and had been captured.
Also at another performance I heard from the wings that I had to unclip myself from the harness because it just wasn't going to work that night. I had unclipped one of the wires on my hip, and all of a sudden the wires started pulling me up, and I only had one wire which is yanking me from one hip. I felt like a spider hanging on to the wall. I was screaming into the walls, "Stop! Stop!" and other profanities, and I was left hanging there attached to the wall, basically for another minute before they could let me out. It was embarrassing because about 1,600 people were staring at me.
Joel: And that only happened in London?
Gavin: Yes. It says something about American technology and American safety. Nothing on Broadway ever went wrong because there are so many safety rules, and I always feel safe in the US walking and dancing around my proscenium arch. Thank God for that!
Before my Mum saw the show – I never told her about the trick. And when she finally saw the show she said, "I was so scared I had to cover my eyes!" She asked me, "How did you get down?" And I said, "What do you mean how did I get down? I walked down". And she said, "Well, I didn't see any of that!" She has seen it plenty of times now and I think she can watch it finally. After over 2,000 performances – I feel quite safe.
Joel: When did you first get the theatre bug?
Gavin: I have a sister who is older than me who used to go to ballet classes. My other brother would ask her, "What did you do today in class?" And she'd tell him about jazz dancing and such, and would do all her routines for him, and I would prance right behind her. I wanted to learn what she had just done in her class, and eventually my Mom said that there were some boys in the class at my age – and this is 1980 – and the first class I took was for disco dancing. I think I wanted to be John Travolta when I was about 10!
And it all progressed from there and my sister and Mum and Dad were all involved in community theatre, which I did all through school, and then I went off to college when I was 16 and trained professionally. At 18, I got my first job. I didn't do any professional theatre as a kid. I just loved it. I did everything: every single production in high school. I knew when I was about 12 that this is what I wanted to do.
Joel: You also choreographed shows in London.
Gavin: Yes. When I started performing in the show six years ago, I choreographed a piece for one of the colleges for one of their end-of-the-year shows. It was just too much – choreographing during the day and performing the show at night.  I've tried to put a lid on it but it's something I really miss. I'm hoping when I get back to New York that I can choreograph some benefits, etc., and get back into choreography – because it's something I really, really love doing.
The creative team was very generous in allowing me to have input in Bert's choreography. It's exciting to know that in ten years' time – when I have finally left the show – that the steps that Bert is doing – well, I kind of had a hand in them.
Joel: You have been in DC for a while, so what is your favorite spot?
Gavin: I have been back to The Mall a few times, and all the monuments are fantastic.
We have never had this much culture on our tour before. It's so amazing that it's free to go into these museums. We've been to some towns where you are lucky if you have one museum to go to, so this is just a big treat. We are living up in Dupont Circle and we just lucked out with our hotel being here. Just last night five or six of us after the show had a bite to eat and we went to one of the small cafes that are opened late and we had a lovely meal – chilled out and had a beer, and chatted about the show. It's just a cool city to live in. We are loving it here, and all the people continuing on the tour will really miss it.
Joel: If someone offered to write a role for you – what would it be?
Gavin: There is a show that I would love to play the lead in and it's been already been written – the musical version of the movie Big.
Joel: I saw the musical when it opened in NYC in the Spring of 1996, and it had a great score by Maltby and Shire, who wrote Closer Than Ever and Baby, two shows I really love. It lasted not quite 6 months.
Gavin: I sing some of the songs from the show in a cabaret I perform, and at auditions. I love that film and now that I am 38, it would be amazing to wake up at 38 and be in the body of a 12 year old. If anyone has the money, I would love to play that role!
Joel: What advice would you give young students who are considering making theatre their career?
Gavin: It's all about experience. So before you go off to college, get as much experience as you can with community theatre, high school productions, the high school choir, band practice, and cheerleading. Just do everything you can with performing. The more experience you have – the better you are going to be when you walk into an audition. If you don't get the lead part and you say, "I don't want to be in the chorus!", or do a community theatre production – you should just do it, because it leads to such great experience.
Joel: Why should DC audiences fly over to the Kennedy Center's Opera House and buy tickets to Mary Poppins?
Gavin: There are two reasons you should see it. (1) You are seeing 99% of the Broadway production. When a Broadway production has to go on the road, the Broadway sets and costumes have to be scaled down because they have to be packed into a truck. In this production it is not the case. Here, you still get Mary flying out over the audience. You still get me flying upside down. You are seeing the original production.
Secondly, if you are a dad, you are probably being dragged to the theatre to see the show by your kids and/or by your wife. By the time you leave, I hope you say, "You know, I really enjoyed that. It wasn't what I expected. I was able to connect with either Bert or George Banks or someone in the show. Dads, especially in this economy, can relate to George. He has lost his job, can't control his kids, and can't connect with his wife. It's all things that 2010 dads are going through. I hope they will be entertained and say, "This wasn't just a Disney kids' show".
Mary Poppins plays through August 22nd at The Kennedy Center's Opera House, in Washington, DC. For tickets, click here.
Mary Poppins composer George Stiles introduces Gavin Lee and the Broadway cast as they perform "Step In Time".