Musicals are my life and I saw a lot of them on DC-area stages in the past year – in professional theatres, community theatres, family theatres, children's theatres, high schools, and programs that train young actors. For this article, I only selected from local productions – not touring shows, or the many musicals I saw in Philadelphia and New York City. As you can imagine, it was a very difficult task to sit here and try to whittle over 100 musicals down to 11 that I thought were the "Crème de la Crème". You'll have your chance to list your favorite musicals in the comment section below the article. So let's count down from #11 to my #1 "Best Musical Production of the Year". Then check out my favorite musical performances of 2009-2010, and my Musical Performer of the Year.
Favorite Musicals
(11) [title of show] at Signature Theatre.
I loved the "musical about trying to write a musical" in NYC – on and Off-Broadway, and equally loved Signature Theatre's very funny production. It made me smile and laugh for 90 minutes because of its endearing cast of local stars: James Gardiner, Sam Ludwig, Erin Driscoll and Jenna Sokolowski, and Gabrielle Mangiante at the piano. It was one great joke, laugh, song and/or vocal performance after another. Congrats to Matthew Gardiner for his direction and fun choreography.
My favorites? James pulling out the Glory Days Playbill during the song "Monkeys and Playbills", Sam and James' "Two Nobodies in New York", "and "Part of It All", Jenna and Erin's "What Kind of Girl Is She?" and the insane "Die, Vampire, Die". It was a musical theatre lover's heaven!
(10) The Dancing Princesses at Imagination Stage.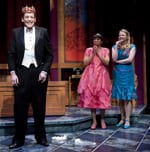 We are so fortunate to have fantastic children's theatre in the DC area and some of the most wonderful shows that you can take the entire family – of all ages – to are being produced at Adventure Theatre, Synetic Family Theater and Imagination Stage. These production have casts comprised of our best local talent, so I urge parents and grandparents to take their kids and grandkids to more family productions.
I am a big fan of Christopher Youstra, Peggy Yates, Jessica Lauren Ball, and Ayanna Hardy, and when I found out that they were involved in The Dancing Princesses. What I was surprised to learn was that the show dealt with a topic I have never seen portrayed as a main theme in a children's or family production – the death of a parent. In this case, it was the death of Queen Alice played by Peggy, the uncontrollable grief and depression suffered by King Horace (Bobby) and the effect of his edict to ban all dancing (which he and his wife loved to do when she was alive) on his kingdom and his two children – the Princesses Lena and Lara, played by Ayanna and Jessica. It was a brave production which put me through an emotional wringer.
Because book writer Allyson Currin moved the show to the 20's, Chris Youstra was able to write some "jazzy" and energy-filled, toe-tapping songs for the shows, as well as some wonderful ballads.
My favorites? "Believe (Dance with Me)" with Ayanna trying to convince her sister (Jessica) to dance again, as her mother would have wanted to them to do, the toe-tapping "Holes in Their Soles" and the lovely "Dancing". I loved the score so much I rushed to the gift shop and snagged a copy.
(9) Curtains at Reston Community Players.
It swept the WATCH Awards this year where it won 12 awards, including Outstanding Musical, choreography (Andrea Heininge), direction (Andrew JM Regiec), featured actress (Katie McManus as Georgia Hendricks), lead actor in a Musical (Blakeman Brophy as Lt. Frank Cioffi), and music direction (Mark Deal).
The RCP production of Curtains had it all: a great cast, a wonderful orchestra and most important, everyone was having a great time and their joy was infectious. (More about the great Blakeman Brophy below). Kudos to the extraordinarily hard-working cast: Blakeman Brophy (Cioffi), Jolene Vettese (Nikki), Sue Pinkman (Carmen), Katie McManus (Georgia), Joshua Redford, Tom Flatt (Belling), Sasha Welch (Bambi), Sam Nystrom, (Bobby), Jay Tilley (Oscar), Joe Richardson (Sidney), Brian Farrell (Grady), and Kate Kiefer (Jessica). It was an evening of wonderful Kander and Ebb songs performed by a great cast and accompanied by a fantastic group of musicians under the direction of Mark V. Deal. Congrats to all the designers and to the entire talented cast who made Curtains such a fun night in the theatre.
My favorites? Listening to the bouncy overture played by that wonderful orchestra, Sue leading the cast in "It's a Business" and "Show People", Katie, Josh, and Sam singing "Thinking of Him", and Blake singing "Coffee Shop Nights".
(8) High Fidelity at Landless Theatre Company.
They are becoming the "musical surgeons" of the DC area, and it was no surprise that Director Julie Herber (who also choreographed the show) "resuscitated" the short-lived Broadway musical High Fidelity, which has a score by Tom Kitt (Tony Award and Pulitzer Prize-winning composer of Next to Normal), lyrics by Amanda Green, and a book by David Lindsay-Abaire. It didn't hurt that Julie had a superb cast: Helen Hayes Award-winning actor Stephen Gregory Smith (Rob) and my Musical Performer of the 2008-2009 season Karissa Swanigan as Laura. The strong chemistry between them and their wonderful singing heated up the small District of Columbia Arts Center's (DCAC) space, which was turned into a record store. Kudos to Charles Johnson's "hot" teeny-tiny band. Karissa and Stephen were joined by many of our most talented local young actors and singers: Stefanie Garcia (Marie LaSalle), Josh Speerstra (Dick), Momo Nakamura (Charlie), Anya Nebel (Liz), Esther Covington (Jackie), Mickey DaGuiso (Mohawk Kid), Genevieve James (Anna), Juan Carlos Sanchez (TMPMITW/Boss) and Tom Mallan (Ian).
My favorites? Karissa Swanigan as Laura, singing, "I Slept with Someone Who Handled Kurt Cobain's Intervention", and Stephen Gregory Smith as Rob, singing, "I Slept with Someone Who Slept with Lyle Lovett". Karissa and Stephen talk about these songs here.
(7) Company at The Little Theatre of Alexandria.
It has one of my favorite Sondheim scores, so I was so happy that Director Joanna Henry cast terrific singers to do it justice. Here was the incredible cast of Company: Patrick McMahan (Robert), Dana Joel Gattuso (Sarah), Jean Koppen (Jenny), Sara Jane Lilley (Amy), Mark Gray-Mendes (Paul), Christina Matula (Kathy), Maureen Reed (April), Nathan Tatro (David), Jennifer Lyons Pagnard (Susan), Lars Klores (Peter), Arnold Pascucci (Harry), Corinne Baker (Marta), Ronnie Hardcastle/Jerry Hoffman (Larry), and Karen Jadlos Shotts (Joanne). Patrick McMahan brought more humanity to the role of Robert than I have ever seen in this role, and his "Being Alive" and "Marry Me A Little" were beautifully and powerfully sung. A special nod to Musical Director and Conductor Christopher A. Tomasino and his fabulous group of musicians. They would have made Sondheim proud!
My favorites? Maureen and Patrick singing the funny "Barcelona", Corrine Baker's powerful rendition of "Another Hundred People", and Patrick singing, "Being Alive."
(6) Duke Ellington's Sophisticated Ladies from Arena Stage at the Lincoln Theatre.
When the first stunning projection of the Lincoln Theatre neighborhood filled up the historic Lincoln stage, I knew we were about to see a production that was hot, gorgeous, scintillating, brilliant, and enjoyable. Arena Stage extended Sophisticated Ladies over and over again because local theatergoers fell in love with it. I know many people who saw it two or three times because it was hard to take in all the remarkable, jaw-dropping Maurice Hines choreography – tapping and dancing – and that Duke Ellington "sound" in one sitting. Others said they needed to return to see "how they did that". And when the Manzari Brothers were on the stage tapping away – well – it was magic! Watching one eye-popping colorful Reggie Ray costume after another pass by was a treat in itself. It was more than a dance show because there were wonderful vocals by cast members Marva Hicks, Wynnona Smith, Janine DiVita, Karla Mosely, and Tony Mansker. And of course the legendary Maurice Hines got a chance to strut his stuff and audiences went wild. It was so great to show young theatergoers what the "Good Ol' Days" were like when The Duke was in his prime.
My favorites? John and Leo Manzari stealing the show tapping to "Koko", "Don't Get Around Much Anymore" where eight dancers with large suitcases – tapped their hearts out while dizzying map projections and computer animations played behind them, and vocalist Karla Mosley spine-tingling version of "Mood Indigo".
Watch highlights from the show here.
Read an interview with Director Charles Randolph-Wright here.
(5) Rent at Keegan Theatre.
Who knew that a theatre known for producing Irish classics would mount the best production of Rent I have ever seen on our local stages? After attending the first two auditions of over a hundred local singers/actors, and after seeing the cast list Directors Mark A. Rhea and Susan Rhea selected – I knew local theatergoers were in for a real treat! And so did Helen Hayes Awards judges when they awarded them The Canadian Embassy Award for Outstanding Ensemble, Resident Musical. This amazing ensemble was filled with so many of our best local singers and actors: MaryLee Adams, Shayna Blass, Mickey DaGuiso he's playing Angel in Elden Street Players' Rent), Julia Fanning, Nick Lehan, Ensemble, Christopher Mueller, Carolyn Myers, Christina Sanchez, and Dan Van Why.
And that leads us to the amazing Emily Levey as Mimi, John Loughney as Mark, Juan Carlos Sanchez as Roger, Katie McManus and Weslie Woodley as the feisty Joanne and Maureen, Michael Robinson as Tom Collins, Edward Daniels as Benny, and Parker Drown who received the Helen Hayes Award for Outstanding Lead Actor, Resident Musical for his heart-warming and breaking performance as Angel. This was a cast made in Rent utopia. What I loved the most was how Mark and Susan utilized every inch of the small Church Street Theater stage to wring every emotion possible. And special kudos to Musical Director's Aaron Broderick's incredible band, and to all the designers involved in this production.
My favorites? Parker's "Today 4 U", Katie and Weslie's super-scorching "Take Me or Leave Me", and that award-winning ensemble's gorgeous harmonies in "Seasons of Love".
Creating Rent: Seasons of Auditions: The directors, designers, and musical director of Keegan Theatre's production of Rent give us an inside look here.
The leads of Rent talk about their roles and auditions here.
Parker Drown talks about "Today 4 U" here, and working with Michael Robinson who plays Tom Collins here.
(4) Hairspray at Toby's – The Dinner Theatre of Columbia.
I saw Hairspray four times when the musical opened on Broadway in 2002, and I was pretty leery about seeing anyone else put on this show that I love so much. I am glad to report that Toby Orenstein's production of Hairspray was a blast, and most of the credit goes to the incredible cast and to Director Orenstein who brought a new look to the musical in her "in-the-round" space in her Columbia venue. This was Hairspray in your face, and it was one heck of a funny production.
Celia Blitzer was the "Energizer Eveready Bunny" Tracy Turnblad who shimmied her way onto the Corny Collins Show's dance floor. Larry Munsey was a lovable Edna and sang the role beautifully, while David James was adorable as her husband Wilbur. David Jennings was a handsome and sexy Link. The multi-talented Mr. Munsey also designed the eye-popping colorful costumes. MaryLee Adams, (who was a member of this year's Helen Hayes Award-winning Ensemble of Rent at Keegan Theatre) was drop-dead hysterical as Penny Pingleton. Debra Buonaccorsi was "nuts" as Penny's eccentrically racist mother. Frank Anthony was endearing as Penny's love interest Seaweed. Heather Marie Beck was perfectly bitchy as Velma Von Tussle, and Jamie Eaker was equally bitchy as her daughter Amber. Melissa Victor was an animated Little Inez and danced beautifully.
Marc Shaiman and Scott Wittman's toe-tapping score and funny lyrics were sung with great conviction by this talented cast, especially by Jesaira Glover who played Motormouth Maybelle, and her powerful vocals on "I Know Where I've Been" were astounding. Special kudos to the great ensemble of dancers that performed ark Minnick's high-energy choreography with such gusto, and to Musical Director Brant Challacombe and talented group of musicians.
My favorites? Jesaira's powerful vocals on "I Know Where I've Been", David James and Larry's funny and sweet "(You're) Timeless to Me", Heather Marie Beck's funny "(The Legend of) Miss Baltimore Crabs", and Celia Blitzer love-struck "I Can Hear The Bells".
Read "The Ladies of Toby's Hairspray: Chats with Celia Blitzer, MaryLee Adams, and Jesaira Glover" here.
(3) Violet at Teatro 101.
I would travel anywhere to see a great production of Violet, and I only had to travel an hour to Baltimore to see Teatro 101's fabulous production of Jeanine Tesori (music) sand Brian Crawley's (lyrics) musical. It was ten years earlier when I took my social group The Ushers to see another production of Violet in what was then called The Atlas Theatre – the same small and "in-your-face" intimate space. It was déjà vu!
Violet takes place during the early 1960's days of the Civil Rights Movement. Violet was accidentally scarred by her father (don't ax me how) and she embarks on a bus journey to find a minister who she believes will heal her. On this trip she falls in love with a black man, and learns the true meaning of love, and courage, and inner beauty.
Director Ryan Michael Haase, who designed the simple and effective set, had some of Baltimore-area's most talented actors/singers in his cast. Katie O. Solomon, played Violet and Jayne Harris played Young Violet with beaucoup assertiveness, and both possessed beautifully trained voices. Troy Hopper was the perfect Flick – handsome, compassionate, frustrated – and he sang the hell out of his songs, and Steve Bainbridge "became" the arrogant, over-powering Monty. Angelo Arrington's Preacher was stirring and, and John Hurley played the guilt-ridden Father with dignity.
The talented ensemble – Vanessa Buenger, Morgan Fannon, Crystal Freeman, Rebecca Garrahy, David Gregory, Kim Kernan, Amanda Rife, Paul Wissman, Todd Zachwieja, and Kristen Zwobot filled the small Teatro 101 space with divine harmonies. Musical Director Cedric Lyles and his small group of musicians played the Jeanine Tesori's wonderful country, rock, gospel, rhythm, and blues-filled score so well, and never drowned out the performers. It was a powerful, moving, tearful journey for me and my partner Alex. We look forward to making another trip in the next 10 days to Teatro 101 to see their production of another one of my favorite musicals – Side Show.
My favorites? Katie singing, "Lay Down Your Head" and Katie and Troy singing, "Promise Me Violet".
Troy and Katie talk about "Promise Me Violet" here.
(2) Adding Machine: A Musical at Studio Theatre.
I had seen the show at The Minetta Lane Theatre in NYC in 2007, and loved it, so I was looking forward to seeing how director and co-librettist Jason Loewith would capture and improve on some of the creepiness and power that I saw and felt in NYC. I was recovering from back surgery when the show opened, and I was motivated to get out of my condo and see it, so I took my "tush cush" with me and not only was I blown away by it's wonderful cast, I loved it so much that I returned two more times in the next two weeks to see it again.
Why did I love it so much? First, the small Secondstage space added to the power of the production. Second, the cast was brilliant: David Benoit and Joanne Schmoll were the perfect couple from hell – Mr. and Mrs. Zero. Kristen Jeppeson was the perfect naive Daisy, and the ensemble consisted of excellent actors and singers – Joe Peck, Katie Nigsch, Thomas Adrian Simpson and Channez McQuay. Stephen Gregory Smith was hilarious and loony as Shrdlu, who knifed his dear ol' Mama, and who shared death row with Mr. Zero. Special kudos to Musical Director Christopher Youstra and his talented group of musicians: conductor/keyboardist Alex Tang and Mary Sugar, and Mark Carson – percussionist, and to set designer Debra Booth and lighting designer Michael Lincoln. I'll never forget how they turned the small Secondstage space into heaven. Congrats to Director Jason Loewith, whose magical touches brought DC audiences to their feet! This production was divine.
Favorites? Joanne singing "Something To Be Proud Of" and watching David's face turn red in the corner of the stage, Stephen's insane "The Gospel According to Shrdlu", David's seething "Zero's Confession", and Kristen's sweet and unrealistic "I'd Rather Watch You".
Director and co-librettist could Jason Loewith and actors David Benoit and Stephen Gregory Smith, share their thoughts about directing, and starring as Mr. Zero and Shrdlu here.
(1) A Man of No Importance at Keegan Theatre.
Why was this my favorite musical of the year? It was the musical that left me emotionally drained and elated at the same time. When I left Church Street Theater, I was wiping away tears, for I had witnessed a performance by Buzz Mauro as Alfie Byrne which was so layered and touching and sung so beautifully. It's my favorite musical performance of the year and I hope that The Helen Hayes Awards judges won't forget it when the nominations come out next March.
I saw A Man of No Importance when it opened at Lincoln Center for a short run in September 2002. I am a big fan of composer Stephen Flaherty and lyricist Lynn Ahrens and book-writer Terrence McNally, the same team that wrote my favorite musical – Ragtime. But there is something about a show about a gay man trying to accept himself in a religious family, and whose life revolves around theatre that really hits home. Alfie runs a Church amateur theatre group – The St. Imelda's Players – filled with loving but very untalented wannabe actors, but his love for theatre sustains his not-so-happy life. The score has so many beautiful songs that touch the heart and songs that are funny and moving, and they are all very melodic. The book is beautifully written, filled with wonderful characters and quotes from Oscar Wilde's plays.
In the intimate space of Church Street Theatre, Co-Directors Mark Rhea and Christina Coakley, Musical Director Aaron Broderick, Conductor/Keyboardist Jonathan Tuzman, and his wonderful orchestra: Steve Haaser (flutes), Jaime Ibacache (guitar/banjo), Annelisa Guries (violin) and Annastasia Psitos (cello) filled the small theatre with the lovely score.
And what a cast: Buzz Mauro as the gentle Alfie Byrne, Kristen Jepperson as Alfie's ever-suffering sister Lily Byrne, John Robert Keena as the hunky Robbie, Harv Lester as the beef-pounding butcher Carney and doubling as Oscar Wilde, Tim Lynch as Baldy, who misses his late wife's cuddles, and Madeline Botteri, as Adele – the star of Oscar Wilde's Salome, the play that gets Alfie in a lot of trouble from his church elders.
Rounding out the exceptional cast were: Jane Petkofsky (Mrs. Grace), Deb Gottesman, who shows off her dancing skills as Mrs. Curtin, Joshua Dick (Ernie Lally), Kaitlin Hitchings (Miss Crowe), Katie McManus (Mrs. Patrick), Michael Toth (Ernie), The funny The St. Imelda's Players – Kaitlin Hitchings (Miss Crowe), Katie McManus (Mrs. Patrick), Madeline Botteri (Adele), Michael Toth (Ernie), Brian Cali (Rasher Flynn), Gannon O'Brien (Breton Beret), Charlie Retzlaff (Sully O'Hara), and Chris Gillespie (Father Kenny). Kudos to Lighting Designer Michael Innocenti, Costume Designer Kelly Peacock, Set Designer George Lucas, and Choreographer Kurt Boehm for their fine work.
Congratulations to Keegan Theatre for producing two exceptional musicals this year.
————
Favorite Musical Performances (In Alphabetical Order)

MaryLee Adams as Penny Pingleton in Hairspray at Toby's – The Dinner Theatre of Columbia.
As the gum-chewing, chocolate-loving, dim-witted but lovable Penny Pingleton, MaryLee Adams gave the funniest musical performance of the year. She had me in stitches! What a great year she had being a member of the Helen Hayes Award-winning ensemble from Keegan Theatre's Rent. And now, she can be seen as Sister Leo in Nunsense at Toby's – The Dinner Theatre of Columbia.
Celia Blitzer as Tracy Turnblad in Hairspray at Toby's – The Dinner Theatre of Columbia.
From "Good Morning Baltimore" to "You Can't Stop The Beat", Celia Blitzer stole the hearts of the audience as the zaftig, high-energy dancing queen of the Corny Collins Show – Tracy Turblad. Celia danced and sang her heart out, and had the audience rooting for her all night to finally get her Link.
David Benoit as Mr. Zero in Adding Machine: A Musical at Studio Theatre.
This Mr. Zero deserved a 10 for his anger-filled (and who could blame him) calculating performance of an accountant who gets laid off on his 25th job anniversary, who takes things into his own hands. His rendition of "Zero's Confession" is one of the most powerful performances I have ever seen on the stage. It was chilling and scary, and I will never forget it.
Ellie Borzilleri as Mrs. Lovett in Sweeney Todd at Act Two Performing Arts.
I will make a prediction: Ellie Borzilleri will be a big star on the professional stage. I have been watching Ellie perform in shows at Act Two for years, and her performance as the pie-baking Nellie Lovett was fantastic and very off-the-wall. Her rendition of "The Worst Pies in London" was a wonder to behold. She raced through the original Broadway (Angela Lansbury) rendition at lightning speed, with every brilliant Sondheim lyric clearly enunciated. Her "By The Sea" was hysterical. Ellie begins studying musical theatre at Catholic University next month. It's a horrible shame that Jane Pesci-Townsend won't have a chance to train this amazing talent. Good luck Ellie! CU is very lucky to have you as one of their students.
Blakeman Brophy as Lieutenant Frank Cioffi in Curtains at Reston Community Players.
He has played so many nasty guys on the stage, that it was such a pleasure watching Blakeman play a nice guy in Curtains. His role of Lieutenant Frank Cioffi gave him a chance to show off his exceptional comedic, vocal, and dancing skills. Blake's Cioffi was funny and smart and charming, just like Blakeman. He was awarded a well-deserved WATCH Award this year for this delightful performance.
Blakeman talks about playing Lieutenant Frank Cioffi, and the songs "Coffee Shop Nights" and "Tough Act to Follow" here.
Parker Drown as Angel in Rent at Keegan Theatre.
When Parker's name was called as the recipient of this year's Helen Hayes Award for his performance as Angel, people in the audience went crazy, including me. Why? I fell in love with him from the first moment he walked onto the Church Street Theater stage. When he sang "Today 4 U" he had me in the right pocket of his Santa Claus outfit. When he died, audience members cried loudly. One of them was me. It was truly an angelic performance.
Malinda Ellerman as Nancy in Oliver at St. Mark's Players.
When Malinda Ellerman made her first entrance in St. Mark's production of Oliver and sang "It's a Fine Life" with Fagin's clan of pick-pocketers, she stole the show singlehandedly. When her gorgeous rendition of "As Long As He Needs Me" rang through the church's sanctuary, the audience rewarded her with wild applause. When she was murdered, I heard people moan. The little kid next to me became hysterical. Malinda has one of the most beautiful voices in the area, and I hope that casting directors who are reading this article will audition her.
Katie Gerard as Maureen in Rent at The Theatre Lab School of the Dramatic Arts.
I loved Katie's animated Maureen, and what she did with the vocally challenging "Over The Moon" was simple a tour-de-force of writhing, cow-bell banging, mooing, acting, and vocals that were "udderly" remarkable. I was blown away by it. And her duet "Take Me or Leave Me" with Cody Boehm was sizzling hot! A great performance by an extremely talented singer and actress.
Watch Katie singing "Back to Before" from Ragtime in March 2010 at Northwest High School here.
Kristen Jepperson as Daisy Devore in Adding Machine: A Musical at Studio Theatre.
I loved Kristen Jepperson as the naïve, love-struck, playful Daisy Devore who falls in love with the non-reciprocating and hapless Mr. Zero. Her rendition of "Darling, I'd Rather Watch You" was sexy, crazy, and you rooted for her to get her man. Her romp in heaven chasing after Mr. Zero was silly and child-like and wonderful. You just wanted to shake her and say, "What the hell are you doing? This guy's a loser!"
Kristen talks about singing "I'd Rather Watch You" in Adding Machine: A Musical here.
John Loughney as Jamie Wellerstein in The Last Five Years at Limelight Theatre.
He's become one of my favorite local actors because he puts his heart and soul into every role he performs, and in playing the not-so-likable author Jamie Wellerstein in Jason Robert Brown's two-person musical, John had some vocally difficult songs to sing, and he came through with flying colors, with his emotional tenor wowing the audience on the funny "Shiksa Goddess", the long and complicated 9-minute long "The Schmuel Song", and the emotional "If I Didn't Believe in You", and "Nobody Needs to Know". When you're one of two actors on the stage, you have to grab the audience right away, and when John sang "Shiksa Goddess" he had them in the palm of his hands. Although Jamie is usually the character audiences usually don't like, John's Jamie was more human than I have seen in other productions. During a talk-back I moderated after one of the performance, the audience overwhelmingly sympathized with Jamie.
John talks about playing Jamie here and talks about performing "The Schmuel Song" here.
John and Leo Manzari in Duke Ellington's Sophisticated Ladies from Arena Stage at The Lincoln Theatre.
When you upstage the great Maurice Hines and he leaves and gives you the stage all to yourselves to show the world what you can do, then you "got it".  And that's what audiences saw when DC area brothers/tappers extraordinaire John and Leo Manzari burned up the Lincoln Theatre stage when they performed "Ko-Ko" and Maurice Hines' other physically demanding choreography in Duke Ellington's Sophisticated Ladies. What a future these brothers have in store for them! I have never heard or seen an audience go so crazy as they did when Leo and John shook hands at the end of "Ko-Ko". It was deafening and exciting!
John and Leo talk about dancing "Ko-Ko" in Sophisticated Ladies here.
Watch John and Leo dance here.
Buzz Mauro as Alfie Byrne in A Man of No Importance at Keegan Theatre.
I will always cherish Buzz Mauro's performance as Alfie Byrne in Keegan's production of A Man of No Importance. It was intense and at times quiet and dignified, funny, poignant and emotional, and so moving that I had a hard time controlling the tears that slid down my face while I watched him. When Buzz sang "Man in the Mirror" I was watching the great pain that was etched in his face. It was mesmerizing. Buzz's performance as Alfie Byrnes was one for the ages.
Buzz talks about singing "Man in the Mirror" here.
Patrick McMahan as Bobby in Company at The Little Theatre of Alexandria.
It's a role that many actors play as a miserable, confused 35-year-old man, and it's true that Bobby can't get his life together, although there is a glimmer of hope when a stewardess decides to stay with him for another day after a one-night stand. Patrick McMahan's Bobby was more human and likeable, and I could understand why all these "friends" of his named him as their kids' godfather, why they kept coming around to celebrate his birthdays, and why they invested so much time in trying to find him a wife. It was a perfect role for one of our area's most talented actors and singers. Patrick's renditions of "Someone is Waiting", "Marry Me A Little", and "Being Alive" were powerful and beautiful, filled with yearning and frustration and hope – very "Bobby-like".
Mimi Preda as Jo in Little Women at McLean Community Players.
When I was first introduced to Mimi as the scene-stealing June in Elden Street Players' funny production of The Musical of Musicals – The Musical, I was thrilled by her wonderful singing and comic timing. She had lungs to spare! When I was told that Mimi was playing Jo in MCP's production of Little Women, I couldn't wait to hear her sing "Better", "Astonishing", and "The Fire in Me", Jo's three big numbers in the show. Mimi was Jo, full of energy and joy, and her performance and renditions of her three solos were (sorry about that!) astonishing!
Nicholas Rodriguez as Fabrizio Naccarelli in The Light in the Piazza at Arena Stage.
Stunningly handsome and possessing one of the most beautiful tenors I have ever heard on our local stages, Nicholas Rodriguez's performance as the love-at-first-sight-struck Fabrizio Naccarelli brought fire and passion to Arena Stage's production of The Light in the Piazza. His rendition of "Il Mondo Era Vuoto", "Passeggiata", and "Love to Me" were simply gorgeous. Luckily, local theatergoers will be able to hear Nicholas sing Rodgers and Hammerstein classics when he appears this Fall as Curly in Oklahoma in Arena Stage's newly renovated home.
Watch Nicholas perform in The Light in the Piazza here.

Maggie Roos as Little Red Riding Hood in Into the Woods at The Theatre Lab School of the Dramatic Arts.
From the moment she "bread-lifts" in the Baker's house, to her revenge on the Wolf that swallows her whole, Maggie made me into a basket case with her hysterically overly-assertive performance as the red-caped girl who's looking for her grandmother's house – and gets more than she bargained for when she finally finds it. Her rendition of "I Know Things Now" was sassy, funny, and self-confident.
Carley Rosefelt in Annie Get Your Gun at Act Two Performing Arts.
At 14-years-old, Carley Rosefelt is a phenomenon. Her voice has the maturity of someone twice her age, and it's no wonder that she was selected to play Annie Oakley in Act Two's production of Annie Get Your Gun. "I Got Lost in His Arms", and "Doin' What comes Naturally", and "I've Got The Sun in the Morning" were sung so beautifully and with perfect diction, with Carley hitting all those high notes with ease. And it's not easy singing these songs with a nice Southern twang, but she did. After seeing Carley play Millie Dillmount and Annie Oakley the past two years, I would say that the sky's the limit for this talented actress/singer.
Autumn Seavey Hicks as Violet in Violet at Kensington Arts Theatre.
Autumn Seavey Hicks' volcanic performance of Violet in KAT's production shook the Armory every time she sang one of her songs in Violet. I had introduced to Autumn's vocal prowess when she played Maureen in KAT's production of Rent this year, but nothing prepared me for her intense performance of Violet. Her renditions of the hopeful "On My Way", the sweet "Lay Down Your Head", and the powerful "Look at Me" were the highlights for me of Autumn's fiery performance.
Katie Solomon as Violet in Violet at Teatro 101.
Katie's performance of Violet was passionate, assertive, yet subtle, and her sweet vocals made you want to put your arms around her and tell her every thing was going to be OK. I loved her quiet rendition of "Lay Down Your Head" and her duet with Troy Hopper, "Promise Me Violet", brought me to tears. I loved her and John Hurley singing "The Luck of the Draw". It was a wonderful performance filled with many emotions.
Tiffany Porta Walker as Patsy Cline in Always…Patsy Cline at Tony's Baltimore.
It's very simple – I thought Tiffany Porta Walker was Patsy Cline, and if she wasn't, she should have been. Her velvety vocals on 25 Patsy Cline classics, including "I Fall to Pieces", "Anytime", "Walkin' After Midnight", "Crazy", and "Sweet Dreams" were her own interpretations – not an impersonation of Patsy's vocals. After I came home, I ran to my CD collection and put on my "Patsy Cline's Greatest Hits" CD and could swear I heard Tiffany.
Tiffany talks about playing Patsy Cline here.
Jaclyn Young as Mary Lane in Reefer Madness at Dominion Stage.
Jaclyn Young was drop-dead funny as the stoned, off-the-wall Mary Lane. In the funniest song I saw performed all year – "Lonely Pew" – a desperate Mary sang, "The wafers now don't taste so great; They won't transubstantiate; Without you near the gospel choir sounds askew; Jimmy, come back and fill my lonely pew!" I know the lyrics are pretty funny, but it was Jaclyn's facial expressions that had me and the audience laughing so hard. I have never seen Jaclyn as funny as she was here. In a Scene Stealers article she told me, "Reefer Madness was an insane show. It had a fantastic cast and a role I have wanted to play for years. I loved playing Mary Lane because it had a little bit of everything: over-the-top cheesy love, hysterical crying, drug-induced stripping, dominatrix growling, a dramatic blood-hacking death, and an angelic resurrection!"
————
Musical Performer of the Year:
Kristen Jepperson
There is something unique about Kristen Jepperson. She is not only a great singer and actress, but a gifted harpist. This year, DC audiences got to see the multi-talented as the pathetic and love-struck Daisy Davore in Adding Machine: A Musical at Studio Theatre, and as Alfie Byrne's old-maid sister Lily in A Man of No Importance at Keegan Theatre. DC audiences were treated to Kristen playing the harp in two productions at Olney Theatre Center – in Camelot and Triumph of Love. For her work this year in these productions, Kristen Jepperson is my Musical Performer of the Year.
From Kristen: "Thanks so much for choosing me for Musical Performer of the Year! It's been a fun and diverse year for me. First there was Adding Machine, which I was thrilled to do at Studio (did you know I was originally cast in the ensemble, but when Tracy Lynn Olivera went to Broadway with Ragtime I got bumped up to Daisy? Lucky break for me!). What a great cast that was. And Jason Loewith was such a great director. I was surprised and disappointed when he wasn't nominated for a Helen Hayes Award. (Joel: Me too!)
Next came two shows at Olney where I played the harp in the orchestra. First Camelot (Wow! That show is long…) then Triumph Of Love. A couple of the people in the orchestra agreed that was probably one of the funniest shows we ever did, mostly because of the great time we had with the cast and the well done music direction by Chris Youstra. After that I performed in A Man of No Importance at Keegan Theatre. I had never heard of the show before doing it, but I loved the song that Lily has in the second act so I auditioned! It turned out to be a lovely production, well reviewed, and kudos to Buzz Mauro for his wonderful performance as Alfie. Way to go little brother! That's pretty much it for this year, but I'm looking forward to more exciting stuff next year. Thanks again for this honor, Joel. It means so much to me".
Listen to Kristen sing "Darling, I'd Rather Watch You" from Adding Machine: A Musical here.
Listen to Kristen play the harp here.
Our New Audience Choice Voting Procedures
Active subscriber to the DCTS newsletter will be the exclusive voters for this year's Audience Choice Awards. Read more details here. If you are interested in voting, the deadline for signing up is midnight, August 18, 2010.
If you have any questions or difficulties, send an email here.