When Bernadette Peters and Elaine Stritch agree to return to Broadway for a spell, it doesn't much matter in what. If you're a theatre nut, as many of us are, you leave your cozy fire and hop on down to the Walter Kerr Theatre where they've both roosted for a while. Their vehicle is the astonishing Sondheim master work, A Little Night Music, and though its physical production is on the skimpy side, the words and music are still there to enchant, inform, delight. I found it very satisfying when I wrote about it months ago early in its run when Catherine Zeta-Jones and Angela Lansbury inhabited  the roles of Desirée and Mme. Armeldt. As Mother and Daughter, they brought all sorts of assorted skills to the piece, and they certainly sprinkled stardust among their supporting cast of talented actors.
But for some reason the two latest inhabitants add even more luster, each receiving cheers on their very first entrances. Those cheers are symbols of appreciation for the dozens of performances each of the stars has given over the five or six  decades they've been offering them to us. But by evening's end, the cheers have matured into roars, for there isn't a line, a word, a note in the material they've been given that isn't mined for every nuance inherent in it. Hands are folded, long pauses are taken, lips are pursed, growls and gurgles and giggles are released, all of them adding to the text and the score until Desirée and her Mother are the tentpoles around which this cynical musical weaves its tale of the smiles of a summer night in Sweden.
The work, suggested by a film by Ingmar Bergman, has been around since the early 1970s when Hal Prince produced and directed its first production. To prove that the times have changed, this revisitation has some 23 producers listed above the title, and Trevor Nunn has directed it this time out. It first saw the light at the Menier Chocolate Factory in London in November of 2008, from which it transferred to the Garrick Theatre in the West End in March of 2009.  It's  been here at the Walter Kerr since December of that year. It still looks a little tacky, and the limited choreography by Lynne  Page involves little more than 8 or 10 people waltzing about now and then, reminding us that the entire score inventively uses only waltz tempi. The set by David Farley is helped immeasurably by the fine costumes he also designed, for this is one of those inexpensively mounted one-set musicals, with the one set trying very hard to look like six or seven others. At various times we are supposed to be in the drawing room of a mansion, in one of its bedrooms, in the garden just outside, in the middle of a forest, in various other sections of that forest, all the while retaining the beautiful wooden flooring, and that's just in the second act!
But no matter, for the supporting cast, though less majestic, is absolutely fine in all departments right down to the quartet of singers who tell us every now and then where we are and where we are going. To save on bodies, I noted that even Ms. Peters joined in as a member of the ensemble in the opening sequence, but she was not lit so that when she finally appeared a scene or two later as Desirée, she could burst through the upstage center doors to receive the tribute I mentioned above.  Alexander Hanson, co-starred in slightly smaller print, deserves the billing.
He's played the role now on two continents, and he's still fresh and appealing in it.  His "Frederic Egerman" is a middle aged bourgeoisie, married to an 18 year old sprite named Anne, father to a 19 year old youth named Henrik.  The youngsters are played with appropriate ardor, right out of a turn-of-the-19th Century Glee by Ramona Mallory and Hunter Ryan Herdlicka.
Others who contribute mightily are Aaron Lazar and Erin Davie as Count Carl-Magnus Malcolm and his Countess Charlotte Malcolm, and Leigh Ann Larkin as Petra, the hot to trot maid who is far more interested in getting it on with anyone in trousers than serving tea or cleaning up the mansion.
Stephen Sondheim's score is one which must make all newcomers cringe in fear. I expect many of them don't even take the trouble to listen to it, for only rarely does one suspect they've been influenced or impressed. Sondheim has done a lot of teaching in his day, even serving a term at Oxford so there might be one or two out there who will pick up his baton. One can only hope, for listening to his scores again and again (I've seen this musical at least six times since 1973) only enlarges one's enjoyment and respect for it.  And his lyrics!  Many young writers can only raise their eyebrows and say: "That was then, this is now." because there is no way they can come up with the wit and insight with which he imbues even the smallest of the numbers. Listen carefully for example to "Every Day A Little Death" and you'll know exactly where he, and in this case his characters  Charlotte and Anne, are coming from.
I'm told that Ms. Peters and Ms. Stritch are contracted until February so there's time to come visit them. You'll be well rewarded, and I take off my hat to the 23 producers for their acumen in bringing them to us.
A Little Night Music continues at the Walter Kerr Theatre, 219 W 48th Street, NYC.  But tickets here.
Bernadette Peters performs 'Send in the Clowns'
Elaine Stritch performs 'Liaisons'
———–
————-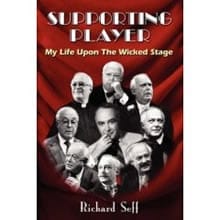 Richard Seff has written the book for Shine! The Horatio Alger Musical!, making its debut at the Theater at St. Clements Oct 7 – 17, 2010 as part of the 2010 New York Musical Theatre Festival.
He is also author of Supporting Player: My Life Upon the Wicked Stage celebrating his lifetime on stage and behind the scenes, available through online booksellers, including Amazon.com.
Richard Seff chats with Joel Markowitz: