The New York Theatre Workshop, founded in 1979, is "dedicated to exploring and presenting theatrical experiences that reflect, respond to, and invigorate a world in which we live and work."  The latest example that intends to justify this lofty aim is Ivo Van Hove's production of Lillian Hellman's most successful and enduring play, The Little Foxes. I've seen it many times, with luminaries like Anne Bancroft, Elizabeth Taylor and Stockard Channing  in its central role, with Bette Davis on screen, even with Jane Pickens in the 1949 musical version by Mark Blitztein called Regina. But never have I seen it like this time out at NYTW on East 4th Street near the Cooper Square  in lower Manhattan.
Under the very noticeable direction of Ivo Van Hove,  whose production of Hedda Gabler at the Workshop won him an Obie Award, who pounds away at Lillian Hellman's family drama, the one about the avaricious Hubbards, two brothers and a sister; their machinations and maneuverings have been interesting and attracting audiences since 1939. That was when Tallullah Bankhead and a marvelous cast that included Charles Dingle, Patricia Collinge, Frank Conroy and Dan Duryea first inhabited the characters at the Empire Theatre on Broadway, and where they stayed for a year.  I say "pounded away" because he's ignored just about everything in the published script except the dialogue itself.
Example:  the play is set in a small town in Alabama in 1900, in the well appointed living room of  Horace and Regina Giddens and their daughter Alexandra. It is further peopled by Cal and Addie, two black servants who are devoted to them.  Mr. Van Hove has arbitrarily chosen to have Jan Versweyveld design and build a set that is totally contemporary, complete with flat screen television just above a central arch. For some reason only he can explain, he has kept this room free of any furniture except for the occasional side chair sitting by itself along one of the carpeted mauve side walls. His actors have chosen (I assume at his suggestion or command) to abandon any trace of a southern accent. They are dressed in totally contemporary clothing. Had he read the script more carefully (I assume he did read it thoroughly and just decided to ignore it) he'd have noticed that at one point, it is mentioned  that Leo, Ben and Birdie Hubbard's son, had beaten the horses making them race home from a ride he'd taken with his cousin Alexandra. A horse and buggy in the 21st Century? I don't think so.
Another example: To justify the television screen so prominently displayed, he has filmed moments that no one in this company could see – a shot of Horace Giddens in his hospital room, another of his daughter helping him dress for his return home from hospital, the completely arbitrary slitting of the throat and skinning of a lamb (the sacrificial one, I assume), to which there is no reference in the text. One of the key scenes, between Regina and her dying husband, is now played on the TV screen, which robs it of all its power.
Though the play is written in three acts, and beautifully structured, it's understandable that to accommodate modern audiences who like their plays short, it could be played in two acts, perhaps combining the first two acts into one.  But no – Mr. Van Hove has turned it into a marathon – the entire two hour script is now packed tightly into one act, with no break at all. This destroys the magic of Hellman's curtain lines, particularly her second act killer line: "I hope you die. I hope you die soon. I'll be waiting for you to die."  After that one, Miss Hellman wrote "Curtain."  But in this production, Regina simply slips away so we can get on with Act III. I do believe that Elizabeth Marvel, who plays Regina, was so disappointed that she missed her big moment, she virtually whispered it.
Though the set seems to be about as wide as a football field, the actors stick very close to the side walls through much of it, or they circled off Stage Right and reappeared from Stage Left a moment later. It makes one wonder about the architect who created this Hubbard home, for one cannot imagine where anything is. And the staircase, the dinky little staircase up which poor Horace has to crawl to his death, is more like the  back stairs in a boarding house than the central one in a mansion.
And there was more, much more. Birdie Hubbard, the dear sweet Aunt to Alexandra, who is stuck in a bad marriage to weak willed  but controlling Oscar Hubbard, is written as a woman who secretly drinks in her room to help her through a lifetime of submission and frustration. She's a woman who accepts isolated moments of happiness,, someone who prays for one whole day of it. As played by Tina Benko, she is just this side of the snake pit, running about in a slinky red dress and wrappers that barely cover her, pounding walls with her fist, screaming at people, submitting herself to a brutal clubbing from Oscar. I think Mr. Van Hove was trying to tell us that Oscar and Birdie were into heavy s&m, but that's Mr. Van Hove's vision, not Lillian Hellman's. What he does to the play's elegiac and haunting last moment is disastrous. All I'll say is it's now played onstage and onscreen simultaneously, which is not only unmoving, it's frankly unbelievable.
Conclusion: this is one of those rare times when a play has been completely submerged so that a production can draw attention to its staging. Mr. Van Hove turned this family into the insane and certainly the louder version of the O'Neill clan in Long Day's Journey. No one is taking drugs – well, certainly Leo is hitting the grass on his many visits to the ladies of the evening in Birmingham, but who's counting? And of course there's Birdie, if you can call elderberry wine a drug.  Regina is now a woman who, when she can't have her way, simply bellows at everyone.  Even poor Addie, the housekeeper, who is dignified and strong throughout most of the play, lets out a big roar at one point as she leaves the room. Only Cal, as played by Greig Sargeant, is delivering a character as conceived and well written by Lillian Hellman. Christopher Evan Welch, as Horace Giddens, is constrained and believable, but he looks like Regina's younger brother rather than her ill, older husband. His attempt to revive their lustful early days just before he expires  is ludicrous.
Often, re-conceiving a play can bring new meaning to it, more relevance to the time of its production. This staging does accomplish that. It's a good thing this run is a limited one, for I don't think the walls could sustain the pounding they take at least half a dozen times when someone beats them with a fist of frustration and rage. And will someone tell me why they had to slaughter that poor little lamb?   It certainly wasn't good for him, and it only confirmed for us that this production from the beginning was ill-conceived. A friend who accompanied me, had never seen The Little Foxes in any form, said he still enjoyed it – within reason. "It's a good story", said he. Pity that Mr. Van Hove did his best to make us not notice it too much.
The Little Foxes runs thru Oct 31, 2010 at the New York Theatre Workshop, 79 East 4th St, NYC. Tickets.
————-
You may have noticed I've not been mailing in many reviews of late. Of course that's mostly because the New York season has just begun to take hold and not much has been on offer. But it's also because I've been glued to this chair finishing rewrites on my musical SHINE!, for which I wrote the book. It's in rehearsal now, courtesy of NYMF (New York Music Theatre Festival) and will play the first of only six performances on October 7 at 8PM. Our venue is the most attractive 140 seat Theatre at St. Clements on 46th Street just west of Ninth Avenue. Peter Flynn, who staged a couple of prize winning readings of it in 2001, is back with us, this time with very gifted choreographer Dev Janki to handling the big musical numbers. A cast of 19 Broadway stalwarts, is just beginning the monumental task of bringing alive this musical, set in 1876 New York, with its tale of "Ragged Dick", Horatio Alger's first best selling hero, so popular in his day that he appeared in half a dozen sequels.
I'm so proud to be able to introduce Roger Anderson, the composer, to New York (he's composed Quality Street, Chaplin and Abe), produced regionally and in London, but this brings him to Manhattan for the first time. His melodies soar and tickle and delight. And his collaborator Lee Goldsmith, best known for his many years writing Wonder Woman and other popular comics, who is more or less my vintage, makes this 'generational gap marriage' work like a charm. If Ginger Rogers lent sex appeal to Fred Astaire, and Astaire gave her 'class', Goldsmith brings experience and craft and history to the collaboration and Anderson brings talent and youth and drive to it.
Me? I'm just a playwright/actor/ex-agent, columnist, critic, memoirist — and now librettist. I've wanted to do this Alger musical from the start, and I chose collaborators who were on the same page as I. A lot of the history of SHINE! is documented in my book SUPPORTING PLAYER, but I'm going to have to do something of an addendum to include the madness, the fun, the pain, the joy, the agony, of seeing it come alive in a full New York production. If you're going to be in the neighborhood between October 7 and 17, just log on to www.nymf.org or www.shinethemusical.com and pick up a couple of tickets to what the ads call a fun fest for the whole family. ANNIE is getting a boy friend, OLIVER! is acquiring an older brother (also an orphan) , and BILLY ELLIOT's new American cousin will be Ragged Dick, a new pal just a year or two older than he. Come on along and listen to .. .. well, you know what. Roger Anderson and I will be at all six performances to greet you.
————-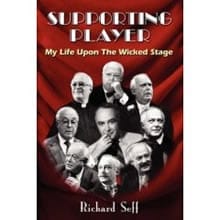 Richard Seff has written the book for Shine! The Horatio Alger Musical!, making its debut at the Theater at St. Clements Oct 7 – 17, 2010 as part of the 2010 New York Musical Theatre Festival.
He is also author of Supporting Player: My Life Upon the Wicked Stage celebrating his lifetime on stage and behind the scenes, available through online booksellers, including Amazon.com.
Richard Seff chats with Joel Markowitz: