Ford's Theater opened its 2010-2011 season last week with a charming production of Samuel A. Taylor's romantic comedy Sabrina Fair.
Written in the early 1950s, Sabrina Fair opened on Broadway in 1953 and tells a Cinderella-esque story about a young girl who is looking for true love but finds her hopes and dreams stunted by the class and social conventions in place at the time. The play ultimately provided the basis for the popular1954 movie "Sabrina", directed by Billy Wilder and starring Audrey Hepburn and Humphrey Bogart, as well as the successful 1995 remake starring Julia Ormond and Harrison Ford.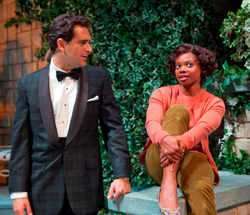 Sabrina Fairchild, the daughter of the Larrabees' long-time chauffeur, grew up on the grounds of the Larrabees' grand estate located on the North Shore of Long Island.  After attending college and spending five years in Paris, she returns to visit her father and succeeds in bewitching the young Larrabee brothers, handsome, jovial David and brooding businessman Linus, with her beauty, vivacious personality, and newly found sophistication.  However, her interest in the boys, particularly with David for whom she has always harbored affection, does not go over well with wealthy Mr. and Mrs. Larrabee or with her own father.  It seems that no one thinks that the daughter of the hired help, no matter how educated and sophisticated she is, should marry one of the employers' sons.  Will anything change their opinions?  What if Sabrina's father admits the truth about a shocking secret he has held from both Sabrina and the Larrabees for many years?  This clever social comedy is both engaging and funny as the plot takes surprising twists and turns.
Susan Heyward does a lovely job as the sparkling and high-spirited Sabrina.  When she bursts on stage for the first time in act one in a shiny pink jacket, long purple wrap dress and pink pillbox hat, it is like a breath of fresh air has blown through the theater.  Her energy was fun and infectious as she smoothly delivered Sabrina's witty dialogue.  I especially enjoyed her scenes with Linus, Jr., played by the devilishly handsome Todd Gearhart.  Their chemistry was great as Gearhart delivered a solid performance as the dark, ruthless Larrabee brother.
I found Tom Story's David to be one of the most well developed characters of the play.  Story, a fine actor, kept things appropriately light and comical as the good-humored brother who loves to be in love.   Finally, I must mention John Dow's terrific performance as the hilarious father, Mr. Larrabee, who attends funerals as a hobby.  His comedic timing was exceptional as he kept the audience in stitches for much of the show.  The others, Helen Hedman, Kimberly Schraf, Tonya Bechman Ross, Donna Migliaccio, and Craig Wallace, were also enjoyable, bringing out all the humor in Taylor's witty and intelligent dialogue.
Finally, I must admit that I was confused by Bolton Marsh's performance as Sabrina's French love interest, Paul d'Argenson, and his failure to speak using a French accent.  He sounded more like the Larrabees than a Frenchman, which made his performance less authentic then it could have been otherwise.
Something that makes this production unique is Director Stephen Rayne's decision to cast the roles of Sabrina (Heyward) and her father (Craig Wallace) with African-American actors. "We have given the story a fresh perspective and…with no changes to the script, have cast a new light on the struggles faced in relationships across lines of race and class.  This simple change invites audiences to look at a story made famous by movie adaptations with fresh eyes and adds a contemporary resonance that many may not expect to find in such an engaging comedy," explains Rayne.
Although I think the production is extremely well directed and well cast, I am not convinced that by simply changing the race of Sabrina and her father that Rayne has taken the show in a new direction and opened a dialogue on the struggles of modern interracial relationships.  I think for that to have been accomplished some of the original dialogue would have to change as well because without discussion between the characters about race the issue is never raised.  I am utterly unclear why Rayne seems so convinced that this one change is all that is needed to put a fresh, modern twist on this well-known love story.  Along the same lines, I think it is odd that Ford's Theatre interviewed several interracial couples about their experiences for insight into the competing dynamics surrounding this social issue when it does not appear that the social issue was an issue at all in the production itself.  I like Rayne's thought process on this topic but I think that he needed to take it a few more steps to actually accomplish his goal.
Sabrina Fair charms as a modern twist on the traditional Cinderella story.  Seeing this show is a highly enjoyable reason to visit one of Washington, D.C.'s most historic theaters, Ford's Theater.
Sabrina Fair
by Samuel A. Taylor
Directed by Stephen Rayne
Produced by Ford's Theater
Reviewed by Sabrina Daly
Sabrina Fair plays thru October 24 at Ford's Theater in Washington, D.C.
For details, directions and tickets, click here.
REVIEWS:
SABRINA FAIR
DCTS review