The Washington Savoyards opened their swashbucklingly funny take on Gilbert & Sullivan's classic Pirates of Penzance last weekend at the Atlas Performing Arts Center. Perhaps a bit overshadowed by the big things going on at Arena Stage's new Mead Center's gala opening events—also last weekend—the Savoyards' sprightly reprise of their 2008 hit production was a bit under-attended Saturday evening. But the audience was more than appreciative of the company's energetic efforts.
Pirates of Penzance (1879) is perhaps G&S' most enduring hit. Loaded with good tunes plus more than the usual ration of satire and silliness, this is a fast-paced show that requires good singing and an even greater talent for rapidly biting off those consonants in the dynamic duo's famous patter-songs. Fortunately, the Savoyards' good-sized cast was generally more than up to the task.
Pirates' plot is the usual mishmash of very English nonsense blended with nonstop satirical references to British propriety, manners, bureaucracy, and legalisms. As the show opens, we learn that our young hero, Frederic, is about to be liberated from his unintended apprenticeship to a shipload of hapless pirates, courtesy of his bumbling nursemaid, Ruth.
As a stalwart Englishman, Frederic feels duty bound to turn against the pirates once his contract runs out. In this, he's nominally aided and abetted by the local Sergeant of Police and his bumbling bobbies as well as Major-General Stanley and his bevy of beautiful daughters. These include the lovely Mabel, with whom, of course, Frederic falls in love.
But what's a good show without a plot complication? Re-enter nursemaid Ruth. Scorned in her attempt to trick Frederic into marrying her, she and the Pirate King force him back into piracy on a legal technicality. (Hint: don't ever get born on February 29.) Things rapidly, and tunefully, disintegrate from here before ending in a final burst of amusement.
The Savoyards are blessed with an energetic cast that knows its G&S back and forth. Adam Juran's Pirate King is a bemused mix of Monty Python and Johnny Depp, officious yet bumblingly effective in his way with a strong voice that radiates both authority and, oddly, a good bit of uncertainty at the same time.
As Frederic, Benjamin Lurye is at once a wide-eyed innocent and a British patriot easily manipulated via his hard-wired devotion to duty. His youthful voice is an excellent match for the character, although it occasionally gets lost in the production numbers.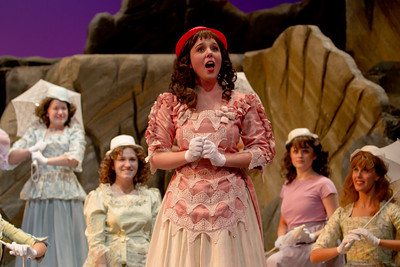 As his winsome love-interest, Mabel, Stacey Mastrain is winsome yet warm, her silvery voice comfortable within a considerable range.
Scott Kenison was appropriately officious and bumbling as the Major-General, comfortable both in his role as well as in his supremely difficult signature patter song, "I am the very model of a modern major-general." Oddly, though, his delivery in this number, while flawlessly executed from the technical standpoint, was somewhat lacking in those little humorous tics and gestures that each singing actor uses to make the part his own.
Likewise, David Williams as a game but doddering Sergeant of Police had his role down pat and generally delivered the goods. But his overall presentation lacked that last little smidgen of quirkiness that helps take it over the top.
As Ruth, Frederic's badly-aging nursemaid-turned-foe, Jean Cantrell was at the top of her game, indefatigably fending off the "old age" jokes like water rolling off a duck's back. She was in fine, Broadway-like voice throughout Saturday evening's production, and considerably amped up this show's comic impact every time she strode onstage.
In the smaller roles of Samuel, Edith, Kate, and Isabel, ensemble members Chad Zimlich, Ann Coffman, Tracy Ramsay, and Maura Hogan all turned in crisp performances as did the show's lively ensemble of pirates, cops, and blushing beauties.
Direction and choreography were divvied up in an unusual manner. In the 2008 production of Pirates, Carrie Klewin and Pauline Grossman were director and choreographer respectively. In the Savoyards' 2010 update, they're still listed in those roles. But the choreography has been "re-created" by Tracy Ramsay and Patricia Targette, while Guillaume Tourniaire is listed as this production's "restaging director." I.e., the new folks tuned this version up and actually executed the updated vision in consultation with the originals.
On the whole, however, the details here are pretty irrelevant. Whomever gets what credit, the production still works, the blocking is very good, singers are generally well placed—though not always—and this very busy show is still a near-perfect mixture of good singing and choreography leavened by an optimal amount of humorous stage shtick.
Speaking of the music, the small pit orchestra was uncommonly good. That's even more impressive when you consider that the whole musical production is being directed from the pit by the Savoyards' assistant music director Bryan Lilley, who stepped in on short notice due to the current indisposition of music director N. Thomas Peterson. Lilly directed crisply with considerable eye to detail. He was also careful to reel his cast back in on the one or two brief occasions when their tempo differed from the orchestra's.
High points of the production: nifty and always-funny choreography, nice ensemble numbers, colorful period costumes by Eleanor Dicks, serviceable looks-more-expensive-than-it-is set design by Elizabeth McFadden (loved the mini-trampolines), and an overall sense of fun and lightness permeating the whole production.
Needs more work department: wildly differing English accents or no accents at all; Stacy Mastrain's (Mabel's) occasional inaudibility when placed too far back on the stage—not helped when the orchestra played a bit too loud at these intervals; and the aforementioned need for a bit more oomph on the part of the Major-General and the Sergeant.
In the final analysis, though, the Washington Savoyards' Pirates of Penzance does it right. It's the nearly perfect light and lively antidote to this year's seemingly endless bad times in both the arts and the economy.
Note: Due to ongoing construction on the new H St. NE trolley line, leave a little extra drive time when attending this production. Parking in the area, already a bit scarce, is made somewhat worse by the current eastbound configuration of H St NE and traffic can be slow in this direction as well.
The Pirates of Penzance
Music by Arthur Sullivan and libretto by W. S. Gilbert
Original direction by Carrie Klewin as updated by "restaging director" Guillaume Tourniare
Original choreography by Pauline Grossman as "re-created" by Tracy Ramsay and Patrician Targete
Produced by Washington Savoyards
Reviewed by Terry Ponick
The Pirates of Penzance runs thru Nov 7, 2010 at Atlas Performing Arts Center, 1333 H Street NE, Washington, DC.
Details here.
Buy tickets.
REVIEWS:
THE PIRATES OF PENZANCE
DCTS review
Jack L. B. Gohn . BroadwayWorld