It was mid-October, the air was crisp, the leaves were changing and the people in Sidney Harman Hall were metamorphosing. I was an observer in Matthew Wilson's Master Class for actors, and the long sequence of "exercises to warm up the neck" was a dead giveaway: this workshop was going to be as physical as it was vocal and mental. Participants were gathered in a rehearsal room in the basement of Sidney Harman Hall for a six-hour immersion in Commedia dell'Arte.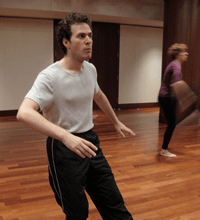 Attendees were preparing for the day by bending their legs and circling their knees as if they were glued together. Others were spread out like Xs on the floor, with torsos swaying right and left. Wilson walked around the room like a chef scanning to see if all the necessary ingredients were available: curiosity (check!),  playfulness (check!), a willingness to interact with the others (check!) and the ability to laugh (check!).
These are the elements that drew Wilson to Commedia dell'Arte, and also the reason why it is such a rich and lasting type of performance. "In Commedia dell'Arte, the things that I love most about theatre in general come out the most clearly: collaboration amongst artists, complicity with the audience, a sense of spectacularity, and the balance between disciplined preparation and spontaneous play," Wilson says as we chat during a break in the workshop.
His enthusiasm is infectious and this could be an important part of his success: he is transforming the way people think about a 500 year old theater form. He is not only teaching but also creating, directing and performing. On view starting November 3 at Woolly Mammoth Theatre is his one-man show, The Great One-Man Commedia Epic. The performance, created in 2004, has attracted acclaim nationally and internationally (it was reviewed by DC Theatre Scene in February).
Wilson morphs into 12 different characters during his 80 minute performance, so it seems both ironic and fitting that this man who has mastered many parts has been unable to play the one that inspired him to become an actor.
When Wilson was in 9th grade, he attended a version of Shakespeare's Twelfth Night at Nashville's Performing Arts Center. He became enamored with Feste, the clown who is both a comedian and the voice of truth, and in the following decades he has performed a plethora of parts that involve comedy and truth, but never Feste.
Wilson received his MFA from the Shakespeare Theatre Company's Academy for Classical Acting at The George Washington University and has directed many of Shakespeare's plays including  Troilus & Cressida and A Midsummer Night's Dream. He has performed Hamlet, Malvolio, Romeo, Benedick, Sir Andrew Aguecheeck, and Touchstone. He continues to work as a professional actor, a fight director and is the Founding Artistic Director of Faction of Fools Theatre Company.
Currently he teaches at George Washington University and is completing his PhD at the University of Maryland, College Park. Asked why he ended up in DC after living in many different cities, he says "because people know and like each other here – and like to root for each other. Plus the audiences are smart. In New York, the paradigm for the actor seems to be 'where is this going to get my career?' In DC, actors are genuinely interested in the play, interested in growth and interested in being together."
Wilson is as passionate about the history and evolution of Commedia as he is about teaching and performing its subtle nuances. He sprinkled dates and names through the Master Class he taught at Sidney Harman. Three landmarks:
1. February 25, 1545 in Padua, a fraternal company of performing artists draw up a document of incorporation (or as Wilson described it: "Actors with the crazy notion that they are professionals! ha!").
2. The phrase "Commedia dell'Arte," though often mistranslated, simply means "Theatre of the Professional."
3. The term was coined by Carlo Goldoni in the mid-1700s who used it to disparage the commercial theatre of the day, which he found hackneyed and boring, a watered down version of the more vital form that had emerged in Italy in the 1500s. Like the critic who coined the term "Impressionism" in a condescending review, the term Commedia dell'Arte stuck.
Three hundred years later, Wilson is showing how vital it can be: "the trick" he says, "is to stay recognizable. Even though the audience may see you do something foolish, they also understand how you got into that situation and they realize that they could have done the same thing."
During the Master Class, as Wilson presented the various Commedia dell'Arte roles – Zanni (Servants), Old Men like il Dottore and Pantalone, Innamorati (Lovers), and il Capitano (the Captain) – the creature that came to mind was a chameleon. Depending on the character, Wilson's posture, voice, mannerisms and demeanor transformed: from male to female, old to young, rich to poor. This dexterity is an essential part of Wilson's success with his one-man show. He has a captivating way of completely embodying character.
As he gave those gathered details about each role, he showed how the half-mask, one of the defining traits in Commedia dell'Arte, shifts the actor's ability to see. What is recognizable is only what is directly in front of the actor's face. "Your whole head is one big eyeball, so the head turns into a periscope," Wilson explained as he donned the mask and showed how the actor's eyes appear to be locked in one place.
Instantly things become funny and profound. As the Zanni character wearing a mask and inspecting his environment, he says "I see what is in front of me, never behind me or to the side, only in front. So I am dealing with an incomplete data set." It's like the three blind men inspecting an elephant: one at the tusk who says an elephant is a creature that is hard and smooth, one at the belly who says an elephant is rough and covered with hide, one at the tail who says an elephant is hairy. None of the men are wrong, but the information is not adequate to capture the entire creature.
This difference between what is seen and what is known had direct correlations with attitudes towards science and philosophy in the 1500s. As Wilson explains: "I need philosophy or theology to think about the past or the future or the existence of things outside my perception.  When I'm being purely scientific, I draw all my knowledge from what I observe right in front of my nose," and the emergence of Commedia dell'Arte occurred in the 1500s as people sought scientific explanations for phenomena previously reserved for religious discussion.
As Commedia demonstrates, this supposedly accurate information becomes inadequate when a character does not take into account that there could be things outside his or her vision. As opposed to being about goofy pratfalls and gags, Commedia dell'Arte tapped into essential questions of the period. It continues to be a form of theater that is entertaining and thought-provoking today, and, in Wilson's hands, these nuances and relevancies are apparent: "Whatever base or vulgar situation occurs, there needs to be believable reasons for its existence. The key is to keep the characters justified so that the stupid mistake makes sense to the character."
When an audience can empathize with the servant or the lover, rather than thinking of them as caricatures or two-dimensional roles, they become relateable.  During the workshop, Wilson does a fantastic job of showing how a Zanni goes from a human being into a spectacular character by paying close attention to the movement of the body, its desires and its shortcomings. The feet are placed in a slightly rotated stave (forming a V with the heels together toes apart). Lateral energy is emphasized by pulling the elbows and knees away from the center of the body. Participants walk around the room looking like energetic ducks, bouncy and curious. Even standing still, there is an animated lift to the body: when a participant shifts their weight from foot to foot, they exaggerate the change so it involves a chain reaction from feet to knees to elbows to eyes. Wilson frequently encourages: "Make it spectacular!"
Unlike tragic theater which was often set in Greco-Roman times during the Renaissance, comedies focused on contemporary people.  Whereas tragedy told the stories of kings and nobles, comedy dealt with the emerging middle class and the lower class servants.  Much of what survives of Renaissance art is upper class idealism, but Commedia was fascinated with real people and their foibles. Rather than a harmonious ideal advocated in works by Leonardo da Vinci and Michelangelo, the performers of Commedia reveled in the lives of people who worked for other people. Although the Zanni are the servant characters of Commedia, they are, as Wilson defines them, "normal people who live spectacular lives."
Their personalities are captured in movement, gesture, and dialogue. As the Master Class participants learned the different styles of walking and standing, they gave their motions nicknames and sound effects – from "boinga boinga" to "the Scooby Doo."
At times the floor appeared to be fluffy and at other time made of quicksand. "What would be the spectacularity of tiredness?" Wilson asks at one point to see how this state of being would be displayed by a Zanni. Then he connects the gestures to the crux of theater: "It has to be the case that no other words will work. The steps of the Zanni are a similar project: the situation requires you to walk like this."
Wilson continues as he describes the body of the Commedia performer: "It is a loose confederation of parts which may or may not have connections." This gives the participants a puppet-like appearance, a heightened state of existence that amplifies each look and gesture. "The physicality tells right away who is high-class or low, who is intelligent and who is silly, who is noble, strong and proud," Wilson adds. "When you are a hero you don't have to show it. But Il Capitano, he shows it."
This rich physical language may be one reason why Commedia dell'Arte can be a fulfilling experience for students at Gallaudet University and among the community of Deaf people in the DMV. Lindsey D. Snyder, a member of Faction of Fools, just received her PhD from The University of Maryland; her dissertation topic was American Sign Language Translations of Shakespeare and the Echoes of Rhetorical Gesture. Snyder will be on stage with Wilson providing interpretation of his words into American Sign Language on November 5. She is also teaching Commedia dell'Arte with Wilson at Gallaudet and acknowledges the university's collaborative spirit: "The theatre department is in a stage of rebirth and renewal thanks in great part to Professor Ethan Sinnott (who I work with as well on Shakespeare studies) and interested in connections with local theatre, especially ones with physical theatre approaches to performance. So we are looking forward to developing a continued program with them," Snyder wrote in an email.
"It is the gesture and physicality of Commedia characters that make them unique and recognizable. The specificity of movement is important as it all has meaning–even if the meaning is funny.  ASL is a language that has specificity, personality, and provides multi-sensory information.  Bringing the two together can only enhance the depth of both–bringing linguistic information and foundations to Commedia and expanding the knowledge of history about gesture and sign systems to develop deeper knowledge of ASL."
She adds that the arts, and theatre in particular, achieve communication by using multiple senses: "Not only the five we think about, but the "6th" sense and beyond. Our instinctual response to something–what MAKES us think or feel or have a connection to an event—those are kind of intangible but a performance is hitting us at those multiple levels. This is particularly true for Commedia:  Not only is it a physical approach to performance, but the whole genre is about communicating with the community you are performing in."
Referring to the original Commedia companies in Europe that toured in the 16th and 17th centuries, Snyder points out how actors modified their performances for each audience. "There was a spirit of multi-lingualism. Regardless of where the performance occurred – in a particular Italian city or another country – a character could communicate with the audience directly whether in their language or through the physicality of a character.  A Deaf audience is no different.  In fact, the Deaf audience HAS the language of physicality.  They use it every day.  Teaching Commedia is introduction to a style and a history that the Deaf community is already a part of… And it's fun.  Theater is so oriented to the proscenium.  We sit. We watch. They talk.  This is a theatre that uses humor as a tool and doesn't rely on only someone's mouth moving to provide an evening's entertainment.  It's a big story and requires the big picture. A picture that is accessible to ALL people.    And we get to do flips and fall down–Always a good time."
Throughout the workshop Wilson not only encourages people to have fun (sometimes by taking the opposite tactic: "Make absolutely certain that you do not breathe or smile.") and also acknowledges the people who have inspired his own playful exploration, particularly Antonio Fava.
He studied Commedia dell'Arte with Fava and, since 2004, has been a faculty member at Fava's Stage Internazionale di Commedia dell'Arte in Reggio-Emilia, Italy. In 2004 Wilson premiered his one-man show at this school and it had its New York premiere in 2005, and last year Wilson brought it to The Kennedy Center and Maine's Celebration Barn Theater. How has it changed?
"It had gotten easier and more fun," Wilson adds that the show's tagline sums it up perfectly: "1 actor. 12 characters. 1000 catastrophes. The point now is not to cover the seams but to embrace the problems. Even if the shape of the story hasn't changed, every show is different."
It sounds a little like Wilson's path to Commedia: it may not have been direct or immediate, but rather spontaneous and improvised. Through Commedia dell'Arte, Wilson discovered something that not only nourishes his own creativity, but also inspires that of his students and audiences. It is the form that most eloquently captures life itself: a balance between disciplined preparation and spontaneous play.
– Our thanks to the members of the Commedia dell'Arte Master Class for allowing us to participate with them.
Catch Matthew Wilson performing his one man show The Great One-Man Commedia Epic in 6 performances,
Nov 3 – 7 at Woolly Mammoth Theatre, 641 S St NW, Washington, DC.
Details here.
Buy tickets.