For those of us old enough to remember the film version  of Noel Coward's Brief Encounter, a warm glow descends upon us whenever it's brought to mind. For those even older who were exposed to the one act play on which the film was based (called Still Life, a part of Tonight at 8:30), there is nostalgic joy as well. But it is to Emma Rice, whose artistic home is the Kneehigh Theatre in Cornwall, UK, that we owe the greatest thanks for the imagination and talent she has brought to this re-evaluation of the material, this mixture of film and stage technique that sticks to Coward's story, but serves it up artfully and brushes away any cobwebs that may seem to have gathered in the 75 years since it first saw the light of day. We are indebted to the Roundabout Theatre Company for bringing it to us.
It remains the story of Laura and Alec, both married to others, who meet by chance in a London railway station when he removes a cinder from her eye. This chance meeting (some would say it was their manifest destiny) leads, in a matter of weeks, to a change in the direction of their inner lives. Neither is in a bad marriage; they are merely coasting however, and something deep within them is touched by this meeting and the few that follow.   Using other characters, the manager of a coffee shop in the station, her assistant, the assistant's sometime boyfriend, the manager's fellow railway worker, and musical numbers from the Coward oeuvre to comment on what's in the subtext of the piece, Ms. Rice has created a truly original work that is now duplicating in New York the great success it had last season in London. Nine musical numbers, all with words by Noel Coward,  are sprinkled about as seasoning all evening long.
The London cast has been imported, and that's a blessing too, for this very British material, with its very British attitudes toward everything from scones to romance in the 1930s is immeasurably helped by the authentic accents and flair for the inner life and body language of these middle class people.  As with Alan Ayckbourn, who came to prominence 30 years after Noel Coward, British actors have always  been more comfortable than Americans with the material.  On occasion a mid-Atlantic type like Tallulah Bankhead or Alfred Lunt or Tammy Grimes or Clifton Webb has caught the rhythms of their British cousins, but this company of Australian and British actors knows just what to do with the music-hall musical numbers, knows how to walk the thin line between romantic drama and melodrama, never easy for most Americans to capture.
It's fun to watch a character step from the stage "into" the film unreeling behind him, then turn around on screen and continue the scene. These gimmicks don't overwhelm the material, they enhance it. For this is a folk tale, one that argues, in the words of Ms. Rice, "that we bargain our own needs, the needs of the self, for various reasons. These reasons will be familiar to us all: the fear of being alone or of being excluded from "normal" life. In the language of folk stories, the price of this bargain is often physical. In Brief Encounter both our lovers have chopped off  part of themselves. It is delicately referred to, but  Laura talks of swimming wild and free and of playing the piano. These are people who have bargained their inner lives for stability, family and love. Yes, they do have love, and they are not victims. But they are trapped by their own bargains and by the rules of society itself. None of us are victims, but we can review the bargains we make and escape in a profound way."
So says the director Emma Rice, and she has delivered a production that dramatizes her thesis.
Hanah Yelland and Tristan Sturrock are every bit as moving as the lovers as were Celia Johnson and Trevor Howard in the David Lean film. High tribute to them and their fellow players who have delivered Ms. Rice's vision in this splendid import from Britain.
Roundabout Theatre's presentation of Brief Encounter has been extended til Jan 2, 2011 at Studio 54, 254 W 54th St, NYC. Buy tickets.
————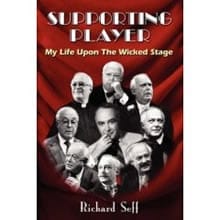 Among his many accomplishments, Richard Seff has written the book for Shine! The Horatio Alger Musical!, which debuted at the 2010 New York Musical Theatre Festival.
He is also author of Supporting Player: My Life Upon the Wicked Stage celebrating his lifetime on stage and behind the scenes, available through online booksellers, including Amazon.com.
Richard Seff chats with Joel Markowitz: