The lyrics are no more than serviceable, the story moves in random fits and starts, some of the acting is not of the greatest, and the dialogue is occluded with cliché ("time moves…like molasses in January," writes Miriam [Arielle Goodman], ostensibly a Harvard graduate, to her war-bound husband), but when these folks open their mouths to sing – and I say this with the utmost of reverence – oh, my God!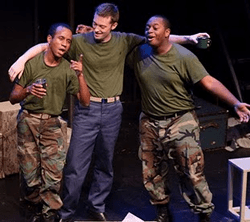 The Poet Warriors, one of the great successes of the 2010 Fringe Festival, is making a limited-run return appearance at the Fall Fringe redux this month, thus giving those of us who missed it in the summer an opportunity to watch fabulously gifted artists wrap themselves around George Purefoy Tilson's soaring music. Ben Levine, who plays David, is a fine singer – but he is, by a measurable margin, the weakest of the six-member company. The other five have voices of such superb quality, such rich and deep timber and complexity, that to watch them perform in the intimate confines of Fort Fringe's Shop seems like a journey into the very heart of music itself.
The theme of Tilson's melodious meditation is war and its depravations, not only upon the warriors but on those who love them. Thus his ambition is appropriately large and the music is worthy, but his execution otherwise is a little pedestrian. Miriam and Ray (Alan Naylor) meet cute (she's leading an anti-war rally at the gates of West Point; he's the good-looking guy reading a book of poetry on a nearby bench – who she discovers is a West Point graduate); Jeanette (Amy Kellett) and Lewis (Jonathan Henson) meet noble (she's a tobacco heiress doing charitable work in Appalachia; he's the son of sharecroppers); and David and Eddie (Jase Parker) meet like normal Americans (i.e., in a bar).
In short order, the couples fall in love. Ray is career military, but Lewis, who aspires to the ministry, and Eddie also decide to join the military, for unclear and improbable reasons. Thereafter they are all dispatched to Iraq, and various things happen – someone gets pregnant, someone is captured (and becomes the first rebel prisoner in the history of the war to be able to write home), someone learns to become a radio operator. There is little buildup to any of these events, so that they seem like authorial interventions, and we thus obtain little understanding from watching. Of course, life itself may be like this, but as we all know fiction, to be worth a damn, must be better and more coherent than life.
The soldiers complain about the army and the war, both of which seem senseless to them. The loved ones they leave behind express similar feelings. This may also be true-to-life, but by not permitting these anti-military sentiments to rub up against the impulses and beliefs that led them to volunteer in the first place, Tilson misses an opportunity to add narrative complexity and conflict. Surely Tilson understands what those impulses and beliefs are; as he points out in the program, his own beloved father, to whom Tilson dedicated his work, was career military. The moral struggle of the warrior to make himself understood to those who have not shared his experiences can create unsurpassable drama. The last half of Canopy of Stars, the playlet which closed The Great Game: Afghanistan – Part 3, shows us a warrior trying to explain to his wife why he puts himself in harm's way again and again, and why he will do it some more. That harrowing exchange, alas, contains more drama in ten minutes or so than The Poet Warriors has in an hour and a half.
But enough of that: notwithstanding its flaws, The Poet Warriors is well worth your twenty bucks, or fifteen if you still have that button from last summer. This is because you will get to hear the gorgeous cast voices as they surmount the challenges that Tilson's music lays on their tables. In particular – and I use that phrase advisedly, because the entire cast is superb – Goodman and Naylor (who also serves as Musical Director) bring such operatic power and sweetness to the enterprise that they make Tilson's score into something sacramental. Indeed, when they and the rest of the cast raise their voices in sweet, six-part harmony it is transformative: they transform the humble space of The Shop into a church, and the score into High Mass.
Now permit me to move from the world of theology into the world of commerce, and address this next to our brothers and sisters in the casting business, particularly those at the great musical houses such as Signature and Arena. You need to engage Jase Parker. For some time now, Parker has been doing astonishing stuff at the fringes (including the Fringe) of DC's musical stage. There seems to be nothing he can't do. In this piece, he is the equal of the great voices with whom he sings, and shows formidable acting chops as well. He's quick, and funny, and makes Eddie's character clear to us in a few short, well-placed strokes. Tilson gives him a couple of lighthearted songs, and his surefooted execution lightens our hearts, as intended.
Director Patricia Woolsey (there is no credited choreographer) has the task of moving the six actors around a small stage which is also inhabited by a strong three-piece band (Jillian Finnamore on piano and Brian Alpert and Tad Farrington on drums). She does so crisply, and unfussily, and without distracting us from the main event. Staging this play in this space could have been awkward. It is to Woolsey's credit that it is not.
Take The Poet Warriors, strip away the wooden dialogue and the underdeveloped plot, and what do you have? I propose that you have a requiem, a choral prayer for the beating hearts stilled in war, and for the broken hearts which continue to beat through war's passage. Tilson's requiem could be performed, successfully and with honor, this November 11th, and on Veteran's Day for years to come.
The Poet Warriors
Book, lyrics and music by George Purefoy Tilson
Musical arrangements by Matthew Heap and Christopher Ruth.
Directed by Patricia Woolsey
Musical Direction by Alan Naylor
Produced at the Capital Fringe Fall Festival
Reviewed by Tim Treanor
The Poet Warriors, which runs thru Nov 20 at Fort Fringe, 607 New York Ave, NW Washington, DC., is part of fallFringe, a reprise of 10 shows from the 2010 Capital Fringe Festival.
Details and tickets are here.