Deb Randall is at a personal and artistic crossroads. As founder and artistic director of Venus Theatre, she has kept the company alive, pretty much on her own, for ten years.  Staging plays written, produced and directed by women in a small space at 21 C Street in Laurel's historic downtown area—where she's been since 2006 after relocating from Washington—is in itself an accomplishment.  The fact that Venus has survived this long is a testament to Randall's passion, tenacity and vision.
It's a labor of love, she says, that has left her exhausted and broke. "In my 20s, everything was possible," Randall said. Full of energy and lots of ideas, she said the next decade was spent staging productions that involved "putting everything in my car, dragging a set around to five different sites. Now I'm in my 40s, and I'm asking myself `do I want to keep investing this much sweat equity? Do I want to keep going without health insurance?'  My concern is that if this became the bane of my existence, I would come to resent it.
"The productions I have done have led to further productions, entire movements, and maybe that is enough.  Maybe I don't have to work this hard."
On an unseasonably warm September night, a few people are milling around in the Venus Theatre Play Shack lobby. A few feet away from the door (the lobby is the size of a large bedroom) is a counter where Randall is collecting cash for that evening's performance of the drama Play Nice.  She's also selling candy bars that rest in a small basket.  The audience—this night there was ten in attendance—makes their way into the space that looks like a converted garage. There are several area rugs on the black tile floor.
"Don't sit on the couch," Randall says in a motherly tone—warm yet strictly about business.   Placed in the center of the stage, the worn-out couch, she adds, is a stage prop.   Some of the audience members laugh a little, and Randall disappears.  She turns up again a few minutes later, center stage.   She's welcoming the theatergoers, doing promos for upcoming plays, and reminding everyone that now would be a good time to unwrap those candy bars, and turn off the cell phones.
Venus Theatre was born out of Randall's desire to provide a venue for talented writers, directors and actors to showcase original works, telling stories of women's lives.  Some of those plays have received critical acclaim.  The company's production of Ugly Ducklings by Carolyn Gage was nominated for a 2004 American Theatre Critics Award.
This season Randall received 80 scripts.   Among those she selected, which included Zelda at the Oasis, a piece about writer F. Scott Fitzgerald's wife Zelda's desires to pursue her own writing career, and In the Goldfish Bowl, a play about four women on death row written by a woman who works in the Iowa prison system, Randall says Looking for the Pony, which runs through Nov. 21, "was the most powerful script I have ever read.   I wept after reading Pony."  The story about a woman's struggle to support her sister's fight with breast cancer is an autobiographic piece by Andrea Lepcio, and directed by Catherine Tripp.  The authenticity of an artistic work born of experience, Randall said, makes the play so much more compelling.
Reading scripts like these, she said, is the compensation for all the sweat and tears.  "What would I do without these works coming into my life?" Randall said.  "It is such a sacred honor, producing these plays."
She wants to give the scripts her full attention, and here's where the conflict arises.  "It's easy for people to say `keep going', but its hard when there's a turnoff notice for the electricity, and the playwright is coming tomorrow for a meeting.  It's humiliating to work this hard, to put out work of this quality, and to be this disenfranchised…and the harder I work the more humiliated I feel, when sometimes all I want to do is buy a new shirt."
Attendance for Pony has been slight.  "The way I built the business model, if we sold out the theatre each night—we're talking 15 to 20 people—our overhead would be covered," Randall said.   "We haven't met that goal.  Some nights we perform for four people."
The Washington D.C. metro area boasts a rich and diverse theatre landscape, and many of those theatres are facing the same challenges as Venus, said Michael Kyrioglou, communications manager for the Helen Hayes Awards.
"Everybody is having the same troubles.  There are lots of theatres in D.C. that are not doing well.  It's not just about the recession," Kyrioglou said.
He admires producers like Randall "who want to operate outside of the city.  But it's hard for the small companies here in town too.  You could get reviewed favorably by The Post, and still get only 12 people to see your play.   And then the question is, do you have the money for advertising?  Are you getting the word out about your production?
"You also need to have a support network of friends," Kyrioglou said.  "That always makes things easier."
While she has had help from volunteers in the past, and brought on John Nunemaker as managing director earlier last year, Randall has never operated with a full-time staff, and her workload has been daunting.  In addition to reviewing play submissions, meeting and collaborating with performers and directors, she has been managing Venus' budget, selling snacks on play nights, painting sets and cleaning the bathroom after performances.
Deb's passion for the art, and the work she is doing here, is near and dear to her heart," says Nunemaker.  "She puts every effort, of every waking hour into this, and it shows."
In addition to her work with Venus, Randall has done community outreach, which included summer theatre camps for adults and pre-teen and teenaged girls, who wrote and produced their own plays.  She recently teamed up with Nunemaker who, in addition to being Venus' managing director is also a Gettysburg tour guide, to create a "Haunted Saturdays" tour of historic Laurel.
"The support from the community is growing," observed Nunemaker looking back over the year he has spent working as Randall's right hand managing Venus. He says a loyal following has come to see the last three productions.  "A year from now, I believe Venus is going to grow and become a bigger presence in the community, a company where people will want to come out and do work, and grow as an artist."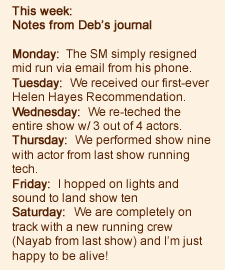 Randall, on the other hand, is feeling that maybe now is the time to count her blessings, and get out.   "I've been approached with submissions, and I tell them I don't know if I can produce the work, because it costs money." In the meantime she's awaiting word from the Prince George County Arts Council on her request for funding.
She's been slaying dragons, going up against AK-47s with bows and arrows.  It's her love of theatre, she says, that has given her the energy to keep Venus alive this long.  She's proud of the work, while adding that it's important to "define success on your own terms."
As a young girl Randall considered suicide.  Being exposed to theatre literally "saved my life.  It gave me an understanding of the rest of the world.  I was able to have the experience of inhabiting other bodies to escape my own."
The theatre experience that healed her soul is a gift she would like to share with kids and adults in Laurel.  As worn out as Randall is, she still has great ideas—she wants to build the first green theatre in Maryland. "I want to believe I can keep going.
"I still have a vision, and there's a part of me that says `you can't stop now.'  The actors, and my loved ones say the same thing.
"But I also think taking a pause is essential."  And then she laughs.  "Maybe I just need a spa day."
Looking for the Pony, which received the Helen Hayes Recommendation, continues at Venus Play Shack thru Nov 21, 2010.
Details here.
Buy tickets.
[Editor's note:  There are other small company artistic directors in town singlehandedly – or nearly so – carrying the responsibilities of their companies. Deb Randall's experience will be very familiar to them.  In giving us such an intimate and honest view of what that means, and where she is now, she has given a tremendous gift to our community. We are very grateful.]
Related:
Looking for the Pony review by Carol Chastang
Deb Randall can be reached personally at deb (@) venustheatre.org.