It's with regret that I must tell you that the Lincoln Center Theatre, which has been so spectacularly run by André Bishop and Bernard Gersten  for the past twenty odd years, has come a cropper – twice – at the start of their new season.  Mr. Gersten joined Lincoln Center as executive producer in 1985 under the artistic direction of Gregory Mosher, but it was in 1992 when  Andre Bishop took over, that this dynamic Bishop-Gersten duo turned the Beaumont Theatre from an unwieldy and uninviting space into a thriving and more user-friendly one.
In addition, they had the magic touch when it came to serving up a delicious variety of straight plays and musicals that helped build their base of subscribers, lured by their justifiable claim of "Good theatre, low prices."   Under their banner, we've had musicals like Contact, Anything Goes, The Light in the Piazza and the long running revival of South Pacific. They've given a home to most of Tom Stoppard's plays including  Arcadia and the trio of full length plays he called The Coast of Utopia. They provided Cherry Jones with a great vehicle in The Heiress. They launched the playwright John Guare and the reclaimed Beaumont with House of Blue Leaves and continued that relationship with Six Degrees of Separation. They found ways to tame the thrust stage of the Beaumont and they brought dozens of first rate plays to the smaller Mitzi Newhouse Theatre underneath the Beaumont. All of which explains why it's difficult to fathom the two huge productions with which they just  began the 26th season at Lincoln Center.
———
First to open was the Jeffrey Lane-David Yazbek script and score to Women on the Verge of a Nervous Breakdown, which sticks scrupulously close to the screenplay of the same name by Pedro Almodovar, on which it is based.   The problem here is that, in order to deliver the complicated plot involving at least eight major characters, they've had to move right along at a dizzying pace in order to have time for a complete musical comedy score. Some of the songs in themselves are fun, full of zest and occasionally melodic invention, but it all seems crowded and slightly hysterical.
In trying to tell the tale of Pepa, a voice-over artist played by Sherie Rene Scott, who has been dumped by phone message by her lover Ivan, we must join her in a taxi driven by Danny Burstein, who serves as narrator trying desperately to keep us informed as to what's going on. Pepa runs across Ivan's divorced wife Lucia (as played by the incomparable Patty LuPone, who seemed to have more hats than lines to speak), recently sprung from a psychiatric hospital after 19 years and ready for revenge. Ivan has a dominated son Carlos, who in turn has a very unappealing fiancée called Marisa. To further season the stew, Lucia has a ballsy attorney named Paulina who is Ivan's latest conquest. And most importantly, because she's played by the delightful Laura Benanti, we have Candela who just learned that her boy friend is a terrorist. Lots of farcical things happen to all of them (except poor Ivan, who somehow managed to lure Brian Stokes Mitchell back to the stage though one cannot imagine why, as he's one of the most unattractive characters in the annals of musical theatre) but it's almost impossible to follow, and worse than that, we really don't give a fig about any of them.
The physical production is dazzling. I almost feel I need never visit Madrid, so vivid a picture is painted by the color splashed sets, the treadmills that keep things flying by, the film projections that cover the streets of the city. Set in the giddy early nineteen eighties when Spain was finally emerging from the gloom of the Franco regime, the opening number "Madrid", sung by the ever available taxi driver and the people of the town, tells us most entertainingly where we are going to be for the evening. But nothing that follows engages us enough for us to want to spend 2 ½ hours with these frantically frenetic ladies. A well intended musical by a gaggle of gifted artists; but in my case all they succeeded in doing was cause  me to run to Netflix to order the film from which it emerged.
———-
I saw the musical on a recent Saturday night, and followed it at the matinée on Sunday of another entry from Lincoln Center Theatre. This was the ambitious play spectacle called A Free Man of Color which is a whopper of a theatre piece by the estimable John Guare with a cast of twenty six the material covers the years from 1801-1806 in a dozen locations from New Orleans to spots in Europe, Sante-Domingue (later Haiti)  and America.
Included in the all-star cast of characters are the Americans Thomas Jefferson, Merriweather Lewis, James Monroe and Major Walter Reed, several citizens of Sante-Dominigue, King Carlos Cuarto and The Infanta of Spain, Napoleon Bonaparte and his wife Josephine, Talleyrand his foreign minister, Georges Feydeau the playwright and  General LeClerc,  Talleyrand's brother-in-law, all from France.   And that's just a sampling; there are dozens more.
I picked up the  well produced Lincoln Center Review which includes an interview with George C.Wolfe (who directed the play) and John Guare, its author.  Mr. Wolfe talked about "this soufflé of language and style, and then you have the shards of history running through it." Well, they certainly are shards. I've now read another article in the Review on when the Caribbean came to New Orleans, and I still cannot unravel the complicated history of  New Orleans and the Louisiana Purchase which occurred in 1803. The article tells us  that in July 1801 Napoleon's minister to Washington called on the recently inaugurated President Thomas Jefferson. Louis-André Pichon broached  the possibility of an armed French intervention on Sante-Domingue, the still nominally French colony on the western side of the island of Hispaniola. The government there was headed by the former slave Toussant Louverture; it had for ten years been the site of a world-changing struggle, a slave uprising that history was to call the Haitian Revolution. The rest is complicated, and though it's all well explained in the Review, it certainly is not in the play. The latter runs close to three hours, but it is so chock full of headline information I had no idea when it ended, what Spain had to do with it, or how Napoleon managed to sell that section of the American continent to President Jefferson for $15,000,000.  It all had something to do with  Napoleon's inability to quell the Haitian revolution, therein losing most of his troops to yellow fever or massacre, which caused him to abandon his plan to set up a French Colony in the land that became our Louisiana (named for King Louis XIV of France).
The leading character in Guare's play is one Jacques Cornet, played by the excellent actor Jeffrey Wright. Mo plays his slave Cupidon Murmur, Reg Rogers plays his half-brother Zeus-Marie Pinceposse. Arnie Burton, Peter Bartlett and Veanne Cox, all three of whom have distinguished themselves elsewhere, play various dandies and grande-dames of the period, all prancing about in high fashion clothes and exotic hairdos.  I hope you are beginning to understand how underwhelming all this seemed to us out front watching the goings on.
George C.Wolfe seems to have said "let's keep this moving" to his huge company of willing actors, and they certainly did. I have this image of John McMartin appearing as President Jefferson three or four times every forty minutes or so but I have no idea what he was telling us. And Jeffrey Wright seemed to be bellowing all afternoon, as he went from Free Man of Color to slave to a final soliloquy  reminding us that all men are created equal.
I am so sorry to treat this project, clearly produced with the best of intentions, with seeming disdain. I'm just surprised at the size and scope of it; it didn't reflect the kind of immaculate care we have come to expect with everything Lincoln Center Theatre produces.  All champions flounder now and then so I'm going to hope this was just a false start to a new season. I'm certain down the road the team that has brought us so many riches in the past will unearth many more gems to delight, enrich and entertain us. It's just a shame these two blimps had to arrive together to get  things off to a shaky start as 2010 approaches the end of its run.
————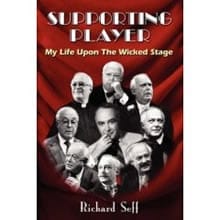 Among his many accomplishments, Richard Seff has written the book for Shine! The Horatio Alger Musical!, which debuted at the 2010 New York Musical Theatre Festival.
He is also author of Supporting Player: My Life Upon the Wicked Stage celebrating his lifetime on stage and behind the scenes, available through online booksellers, including Amazon.com.
Richard Seff chats with Joel Markowitz: