I have two winners for you this time, as opposed to my last column which featured two on the down side.  First, La Bête, a farce by David Hirson, presented on Broadway at the Music Box Theatre by Scott Landis and Sonia Friedman among a dozen others.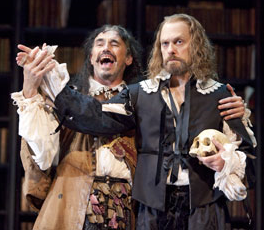 Hirson takes us to France in 1654 and plunks us down in the library of a company of theatre artists headed by "Elomire" as played byDavid Hyde Pierce, and there he is as the curtain rises, talking to one of his co-players. Books line the walls from floor to ceiling, and the  first line of the play is something like "I hate him!" or "He is impossible".
Within  minutes, in saunters the brilliant Mark Rylance as "Valere", a second rate actor and would be playwright, who has lots on his mind and the determination to share every ounce of it with anyone within earshot. Valere is eating an apple, and as he babbles on (for about 20 minutes, non-stop) much of the apple comes flying into the room as his teeth are not on intimate terms with each other. His long short pants are like bloomers and the rest of his outfit looks like it was washed a month or two ago. He's long winded  from both ends if you get my meaning, and he has no problem with relieving himself all over the place. It would be disgusting if it weren't so side splittingly funny. He's aided and abetted by the equally gifted Stephen Ouimette and David Hyde Pierce, who extend Rylance's laughs by reacting inventively and with great comic flair through the barrage of words that keeps getting flung in their faces.
The plot is simple. The Princess, played with hauteur by the delightful Joanna Lumley, whom many of us remember from  her years as Patsy Stone on "Absolutely Fabulous", thinks Valere is a gem, and she wants him to be added to Elomire's company as actor and co-author with Valere. She thinks he'll spice up Elomire's dialogue, which is a little intellectual for her taste.
Though La Bête first appeared on Broadway in  1991, it only stuck around for 25 performances, and while I didn't see it, I'll wager it had little to do with the current production, which had a successful run in London before crossing the ocean to entertain us. For under Matthew Warchus' canny direction (which I suspect included the notion that Mr. Rylance must be given lots of room to experiment), it moves like lightning, leaving in its wake an audience spent with laughter after 100 minutes of mirth.
I won't reveal the ending, but I will tell you that though it should sadden you a little, it doesn't.
It brought a rueful smile to my lips, and renewed respect for David Hirson for sticking to his guns and giving us a play that has substance as well as great good humor. It resonates far more today than it must have 20 years ago, as we sink further and further  into the mire, relating Valere and his crude humor to the goings on in "Sarah Palin's Alaska", "Dancing with the Stars" and other highly rated shows like "The Walking Dead." Though doing well, La Bête is only going to play out a limited run, and will close soon after the new year, so if you're planning to visit NYC over the holidays, I recommend you include it in your plans. For those interested in the finest of comic acting, it's a rare opportunity.   It's a romp and a riot.
La Bête performs at the Music Box Theatre, 239 West 45th Street (Between Broadway and 8th Avenue), NYC.
Buy tickets.
———–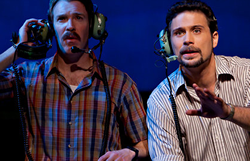 Manhattan Theatre Club's latest original, Spirit Control, is interesting for several reasons. It continues the burgeoning career of playwright Beau Willimon whose Farragut North and Lower Ninth showed promise in their 2008 New York productions at the Atlantic Theatre Company and the Flea Theatre Off-Broadway.
Another reason is that it sets a  herculean task for itself in the opening scene of the play; a control tower officer has the difficult job of trying to help a terrified young woman who is stuck in a Cessna two-passenger plane with a pilot who has suddenly collapsed, is turning blue, and on his way out of this world. I can't tell you  whether or not he guides her safely to the  ground: you must see for yourself, but I can say that the repercussions of the experience cause significant changes in the officer's life for the next 25 years. Willimon cannot sustain the tension and tightness of the first 15 minutes, but he does deliver a play that is engrossing throughout, and takes us down roads that I hadn't expected to travel.
Helping the playwright is a masterful performance by Jeremy Sisto, known to many of  us from his years on the television series "Six Feet Under" and "Law and Order." It's a joy to note that he is another actor known mostly for his television appearances who is equally at home on stage, equipped with the talent to surprise and involve us in a complicated character's inner life.  Sisto has done much in theatre, but most of it regionally at the Geffen and Ahmanson Theatres in Los Angeles and at the Goodman in Chicago, so he's not known in New York theatre circles, which made his resourcefulness and full command of  the stage even more memorable for me.
He's supported by a fine cast  including a moving one scene turn by Aaron Michael Davies as his disturbed teenage son, by Maggie Lacey as his wife and Mia Barron as the woman in the plane and the one he meets later in a bar. Willimon changes styles midstream,  moving into magical realism  which I first encountered years ago in novels by Gabriel García Màrquez, the distinguished Columbian writer, who would insert magical elements into otherwise ordinary and realistic situations.  And Willimon carries it off, giving Sisto enough of a character to play so that his journey through a quarter of a century holds our interest.
Willimon is still evolving; I don't think he's written his masterpiece yet, but he's on his way, and it would be worth your while to keep an eye out for Spirit Control, (a title with a double entendre) if you're interested in the early works of a playwright of interest. This is just the sort of thing Manhattan Theatre Club and other not-for-profit theatres should be putting out there. I enjoyed this, but I also look forward to whatever strikes Beau Willimon's fancy next time out.
The Manhattan Theatre Club's production of Spirit Control performs at New York City Center – Stage I, 131 West 55th St, NYC.
Buy tickets.
———–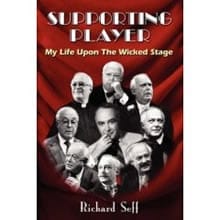 Among his many accomplishments, Richard Seff has written the book for Shine! The Horatio Alger Musical!, which debuted at the 2010 New York Musical Theatre Festival.
He is also author of Supporting Player: My Life Upon the Wicked Stage celebrating his lifetime on stage and behind the scenes, available through online booksellers, including Amazon.com.
Richard Seff chats with Joel Markowitz: