Driving Miss Daisy is a holiday gift from some seventeen producers (imagine, for a play with 3 actors, 3 costumes and a few set pieces!). It's a gift because, although the play is a pleasant visit with 3 interesting characters, its primary virtue is it offers two roles with which to lure the best we've got going among this generation of actors, and in Vanessa Redgrave and James Earl Jones we could not ask for more.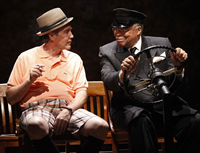 It's always a joy too to see supporting player Boyd Gaines onstage. Each season it seems he comes up with something new and fresh for us, whether it's Herbie in Gypsy, Guthrie McClintock in The Grand Manner, Lieutenant Osborne in Journey's End or Georg in She Loves Me. This time out he plays Daisy Werthan's son Boolie and it's great fun to watch him go at it tooth and nail with the venerable current matriarch of the Redgrave clan, who is in top form as she tackles something a little different for her – a Southern Jewish lady of the middle class, very sure of herself and very set in her ways.
Daisy Werthan is not the most likeable character you've ever met – she has prejudices all neatly tucked away, she's not the brightest lady in town, she certainly hasn't allowed son Boolie to leave the nest and fly though technically he's done so with a wife of his own. But Miss Daisy has her ways and Boolie remains a pawn.
Into her life comes one Hoke Coleburn, a black man only slightly younger than Miss Daisy, who's  been engaged by Boolie to drive Miss Daisy around town when need be, as she's  begun to be confused about the difference between "forward" and "reverse" when it comes to shifting gears in her ancient Packard.  Alfred Uhry's play, which had a tremendous run off Broadway twenty years ago, won him a Pulitzer Prize.  It covers 17 years of life in Atlanta during the 1950s and 1960s and includes material relating to the civil rights movement. Not a lot happens, but it's absorbing all the way as we see the eventual growth of Daisy into a woman of compassion and maturity, much of which came  from her growing friendship with Hoke, whom she calls at one point, correctly, her 'best friend'. 
Driving Miss Daisy will have a life as long as there are actors and actresses of a certain age who long to sink their teeth into two conventional  roles that allow them to fill in the blank spots with something simply called "acting".  To watch Ms. Redgrave's thought processes, emotions conveyed without the use of words – to delight in Mr. Jones' canny ways with lines that are not nearly as funny as he makes them – there's a lot here to make the $131 charge for an orchestra seat worth while.
Imagine, 14 producers, three actors without change of costume (even though the play covers 17 years), a capacity gross of something over $750,000. No wonder they've extended the run into mid-April, even though the original commitment of these actors was only until February. Mr. Uhry has got to be a happy camper, as will his heirs be in another twenty years when some folks like Meryl Streep and Denzel Washington  will be ready to tackle these two juicy roles. If you can manage to get here in the next months, treat yourself to a class in Advanced Acting 101.
Driving Miss Daisy is scheduled to run thru April 9, 2011 at the Golden Theatre, 252 W. 45th St, NYC. Buy tickets.
————
The late Harold Pinter would undoubtedly be delighted to have had an early play of his, The Collection (1961) resurrected and placed on a double bill with a very late one, A Kind of Alaska (1992). Both one-acters, a form which Mr. Pinter liked and to which he brought renewed respect, they are neat little bundles which resonantly reflect his genius for compactness and his insistence on the meaningful pause.
In Pinter, these pauses effectively create tension; in many others they only bring on yawns.  In the early play, the ringing of a phone calls forth a feeling of fear, and in this excellent Atlantic Theatre Company production under the direction of Karen Kohlhaass, we are held right from the getgo as Pinter's dark and cryptic tale unfolds.
Harry and Bill are an odd couple, the former (Harry) a wealthy and cultured older gent, the latter a young man from dubious background now living the sybaritic life courtesy of Harry, though this being Pinter,  naturally we are never told the exact nature of their relationship. Into their Belgravia home comes a stranger, James, who insists that Bill had an affair with his wife Stella, a colleague of Bill's in the coutourier field.   As the play's setting is two flats, set next to each other onstage, we will meet Stella in the Chelsea flat she shares with James, and we'll hear both her version and Bill's about what happened the night she and he  actually did spend some time together. No  clean cut answers evolve, and as he so often does, Pinter lets the audience fill in most of the blanks. An excellent cast of American actors has managed to capture, at least for our ears, the rhythms and nuances that British accents allow.  Larry Bryggman (a most valuable character actor) and Matt McGrath (whose theatre credits are staggering) as his young house  mate are spot on, and Darren Pettie and Rebecca Henderson are totally convincing as the other couple, the ones living in slightly less grand digs in Chelsea .  No sense in detailing plot points, as this is more a mood piece, a tease that helped launch the Pinter  career 50 years ago. In that first production it was played by Judi Dench, with Anna Massey and Paul Rogers lending support.  It's playing at a tiny theatre on East 13th Street, for a limited run only.
Pinter moved on to full length plays, among which The Homecoming, Betrayal and The Caretaker come to mind, and to  film scripts such as The French Lieutenant's Woman and Sleuth. He also directed many plays he didn't write including David Mamet's Oleanna and seven plays by Simon Gray. In his late life he created A Kind of Alaska which was inspired by Oliver Saks' Awakenings, first published in 1973.  It must have appealed to the macabre side of his personality (was  there another side?) for it dealt with a disease which had spread over Europe and subsequently the rest of the world, an extraordinary epidemic which had many symptoms – the most frightening of which was sleep, so it was named "encephalitis lethargic" or sleeping sickness.
Pinter's play deals with Deborah, who's been asleep for thirty years, just in time for the use of the miracle drug L-dopa, with which she erupts into life once more.  So it is that in this play Deborah awakes, in the presence of her younger sister whom she doesn't know, and her Doctor who loves her.  The remarkable Lisa Emery, always resourceful and radiant, knows how to allow her face to convey several emotions at once; as a result, she's fascinating. With no change of costume or makeup, she's a child one minute, a teenager the next, and ultimately a frightened woman of 45.  The play deals with how the past affects  the present, but is virtually plotless, so our enjoyment of it comes from what we learn of the disease, and from the performances. The original production had three stars in it; this one is more low-keyed, but it is well served by Larry Bryggman, Rebecca Henderson and the remarkably gifted Lisa Emery.
Not a full banquet, a tasty morsel as a palate cleanser between feasts of the holiday season.
This production closed Dec 19, 2010.