Sunset Boulevard is not the best musical that Andrew Lloyd Webber ever composed. While its primary storyline—the decline and fall of an aging silent film diva–is oddly compelling, its score gets repetitious and its lyrics often fail to scan with the music.
That having been said, Signature Theatre's new production of this show is slick, compelling, and surprisingly moving. It's so good that, in spite of its lack of truly memorable tunes, it might just give the touring production of the Lincoln Center's South Pacific revival—currently playing across the river at the Kennedy Center—a run for its money.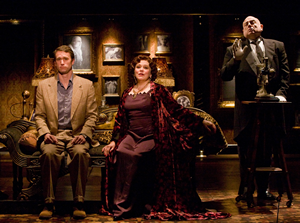 Sunset Boulevard has had a spotty history onstage. Inspired by Billy Wilder's eponymous 1950 film, Webber's musical version went through a few false starts and rewrites before its London premiere in 1993 with book and lyrics by Don Black and Christopher Hampton. Both the film and the musical focus on the sadly fading career of legendary (but fictional) silent film star Norma Desmond, portrayed brilliantly by Florence Lacey in Signature's production.
Now much older and wealthier but with her glamour days long past, Norma is convinced she can make a big Hollywood comeback playing a teenaged Salome in a biblical epic film she's scripted herself. Enter down-and-out screenwriter Joe Gillis who gets into Norma's palatial Sunset Boulevard mansion quite by accident. He ends up moving in to rewrite her disastrous script.
Not willing to give up the good life she lavishes upon him, he becomes her reluctant boy toy, which ruins his budding romance with up-and-coming young screenwriter Betty Schaefer. Ultimately, despite the desperate machinations of Norma's once-husband and now loyal butler Max, both Norma's revised script and her shabby affair lead to the show's highly dramatic, tragic denouement.
After its initial London success and a decent run on Broadway, Sunset Boulevard evolved into a continuing soap opera saga of misunderstandings and lawsuits in later productions, particularly in the United States. These, combined with the lavish, costly sets required by the show regularly kept the it from turning a profit. At least partly as a result, performances over the years gradually became much less frequent.
But now we arrive in Arlington, 2010. In what this critic regards as a dynamic masterstroke of fiscal and artistic creativity, the Signature Theatre brain trust chose to mount the first Washington-area run of Sunset Boulevard by trimming its outlandish stage mechanics to the minimum necessary to sustain the central metaphor of Norma's decaying Hollywood mansion.
This is not to imply that Signature's re-imagination of Sunset Boulevard looks and feels cheap. Far from it. Before you even enter the theater proper, you travel through the small rear vestibule of the MAX space and find it littered with packing crates and stage props. As you find your seat, you notice the burlap-bagged counterweights hanging from the industrial ceiling inside, and the sliding corrugated metal doors to the rear and sides of the generous, uncluttered, and barely-elevated stage area. You suddenly realize that you've joined this production in medias res: you're smack-dab in the middle of a late-1940s Hollywood soundstage (kudos to set designer Dan Conway) that's devoid of props but ready for the directors, actors, and cameras to enter and for the magic to happen.
And it does. As the lights dim and as music director Jon Kalbfleisch launches his first downbeat, you notice the show's orchestra perched somewhat precariously above and along stage rear. They're somewhat hidden by a semitransparent scrim and some ornate, stylish simulated ironwork—and occasionally by a movie screen.
But as you listen to the opening bars of the show, amplified via the MAX's excellent, realistic sound system, you realize that you're not getting the all-too-familiar two violins-flute-percussion-synthesizer faux-orchestra we've grown accustomed to during the Great Recession. Nope. This is the real deal, 20 instrumentalists cranking away from the depths of their professional souls, giving you a real, "big musical" sound. It's just as good as South Pacific's big ensemble at the KenCen across the creek and far better than the dinky, tinkly ensemble employed at the Shakespeare Theatre in its current, otherwise enjoyable production of Candide.
Once the show begins to unfold in earnest, the soundstage comes briskly to life, bustling with frantic staffers; tyrannical directors; obnoxious and amoral agents, producers, an ink-stained wretches from the press; and down-on-their-luck hack script writers, ingénues, and the occasional washed-up actor.
This frantic hustle alternates with scenes that take place in Norma's Tinseltown mansion. Her palace interior appears almost instantaneously as needed via a publicity photo-littered rear wall, an ornate sofa and table, and a marvelous art deco staircase that drops down stage right. It's simplicity itself, employing a simple mechanism not much different than the pull-down for an attic trap door. The effect is grand, impressive—and blessedly quiet so as not to detract from the grandiose mood and setting.
To complete the setting, the production makes frequent use of the aforementioned movie screen that slides in from time to time to cover the orchestra center. Flickering black and white silent clips run here and there, sometimes showing old movie clips, sometimes visualizing a winding road through the windshield of a speeding automobile, and (spoiler alert!) occasionally showing disturbing clips of a dead guy floating in a swimming pool.
Whether the movie clips are an assemblage or derived from Billy Wilder's film is irrelevant. Taken as a whole, they create a sense of motion and energy, helping one scene transition seamlessly into the next, making the audience feel at times like they're watching a real movie. It's a nice effect that subtly seduces the audience into buying the show's whole old-Hollywood premise.
While Webber's score is distinctly less inspired than, say, his music for Phantom, the Signature's production seems to have found a way to turn that into a virtue. In the 1970s, Billy Wilder is said to have told Stephen Sondheim—who was interested in doing Sunset Boulevard as a Broadway show himself—that the story would really be better off as an opera. Signature seems to have taken Wilder at his word.
There's little spoken dialogue. Narrative passages are sung in a kind of modernist recitatif. Signature seems to have run with this and turned Sunset Boulevard, very subtly, into a kind of verismo opera, a sung drama that's more like Leoncavallo's Pagliacci or Verdi's late-career Otello.
True, Webber probably didn't have this notion in mind when he created the musical. But in staging Sunset Boulevard much like a verismo opera for our own times, Signature has turned the show's relatively thin and somewhat repetitious score into a virtue, using music to highlight the show's tragic story rather than using the story as a vehicle to introduce hit after hit.
That said, the show does have some musical highlights, most notably its poignant, bittersweet romantic songs like "With One Look," "As If We Never Said Goodbye," and the title song itself.
Better yet, all the vocals are presented by as fine a cast as you're likely to get for this show, all of which is marvelously and deftly directed by Eric Schaeffer with crisp, economical choreography by Karma Camp.
Sunset Boulevard The Show, like Sunset Boulevard The Movie is first and foremost a major star vehicle, a marvelous and sadly rare opportunity for an over-40 or over-50 actress to dominate the stage. The role of Norma Desmond was and is a role to die for.
Wilder's film version provided a major comeback for veteran actress Gloria Swanson. Webber's show originally starred Patti LuPone, who was eventually bumped for Glenn Close for the Broadway staging. Later productions featured singing actresses as varied as Petula Clark and Diahann Carroll. And even Fay Dunaway was considered briefly for the show's central role.
Signature has scored by bringing veteran Broadway star Florence Lacey on board in the title role. Ms. Lacey was over-the-top great in Sunday evening's performance, balancing her character's essential outrageousness with surprising touches of sorrow, regret, and vulnerability. As for her showy vocals, she delivered them all with convincing passion and conviction in perhaps the greatest single performance  by a singing actress that we've seen here in many years. Ms. Lacey's performance alone is worth the price of admission, particularly her grand, tragically mad final descent down her ornate, elaborate staircase resplendent in all her flamboyant, silent-film glory.
Ms. Lacey is blessed by a fine supporting cast, particularly the principals. They're led by D. B. Bonds as the tormented Joe Gillis. A failed—or at least rejected—screenwriter, it's just Joe's luck to get an extended gig rewriting Norma's disastrously huge script, which initially resembles the length and girth of the Obamacare legislation. Joe ends up, with only partial regret, as Norma's live-in paramour.
D. B. Bonds embodies Joe's artistic and personal torments, transforming what initially seems like a shallow role into one of tragic heroism. He repents his fall in the end, but he's just too late to make amends. As a vocalist, Bonds also excels, most particularly in Sunset Boulevard's title song.
As Betty Schaefer, the real object of Joe's affections, Susan Derry does a nice job with a relatively small and ungracious role. Her transformation from script editor ingénue to real writer to tragic, would-be lover and wife is eminently believable. It's the whole story of Hollywood, really, where promises and dreams eventually turn to ashes for most who pursue them.
And finally, a big hat tip to Ed Dixon's portrayal of Norma's hapless yet loyal butler-manservant-bodyguard, and onetime husband and director Max von Mayerling. Intriguingly, the character was originally created in the film by legendary German director Erich von Stroheim. Dixon differs considerably from von Stroheim, strongly resembling an ominous cross between director Otto Preminger and 1950s wrestler Tor Johnson, a frequent star in Ed Wood's science fiction flicks.
But for all his external Germanic thuggishness, Dixon's Max still loves Norma, protecting her to a fault. Slowly, surely, his character grows in sympathy and complexity. And when he bursts out almost incongruously in song, you're surprised to hear in his deep, mellow, and authoritative voice the soul of a fallen angel.
In smaller roles, J. Fred Shiffman excelled as the vicious script-killer Sheldrake, and Harry A. Winter portrayed a sympathetic yet businesslike Cecil B. DeMille.
Kathleen Geldard's perfect period costumes and Howard Binkley's imaginative lighting schemes complete the perfections of Signature's production which, taken as a whole, transforms what is arguably Andrew Lloyd Webber's weakest musical effort into a compelling, entirely new Broadway verismo opera that's an entirely accessible triumph. Going smaller has paradoxically helped make this show both bigger and better. Well worth the price of the ticket, Sunset Boulevard is now  vivid, evocative "Hollywood Confidential" that demonstrates better than most story lines the allure, the tragedy, and sometimes even the ultimate futility of the Hollywood—and the American—Dream.
Sunset Boulevard
Music by Andrew Lloyd Webber. Book and lyrics: Don Black and Christopher Hampton.
Directed by Eric Schaeffer.
Music Direction by Jon Kalbfleisch.
Produced by Signature Theatre
Reviewed by Terry Ponick
Sunset Boulevard runs thru Feb 13, 2011 at Signature Theatre, 4200 Campbell Ave, Arlington, VA.
Details here.
Buy tickets.
Other reviews:
SUNSET BOULEVARD
DCTS review