If you paid careful attention to the Holiday Gift Guide we published at the start of the holiday season, you will recall a recommendation for Bruce Kimmel's strangely titled memoirs "There's Mel, There's Woody, and There's You: My Life in the Slow Lane." The book details his career as an actor, director and writer of musicals for the stage and screen. Today I'd like to take a closer look at some of what the man has accomplished since, as he explained at the end of that book, he made the decision to quit the performing side of the business and turn his attention to producing albums that fill so many theatre lovers' shelves.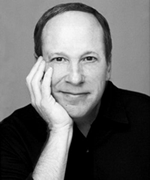 I've never actually met or even spoken with Bruce Kimmel, but it seems he's been a friend for a long time. There's a personal quality to his record producing that establishes an intimate connection with the collectors of this unique genre.
Perhaps it is his habit of including light-hearted as well as heart-felt thank yous in the booklet for each of his CDs. His thank yous to his recording engineer Vinnie Cirilli became a running gag that had me flipping to the back of each booklet even before I listened to the recording. He'd give thanks to "Vinnie ____ Cirilli," with a cryptic quote from the engineer himself inserted in the blank … as in "Vinnie 'where are the bagels?' Cirilli," "Vinnie 'I'm on the internet!' Cirilli" or "Vinnie 'wasn't I just here – didn't I just do this?' Cirilli." By about the twentieth time, I felt I knew Vinnie Cirilli about as well as I felt I knew Kimmel.
Or it might be his habit of singing some of the songs he recorded himself but using a "stage name" (Guy Haines) and including a picture of "Guy Haines" with his face obscured in the pictures of the vocalists on the album.
Or perhaps it was his including "bonus tracks," some of which were hidden at the end of the last track of the album. I complained about having an excess of silence separating the song from the bonus. The last track on his compilation of duets by Emily Skinner and Alice Ripley actually ran 3:45 but the track ran 6:46 because there was about half a minute of silence before a "hidden" comic bit between the two. I'd have preferred that Kimmel put it in its own track and call it a "bonus" but I certainly wouldn't have wanted him to leave it off the album. Outtakes, flubs and nifty bits are a delight.
But mostly, it is his unerring sense for what people like me, who are addicted to musical theatre and treasure its treasures, that has made Kimmel so much a part of my life for so long that it feels like a friendship. His view of the world of musical theatre concentrates on the light, fun, even chipper side – which you might expect of the man who conceived, wrote, composed, and co-directed The First Nudie Musical. He looks to the bright side most of the time, but that hasn't kept him from giving us treasured recordings of some darker musicals such as Claibe Richardson and Stephen Cole's gorgeous The Night of the Hunter.
It is now eighteen years since Kimmel chucked one career to start up a new one as a record producer. First his own company, Bay Cities, released his work. Then he joined Verse Sarabande. When that turned unaccountably sour after tremendous successes, he started another label of his own, Fynsworth Alley and finally launched another, Kritzerland. Never mind what the label says, however, the important thing is what the "Produced by" credit is. If it is "Bruce Kimmel" you might as well just go ahead and buy the disc – you know you'll end up wanting it.
He has recorded the full score of dozens of shows that were just a bit off the beaten track, but almost without exception the result has been a sharp recording of a quality score performed by very talented people who seem totally committed to the project. He gave us Milton Shafer's  Drat! The Cat! which is high on my desert island recordings list, recordings of small, off-Broadway style delights like Scott Warrender's Das Barbecü, Marvin Laird's Ruthless, Mike Craver and Mark Hardwick's Radio Gals and – a personal favorite – Skip Kennon's The Last Starfighter. While he was at it, he managed to give us Flaherty and Ahren's inaugural effort, the delightfully irreverent Lucky Stiff.
Many of Kimmel's albums have been devoted to either the songs of a single songwriter ("The Stephen Sondheim Album," The Stephen Schwartz Album," "The Burt Bacharach Album") or a single vocalist (Christiane Noll's "A Broadway Love Story," Judy Kuhn's Jule Styne collection "Just in Time," Sally Mayes' Comden and Green album "Our Private World," two by Brent Barrett "The Alan Jay Lerner Album' and 'The Kander and Ebb Album" and two by Debbie Gravitte, "The MGM Album," and "The Alan Menken Album").
He captured the inimitable personality in Michelle Nicastro's voice with a series of recordings, first concentrating on songs from cartoon features and family films ("Toonful," "Toonful, Too" and "Reel Imagination") before giving her her own compilation of songs from Broadway's more adult-oriented material on "On My Own." The sadness caused by her recent death is made somehow more endurable because these discs continue to make her magic available.
Kimmel brought some imaginative concepts to albums. For stories that have been made into more than one musical, he created compilations as if all the material had been from the same production. His "Cinderella" included songs from Rodgers and Hammerstein's television version, Disney's animated feature, Sondheim's "Into the Woods" and other sources while his "Peter Pan" drew from sources including Broadway, Disney and even ballet. For each he had new orchestrations created which included overtures covering all the material.
Two compilations of previously un-recorded material from specific composers were so much fun it is a shame he hasn't yet produced more of them. "Unsung Sondheim" was a delight but the two-disc "Unsung Irving Berlin" is another Kimmel-produced desert island album.
His fame probably hinges most, however, on his series of discs giving theatre lovers a chance to hear songs that either were cut from hit shows before they made it to Broadway or were in shows that never got to the Great White Way at all. Four volumes of "Lost in Boston," three volumes of "Unsung Musicals" and a single volume of "Prime Time Musicals" are of incalculable value to the show music lover.
The past 18 years haven't been entirely devoted to just producing recordings. He's also written another musical which he recorded. It is the typically demented piece of light fun froth, "The Brain from Planet X" which he issued on the Kritzerland label. It, like practically everything else he's issued, is well worth a listen.
not here
not here
A Selection of "Desert Island" discs produced by Bruce Kimmel:
On the Varese Sarabande label –
•  Lost in Boston – VSD 5475
•  Lost in Boston II – VSD 5485
•  Lost in Boston III – VSD 5563
•  Lost in Boston IV- VSD 5768
•  Unsung Musicals – VSD 5462
•  Unsung Musicals II – VSD 5564
•  Unsung Musicals III – VSD 5769
•  Unsung Irving Berlin – VSD2 5632
•  Peter Pan – VSD 5722
•  Toonful – VSD 5437
•  The Grass Harp – VSD 6010
•  On My Own – VSD 5810
•  The Kander & Ebb Album – VSD – 6044
•  The Night of the Hunter – VSD 5876
•  Drat! The Cat! – VSD 5721
•  Das Barbecü – VSD 5593
•  Duets – VSD 5958
On the Kritzerland label –
•  The Last Starfighter – KR 20010-4
•  Promises, Promises KR 20015-9
Related:
Amazon has stocked many titles by Bruce Kimmel. View them here.