The new year begins, ominously. For reasons they've chosen not to share with us, a consortium of eleven producers led by "Bram Stoker's Dracula Ltd.", decided to dig up the original Hamilton Deane-John L. Balderston plays  which were based on the novel "Dracula" by Bram Stoker. No adaptation, no update, just an airing for 2 scripts  penned in 1924 by Deane and  revised in 1927 by Balderston where the original ran for 3 years all over Britain, and the revised version conquered London as well.
After London, in 1927 it landed on Broadway for 261 performances.  That Broadway run  launched the play, and the career of Bela Lugosi, who played the title role, then went on to immortalize himself by re-creating it on film. Frank Langella had a go at the role in 1977 and won himself a Tony Award for his performance. But that production, impeccably directed with great style by Dennis Rosa, was played for heightened reality and made use of Langella's sex appeal by turning Count Dracula into a powerful romantic force. He was aided and abetted by a fine cast and a series of brilliantly satiric sets by the cartoonist Edward Gorey, whose reviews and awards were almost as ecstatic as were Langella's. The revival was a popular commercial hit, and Langella played the role again in a major film following its run on Broadway.
Now, in the recently constructed Little Shubert Theatre on the western end of 42nd Street, in the last building before you hit the Lincoln Tunnel to New Jersey, the old gang is back – the Count of course, Dr. Seward of Seward's Sanitorium, Renfield his patient, Van Helsing his friend the Vampire Specialist, Miss Lucy who is suffering from two bite marks on the neck among other things, her boy friend Jonathan Harker who is sort of a wuss, by a maid and a butler and a "woman in white" whose stage life lasts about 30 seconds. They are supported and sometimes clobbered by masses of fog every time the Count shows up, by very loud thunder, lightning and the howling of distant wolves who sound understandably upset.
I'm certain you know the plot – mysterious man in cape returns to his castle after many years and drops in on Dr. Seward because he sniffs young blood around, and he's one thirsty guy. The play spends two and a half hours trying to catch him, but he's a crafty vampire, and even the dreaded crucifix in his face, the abhorrent garlic necklace around his victim's throat, none of the usual deterrents are effective until .. …. But I must not tell you that. If you're still curious, then get thee to the Little Shubert quickly, for I don't think the Count and his adversaries will be in residence very long.
As usual, the actors are game, and among them you'll find the always welcome George Hearn, who so brilliantly enriched Sweeney Todd and Albin "Zaza" of La Cage Aux Folles as well as Max the Chauffeur in Lloyd Webber's Sunset Boulevard. I can only think that Mr. Hearn, whose home is way up near Canada, wanted  to spend the holidays in New York, so he took on the role of Van Helsing in this woebegone stock revival.  Other good actors including Timothy Jerome must also have wanted to be working at Christmas and New Year's.
The company also boasts the offspring of  three celebrities.  The young daughters of Beau Bridges and Lucie Arnaz and Lawrence Luckinbill plus the son of  Norman Mailer are all perfectly acceptable as Lucy, Renfield and that Lady in White —  but under the direction of Paul Alexander, there is some danger of their forming bad habits.  It's Mr. Alexander's concept to play this one with all the melodramatic flair of a play like Curse You, Jack Dalton! or Uncle Tom's Cabin and that might be ok if the venue was a Show Boat or a touring Carny Show.  For a big city, in a fancy red spruced up off Broadway theatre, that's the image with which I came away, dazed, into the night.  If  that's your sort of theatre, c'mon over and have yourself a feast, for this cast of stalwarts is playing it with total commitment.
Actors are marvelous creatures. I'm proud to have been one of them, and I continue to enjoy their company as a member of their audience, even when they are out there, on their own, in a turbulent sea without a paddle.  Somehow they survive, and you are pleased to cheer them on during their final bows, hoping they know the applause is for them, not for the doomed ship on which they sail.
Dracula is playing at the Little Shubert Theatre, 422 West 42nd Street (Between 9th Avenue and Dyer Avenue), NYC.
Buy tickets.
———–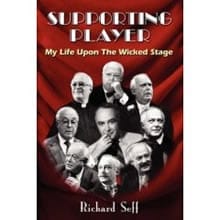 Performer, agent, writer: among his many accomplishments, Richard Seff has written the book for Shine! The Horatio Alger Musical!, which debuted at the 2010 New York Musical Theatre Festival.
He is also author of Supporting Player: My Life Upon the Wicked Stage celebrating his lifetime on stage and behind the scenes, available through online booksellers, including Amazon.com.
Richard Seff chats with Joel Markowitz: