2011 struggled to its feet and came up with a winner courtesy of Lincoln Center Theater's André Bishop and Bernard Gersten, who'd stumbled themselves in recent weeks with Women on the Verge of a Nervous Breakdown and A Free Man of Color.
With Jon Robin Baitz back in full command of his considerable talents, they now offer his latest, Other Desert Cities, which further fulfills the promise he showed in earlier works like The Substance of Fire and Three Hotels. Lincoln Center has been home to Baitz, where many of his plays have been showcased, and that's just what the Regional Theatre mandate is all about . By allowing a string of excellent writers a base on which they can rely, it's true that they stick us on occasion  with a clinker, but it does keep these good writers from dumping us and trotting off to the lotus lands to make a living.
People like Baitz and Terrence McNally and John Guare and Nicky Silver and a dozen others have remained basically faithful to the theatre, when all of them have been asked to work more steadily in film, but it's the regionals like Lincoln Center, Manhattan Theatre Club, the Vineyard, Playwrights' Horizons  and so many others in cities all around the land that have introduced, nourished, and supported their playwrights, for which we must be grateful.  The artistic directors have for the most part been loyal to their writers, and put on things that surely they must have known would not please most of their subscribers. I can't believe that Messrs. Bishop and Gersten didn't have some qualms about John Guare's A Free Man of Color for example, but this fine writer had given them Six Degrees of Separation, The House of Blue Leaves and gave us via the Public Theatre, the musical Two Gentlemen of Verona.  For this nation, which has no National Theatre, we should  be happy and proud that the Regionals were invented  in 1963 when Tyrone Guthrie and his colleagues opened the Guthrie Theatre in Minneapolis. That event was indeed the start of something big.  And this month's entry at Lincoln Center with Jon Robin Baitz's Other Desert Cities is part of the realization of that over fifty year old dream, for it was just a gleam in Mr. Guthrie's eye as early as 1959.
The Baitz play is set in 2004 with a jump in its last scene to March 2010.  It all happens in the Palm Springs retirement home of Polly and Lyman Wyeth, to which their grown children Brooke and Trip have returned for a visit. In residence is Polly's sister Silda. This is a family that seems to be working – bright people all, which means of course there are cross currents and accommodations and half truths scattered about discernible to the well tuned ear. At first glance, though, these are civilized, adjusted and contented people – enjoying their accomplishments, even enjoying the occasional debates over matters of current import, because Mom and Dad are confirmed Republicans right of center, the kids and Aunt Silda are twenty five degrees t o the left of them and that allows Baitz plenty of room for humor extracted from everything you read about in the daily papers.
As the plot unravels, and daughter Brooke Wyeth emerges from a deep depression caused by the suicide of her older brother, tensions mount, the family begins to unravel as hidden truths and a major secret finds its way out into the open.  This is a family play in the very excellent manner of
Death of a Salesman, All My Sons, The Little Foxes, Who's Afraid of Virginia Woolf – the influences of these major works is apparent throughout the evening.  But Baitz has his own voice, and he collects us, he draws us into his net in the lengthy first act by throwing small surprises at us again and again, by exposing us to the viewpoints of all his characters one at a time until we realize there are no villains here, there are no heroes, that those who felt cheated or wronged or betrayed have lied to themselves as well as to each other in order to keep the family together, in order to protect their own glass houses of safety and sanity.
With a first class cast of remarkable actors, the play crackles and sparkles throughout most of its two acts, faltering only slightly in its penultimate section. But I saw it at a fairly early preview, and it's possible some of that wandering may have disappeared by the opening night. The conclusion, set six years after the body of the play, is satisfactory and right.
Stockard Channing and Stacy Keach are remarkable as the couple who've become inextricably tied to each other by the burdensome secret they've buried. Elizabeth Marvel and Thomas Sadoski as the siblings who love each other, though they handle tragedy in totally different ways, are each up to the shining moments Baitz gives them when their turn to take center stage occurs. And Linda Lavin as the seemingly lost ex-alchoholic, currently-addicted smoker trying desperately not to be, is hilarious and ultimately very powerful as the sister who didn't get the breaks. The love-hate between Silda and Polly is palpably real and much of that comes from the two gifted actress who have brought them to vivid life.  Your mind might wander to Edward Albee's A Delicate Balance once or twice – that phrase is actually in this script – but fear not. Though some of the dynamics are similar between these two families, there is no question this is an original tale told from a very different playwright's point of view.
The Palm Beach home that John Lee Beatty has provided, the clothes that are so perfectly suited to each character from designer David Zinn, all of the production values are absolutely perfect and create a world for us before a word is spoken.
What a joy to see a rich plumcake of a play, crafted well without apology for its craftsmanship, using language as it was meant to be used, to illuminate, to entertain, to engage. I would think this play, now at the small Mitzi Newhouse Theatre in Lincoln Center, will have a life long after it closes there. It offers rich roles, five of them, in a play that's full of comment and discussion about the issues of the day as well as those that are universal and timeless.  My final comment to show you how much I enjoyed it – I'd like to see it again.
Other Desert Cities is currently playing at the Lincoln Center, Mitzi E. Newhouse Theatre, 150 W. 65th St, NYC. Buy tickets.
———–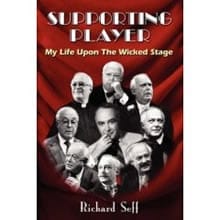 Performer, agent, writer: among his many accomplishments, Richard Seff has written the book for Shine! The Horatio Alger Musical!, which debuted at the 2010 New York Musical Theatre Festival.
He is also author of Supporting Player: My Life Upon the Wicked Stage celebrating his lifetime on stage and behind the scenes, available through online booksellers, including Amazon.com.
Richard Seff chats with Joel Markowitz: