A.R. Gurney has written over 40 plays and I'll wager he's had more use of perhaps 6 characters than any playwright in history. This prolific playwright is in the Alan Ayckbourn/Neil Simon class of writers who continue to find gold as they probe the same mines, those that exist in their own private worlds. Mr.Ayckbourn has found wisdom, humor, sadness and joy in the smalltown middle class of Britain, Mr. Simon has found the same in his Brooklyn-Manhattan-Hollywood Jewish relatives, co-workers  and pals. But only Gurney has stuck to WASP Mom and Dad, Sister, Grandfather – sometimes they comprise the entire cast of one of the plays, sometimes others who touch their lives enter as well.
In his latest, Black Tie, it's just Grandpa, Dad, Grandson, Granddaughter and Ma, plus the very vivid offstage characters of Grandson's fiancée Maya and her parents, his prospective in-laws.  This is an earlier Gurney project, The Cocktail Hour, somewhat tilted. This time out the son is not a playwright seeking Mom and Dad's permission to write a play about them; no, here we have a cool and amiable business man who has great affection for his Mom and Dad, though he thinks he's moved far to the center when it comes to attitude and values. This time we're not in anyone's home; we are in the suite of a middle class undistinguished hotel in the Adirondacks.  Rooted in the good old WASP tradition from which Dad came, he's proud of how liberal he's become, and he's proud of the children he and his wife have raised, though they in turn have abandoned some of the traditions he holds dear.
The first half hour of this comedy is devoted to Grandpa, deceased, who appears as a ghost to Dad, who is dressing for the pre-wedding supper and celebration. It's to be a black tie affair, and at rise, he is preparing himself. Grandpa  appears through the looking glass, and though his thoughts on the impending wedding and other happenings in the family are funny enough, they are also familiar to anyone who's ever seen a Gurney play. For there are the old gent's views on everything from bathroom behavior to use of language to dress code to how to handle a woman. Dad seems to take all the advice with a grain of salt (and we learn the derivation of that expression as well as half a dozen others, as Grandpa is well read, has a keen memory, and is more than willing to share). The play is in one act.  That first half hour is a bit long winded, funny but somewhat inconsequential, but  the second and third sections of it which cover about an hour of playing time, take us into some surprising territory.
Just as the evening below in the dining hall is about to burst into life, the bridegroom enters Mom and Dad's suite with big news. He's just had a knock-down battle with his bride-to-be who turns out to be a young lady of very mixed background. She's partly black, partly Jewish, partly Peruvian and she's not been happy with her treatment by the groom's mom and dad. Her own Mother and Father have been more than "not happy" – they've been furious at what they feel has been the condescension of Mom and Dad, even though it clearly was not intended.  When he gets through telling them what the three have said about them, I was ready to shout: 'Cancel the wedding! There is no way you two can find peace, let alone happiness together!"  But Grandpa, who is visible and audible only to Dad, has some thoughts of his own on this subject, and he manages to put them into Dad's head.  What follows is an interesting twist, one that opens a few windows and holds us to the final curtain.
All in all another excursion into one of  Mr. Gurney's variations on a theme – he seems able to take any moment of his Life with Father and Mother, to extract it, examine it, and turn it into a play. That he's been able to find gold in this mine for 50 years well into his late seventies is remarkable. His plays are beautifully crafted, make proud use of his obvious love of language and sad resignation at his acknowledgement that it is disappearing in his homeland.
Dad is sort of stuck in the middle – with his values and habits so embedded he has great trouble in adjusting to the new world of his children. But he tries and to some extent he succeeds, and we're glad of it. For we like him, particularly like  the way Gregg Edelman plays him, and nice to see this fine musical comedy leading man more than holding his own in a straight play.  Daniel Davis who practically stole "The Nanny" as Fran Dreschler's butler in the sitcom, has put on some pounds, and added a dozen years or so, but he's still adept at ringing laughter out of almost every word  Mr. Gurney puts into his mouth. He's like Santa Claus; it's always nice to see him. I wish he'd listen a bit more attentively, he does go on, but perhaps as the run continues he'll settle down a tad.   Carolyn McCormick as Mom ("Mimi") is a fine foil for Mr. Edelman, and the two of them make it clear that marriages between two of the same background can be just as contentious yet loving as those between two from different beginnings. Elvy Yost is a charming "Elsie", the  daughter who resents her role as messenger between all warring parties, and Ari Brand brings all his not-so-comic frustrations onstage with him when he enters late in the play to announce the wedding may have to be off.
Bless Mr. Gurney (known as "Pete" to all who know him at all) and may he continue to delight us with more tales of the WASP world from which he emerged as chronicler. When I was a kid, my mother used to tell me, "They're very nice people, but get used to it, it's their world."  They're being pushed into all the corners now, they are being outnumbered by all those who've joined us in the last 60 years. But Mr. Gurney, who is one of their most distinguished members, has made certain with his long list of plays about them, they may not have center stage any longer, but they had character, they had tradition and they will never be forgotten.
The Primary Stages production of Black Tie plays the March 20, 2011 at 59E59 Theatre, 59 East 59th St, NYC.
Buy tickets.
———–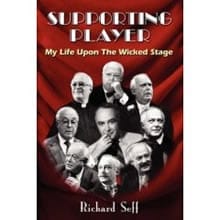 Performer, agent, writer: among his many accomplishments, Richard Seff has written the book for Shine! The Horatio Alger Musical!, which debuted at the 2010 New York Musical Theatre Festival.
He is also author of Supporting Player: My Life Upon the Wicked Stage celebrating his lifetime on stage and behind the scenes, available through online booksellers, including Amazon.com.
Richard Seff chats with Joel Markowitz: