Of all the rare recordings that the wonderful people at Masterworks Broadway have recently made available, none has drawn me back to listen to again as many times as this concept album of a musical that Maury Yeston wrote for Plácido Domingo.
Yeston and Domingo? Yes, but much more as well. The cast of the concept album includes pop stars Gloria Estefan, Dionne Warwick, Richie Havens as well as names you might not have heard for a while like Jennifer Rush and Seiko Matsuda. Some of the tracks sound like 1980s disco while others have the audio ambiance of a philharmonic orchestra. These disparate elements are unified by the lush melodic lines and the sharp intricate rhythms of Yeston's work.
The story of how "Goya … A Life In Song" came to be is fascinating, and the rather split-personality sound of the recording can only be explained by telling that story. Robert Hofler told it in some detail in his book on the outlandish producer, Alan Carr, "Party Animals: A Hollywood Tale of Sex, Drugs and Rock 'n' Roll." Carr, the producer of the mega-hit movie "Grease" with John Travolta and Olivia Newton-John and of the Broadway hit La Cage aux Folles, was the man who brought Yeston and Domingo together.
It started when Carr was a guest in a VIP box at the Metropolitan Opera in New York one night when another VIP happened to be Domingo. During an intermission, Domingo told Carr he'd like to do a Broadway musical. Carr jumped at the idea, suggesting that a new musical written for him would best be based on the life of a famous Spaniard to take advantage of Domingo's latin roots. When Domingo suggested a musical based on the life and death of Spain's legendary matador, Manolete, Carr found a diplomatic way to suggest that Domingo's body style didn't quite lend itself to a bullfighter's costume on a Broadway stage and asked for another topic.
Domingo then suggested Goya, the eighteenth century painter whose portraits of royalty were more realistic than flattering and who lost at least his hearing and possibly his sanity as a result of contact with the lead he used in his paints. A stylized rendition of Goya's painting of "The Nude Maja" became the logo for the musical and the cover of the album.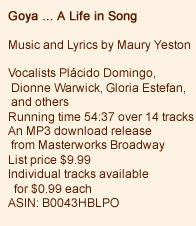 It is reported that it was Domingo's idea to approach Maury Yeston to create the score. This was in the mid-1980s when Yeston was best known for the complex score for Nine. Grand Hotel and Titanic had yet to come. Domingo admired the score for Nine and thought that a bio-musical of Goya might benefit from a similar sound, although with a slightly less contemporary touch.
Yeston's work pleased Domingo and, with Carr helping put the deal together, they convinced CBS Records Group president Walter Yetnikoff it would make a marvelous concept album. It was a big-budget project with, as Hofler says in his book, "tracks laid down by the London Philharmonic as well as the New York Philharmonic" – hence, the symphonic sound of some of the tracks. However, when producer Mike Berniker, who knew a thing or two about making a cast album (among others, he produced the original cast album of Yeston's Nine) played the results for Yetnikoff, he didn't approve. "It sounds like musical theater" he said. Well, duh! That's what it was. Yetnikoff (who Hofler says may well have been high on booze and coke at the time) took the project away from Berniker and gave it to legendary record producer Phil Ramone, who had made mega hits with Billy Joel, Paul Simon and Barbara Streisand.
Ramone has become known for cast recordings in the 1990s and later (Big, Billy Elliot, Boy from Oz, Company, A Funny Thing Happened on the Way to the Forum,  Seussical, Wild Party) but it wasn't a genre he'd worked in before. With his more "pop" sensitivity, Ramone brought in big names from his world – Estefan, Havens, Warwick – and this seductive hybrid of pop and full theatre sound was released as a two – LP set. It hasn't been available for twenty years, except through used record suppliers who specialize in hard to find discs.
Apparently, Domingo hoped to have a major hit with the song "Till I Loved You" but Ramone produced a recording of the song with Streisand singing a duet with her then-love Don Johnson. It went platinum, so any subsequent single for Domingo would seem like he was covering a Streisand hit. Listening to Domingo's version of the song on this album lets you understand just why he thought it would be big.
What Broadway Masterworks has released is a 14 song compendium running about 55 minutes. It is part of the company's laudable effort to release long-unavailable material from the vaults of the companies that have come under one corporate umbrella, principally Columbia and RCA. These gems are made available for downloading as MP3 files through most of the online sources such as Amazon and the iTunes store.
Those 14 songs have cycled through my speakers many times now and each time Maury Yeston's music deepens its claims on my affection.
Placido Domingo, Dionne Warwick and Gloria Estefan sing "Till' I Loved You (Hasta Amarte)"