By now we hope all fans of the work of Kenneth Tynan have made plans to catch Philip Goodwin's solo performance in Tynan, about to close this weekend at Studio Theatre.
While most of the critics revealed themselves to be longtime admirers of Kenneth Tynan's theatre criticism – hard not to be – and found the play to be exceptional, one common thread in most reviews was why the play gave such a preponderance of time to Mr. Tynan's sexual proclivities.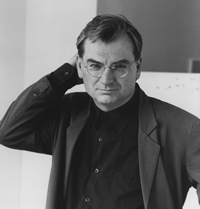 At a conference for the American Theatre Critics Association concerned with the state of modern theatre criticism, I happened to run into Richard Nelson (Chess, Accidental Death of an Anarchist, Miss Julie), who, along with Colin Chambers, coupled the play together from Tynan's diary entries and asked him to respond.
From the critics:
–  Jenn Larsen (WeLoveDC): "… his fascination with canings and an anal fixation to rival the Marquis de Sade's – there's a lot of that to listen to in this adaptation.";
– Jolene Munch Cardoza (Washington Examiner): "self-flagellation" and added the thought that perhaps Tynan would want it that way;
– Chris Klimek (Washington City Paper): "sex-drenched", adding it was no wonder that Tynan's wife refused release of the diaries until after her death;
– the women from TwoHours Traffic: "And his obsession with spanking and sado-masochism, it is not really all that shocking and because of that, Tynan could probably have used less emphasis on the sordid."
– and Jayne Blanchard writing for DCTS: "The playwrights seem to think they are being edgy by delving into Tynan's sex life, particularly his infidelity and interest in spankings. It's a device that becomes repetitive rather than illuminating, particularly since far more interesting things have been said about Tynan's sexual proclivities. So he liked to be spanked and spank willing sex partners—big deal. He could write rings around most other people."
Mr. Nelson responds:
"The project came about when Tracy Tynan, Kenneth Tynan's daughter, asked me to adapt for the stage Tynan's diaries, which John Lahr had edited for publication.  So I was only working with these which cover only the last decade or so of his life and none of the time when he was a theater critic.  What I loved about these diaries is that it felt to me like the critic Tynan was turning the full force of his critical acumen upon himself.  As if saying — here I am.  In all my complexity and without apology.
John Lahr in his introduction to the published Diaries implies that they were something Tynan would not have wanted to have published and certainly not performed.  I disagree.  In fact,  I think they represent Tynan, the critic, at his finest.  And Tynan here has chosen his richest juiciest and most personal subject — himself.  I think they are his masterpiece."