Not a very appetizing title, this.
Matthew Lopez, the playwright, was unknown to me. "Men of a Certain Age" is the TNT hit TV series in which André Braugher co-stars, yet I didn't know his work. The remainder of the cast, André Holland and Jay Wilkison, were new to me too.
Put all that together, and I could not muster much excitement over the afternoon's prospects.  But there you have it, the incontrovertible proof  that theatre is full of magic and surprise.
Mr. Lopez's play, set in April of 1865, just as the Civil War is about to end, has had four regional productions on its journey to New York, and it looks like it benefited from all of them, because what's on display now at the City Center Stage I of the Manhattan Theatre Club is a powerful drama which grips us as it informs us of a little known segment of the Rebel Army that was supplied from Richmond, Virginia. The play is set in the remains of a mansion in that city, a burned out wreck of a house with a leaking roof, a  slanting floor, virtually no furniture (it's all been stolen by vandals). But it's home to Simon, a freed slave and his fellow freeman John, who are joined by the son of the mansion's owner, a confederate soldier named Caleb. All three hope to remain until the family that has fled to safer ground returns.
The play starts with a thunder clap accompanied by heavy rain. Out of the darkness, Caleb comes staggering home with a wounded leg, barely able to get across the floor. That he made it all the way from Appomattox on the one good leg is miraculous. John and Simon, who have known Caleb from birth, are all he has to get him through to some kind of recovery. For Simon has been self-taught enough to know that the wounded leg is gangrenous, and if it isn't amputated quickly it will kill. Though we are spared the worst of the graphics involved in the amputation, we see enough to identify with the agony suffered by Caleb. In the days that follow, he begins to recover, and the relationship among the three men is explored with insight and humor and a proper use of vivid and topical language with which to reveal the many hidden truths buried below.   
The unique part of this odd trio is that all are Jews.  The family that owns the house is Jewish, and their slaves were converted to the faith. Simon conducts a Passover service for the three of them, and it's used effectively to further expose carefully protected truths about these three and the lies and ties that bind them. In two acts, and some six or seven scenes, Mr. Lopez in this one play establishes himself as an important writer for the stage. His dialogue rings true, and it offers three first rate actors a chance to build on substance to turn out three really interesting people.
Mr. Braugher brings the dignity and power of a young James Earl Jones to the piece. His understanding of the new freedom road on which he is just embarking is thorough and realistic. He's ready to reach out to his new equals, those who were only recently his owners, but he expects, even demands they be ready too.  Holland is completely believable as a far more street smart young man, who has not changed since he was a rebellious and resistant slave, characteristics that sent him often to "the whipping man", he whose job it was to punish such chattel, for that is what they were. And though I'd heard  the word used in this context, it is here in the telling of those tales that their true meaning hit home.  For me it was a first, this unwrapping of the mysteries of that horrible time when black people were not considered human, were treated as trainable 'things'. Jay Wilkison, who's never played anything like the self-loathing Caleb, and who inhabits him totally, creates for us a vivid picture of a man who must turn his life around or die.
Doug Hughes, who seems to be directing every other show to hit New York, manages to make us believe he's been thoroughly steeped in this world of inbred Southern ways and means. He is helped enormously by the extraordinary set by John Lee Beatty which gives us a glimpse of the grandeur that once was the South. This is not a plantation, it's a commodious home and one can easily imagine the teas and cotillions and just plain evenings at home with the family that filled this lovely building in days gone by. The story of this play however reveals the price that was paid for that gracious (for some) way of life, and I found it fascinating.  Though I have never been personally exposed to that life or these people who lived it, I felt totally connected, and I mean that as tribute to this playwright, designer, director and cast of three – all gifted, and fully rewarded for their sharing those gifts with us.  See this play if you can – it's not a walk in the park, but it's an eye opener and a little known part of American history all rolled into one.
I'm taking a breather for two weeks while I hope to draw some Vitamin D from the Florida sun.
There will be many major openings in the months ahead. I'll think of the months since the season began last July as the First Act. Now comes the intermission. I look forward to contacting you again in March, so as they say on the tube, "Don't go away. I'll be right back."
The Whipping Man runs thru April 10, 2011 at New York City Center, 131 West 55th Street, NYC.
Buy tickets.
———–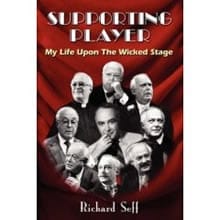 Performer, agent, writer: among his many accomplishments, Richard Seff has written the book for Shine! The Horatio Alger Musical!, which debuted at the 2010 New York Musical Theatre Festival.
He is also author of Supporting Player: My Life Upon the Wicked Stage celebrating his lifetime on stage and behind the scenes, available through online booksellers, including Amazon.com.
Richard Seff chats with Joel Markowitz: