We can never seem to outrun our fate, but the exercise does us good. The quest of Oedipus is a futile one — to steer clear of the prophecy decreeing he will one day kill his father and sleep with his mother — but that doesn't stamp out the satisfaction we get from watching him try. To tear down all the wrong possible futures before they happen… isn't that what we all strain to do, in daily increments? Fate-making can be cardio, and hope a physical exertion.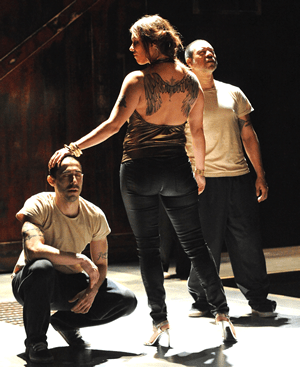 Director Michael John Garcés isn't afraid of blood and sweat, and in Oedipus el Rey he fights the war on fate on a visceral level. His production is a lean, brutal work of physical poetry, updated to modern-day Los Angeles (circa the barrio) and brought athletically to life by a cast of seven. Handsome and sharp-edged, the show doesn't rise to every challenge of adaptation it sets up for itself, but nonetheless creates a visually arresting modern reflection of this young king's classic downfall.
In the title role, Andres Munar embodies a young man recently released from prison. He harbors a bitter resentment against the gods, spurred on by a gravely imbalanced set of life lessons. This king is no urban representative; in the barrio you have to be selfish, and take what's in front of you before it disappears. With no one to check his puerile arrogance, Oedipus acts on temper and impulse, which as we all know doesn't pan out too well. But he's matched by strong players, namely his old mentor and surrogate dad Creon (Jose Joaquin Perez), the hot-tempered Jocasta (Romi Diaz, truly captivating), and a chorus of young men in dirty white t-shirts who dice up their epic narrative duties and pitch them together again, like a high-speed poetry slam.
For a tale about a man so obsessively evading his doom, the show trembles very little, pausing almost never. The director and the cast are more than happy to sprint, rather than tiptoe, along the brink of tragedy. Garcés — who is also the Artistic Director of LA's community-minded Cornerstone Theater Company — evokes the myth swiftly over the course of 90 minutes and leaves virtually no fat to trim. Misha Kachman's deep thrust set and simple costuming feel intimately abused, worn down by the friction of working hands: chipped paint, rusty metal walls, and a big red sliding warehouse door. At one point, that door's gaping black mouth and a pair of piercing headlights make for one of the most striking stage pictures seen in DC in recent months, as Oedipus and his father Laius (David Anzuelo) grapple to the death on the edge of a midnight highway.
Although the gods look down on this troubled world — actors reach high platforms from hanging ladders and, in one supremely strange sequence, evoke owls in a dance around Oedipus — it's a world that feels small, sparsely populated. In part, this is an effect of the show's simplicity in style, but one has to wonder why, the day after seeing the show, the core of the drama doesn't strike as deep as it might have. Audiences will walk out shaken by the horrifying ending (if you don't know what happens, you weren't paying attention in English class), but credit for that goes in large part to the source material. As an adaptation of the ancient Sophocles play, Luis Alfaro's piece sparks some engaging political questions about American prisons, recidivism, and redemption, but it's a shame to see some major elements play so muted.
The question of what it means to be a king in this world feels especially unresolved. Rather than taking charge of a civic body, this Oedipus runs the ruthlessly individualistic route, never believing in anything larger than himself. It's interesting focus paid to the desperation of outliers and outcasts. But, come the final act, our protagonist has no faith to shake, and no friendships, alliances, or responsibilities to amplify his ruination. We know him only as a boy, not a man. If he's a king as well, then, his powers never really come through.
The values of the original Greek aren't lost on this group, though. The choral storytelling is hearty and precise. The ensemble's air of ritual volunteerism — "I will play this man!" — frames the show well, and a couple of on-stage costume changes work to this effect as well. Even the fully-nude love scene between mother and son is, against all odds, a tasteful tableau, composed in earnest.
And, in unobtrusive ways, a number of classical gestures arise, as when a kneeling Jocasta wails, arms raised, for her lost son and future lover. Oedipus may have lost himself along the way — "sometimes you do things in here that aren't really you," he says of his time in prison — but the gods never lose track of what's around the next turn. And in playing out these very worst of man's missteps, Woolly's production stays nimble on its feet.
Oedipus el Rey runs thru March 6, 2011 at Woolly Mammoth Theatre, 641 D Street NW, Washington, DC.
Details here.
Buy tickets.
Oedipus el Rey
Written by Luis Alfaro
Directed by Michael John Garcés
Produced by Woolly Mammoth Theatre Company
Reviewed by Hunter Styles
Recommended
Running time: 90 minutes without intermission
Contains nudity
Other reviews: