Benched is three sharply-defined characters in search of a story; half a hundred or so clever or insightful lines looking for a constructive purpose. You know the people you will see in this play – Timby (Liz Mamana), the tightly-wound new mother who has given her career up to raise her child and is having second thoughts; Joan (Leigh Jameson), the semi-cynical career woman who loves her children best through the mediation of a nanny; and Meghan (Dionne Audain), the übercompetent single mother who holds down a job, raises her daughter, and handles a difficult divorce without breaking a sweat – because you have seen them before, probably in other fiction.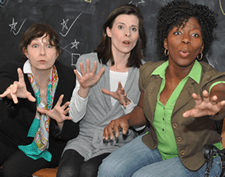 Playwright Allyson Currin assembles them on a park bench. Beyond our line of sight, their children disport themselves according to their natures and inclinations. When those inclinations go too far outside the boundaries of civilized behavior their mothers intervene, but otherwise they fill each other in on the quotidian events of their lives.
The three characters are women of virtue, and rigorously committed to keeping themselves in shape, being all they can be in the workplace, and optimizing their progeny's childhood. Thus they all seem to be guilt-ridden, and unhappy most of the time. Timby, who left her job as an interior decorator to care for her newborn, is obsessed with redoing her living room and worries about having lost her touch when she can't decide between green and yellow. Joan, who is halfway between being a career woman and a stay-at-home mom (she has swung a work-at-home deal, and supplements her own childrearing efforts with those of the nanny), is both gleeful and spiteful when she learns her boss, who she detests, is pregnant. Both of them relentlessly try to set Meghan up with new men; Meghan, her catastrophic domestic life fresh in her mind, will have none of it.
Mamana's Timby is a little too shrill for my taste, particularly in the early going. On a larger stage, perhaps, her anxiety would have been comic, but to perform in the National Conservatory for the Performing Arts basement space is akin to performing in somebody's living room, and Timby's voice and gestures – which seemed from my seat (about 20 feet away) to be studied – were too big for the space. As Currin allows her character to calm down later in the play, though, Mamana seems to inhabit the role in a more natural and satisfying way.
Notwithstanding these complaints, Currin's a good writer, and the cast is on the whole o.k. (Jameson is particularly good) but the play doesn't seem to go anywhere. Many of the lines Currin puts into her characters' mouths are funny, and some are provocative. If you like this sort of thing, you ought to go, since it's free ($15 donation suggested) and you'd be supporting a local playwright. But for me, this is just three folks sitting around talking.
Benched runs thru Feb 27, 2011 at National Conservatory of Dramatic Arts, 1556 Wisconsin Ave, Washington. DC. (Note: Entrance is around the corner on Volta Place.)
Benched
By Allyson Currin
Directed by Jessica Lefkow
Produced by First Draft
Reviewed by Tim Treanor
Somewhat recommended
Running time:  1 hour with no intermission