Michael John Garcés is the Artistic Director of Cornerstone Theater Company in Los Angeles, where he has both written and directed productions that explore diversity, community, and shared history. DC Theatre Scene spoke recently with Garcés about his experience directing the play by Luis Alfar, and about the opportunities and challenges of adapting a classical work to a modern setting for a modern audience.
DC Theatre Scene: On a personal level, why does the myth of Oedipus strike you, and how? Certainly the myth still affects us all, millennia after it was created. Do you have any suspicions of why this is, in dramatic terms and in human terms?
Michael John Garcés: Well, on a very basic level, I'm a father and I'm a son, and I think the myth affects us insofar as it provides a window through which we can interpret, and hopefully reach some kind of understanding of, some of the darker and most basic impulses of our being. I think it taps into the primal relationship between mother and child – son – and, in the case of Luis' version, the relationship/conflict between father and son. Of the plays I have directed, I find that this one, even after reading and seeing it as often as I have, still has the capacity to affect me in a very basic emotional way, and I find I am still surprised by it.  
DCTS: What interests you about working with an adaptation of an ancient Greek text? What aspect(s) of the project appealed to you first, or most fascinated you later on?
MJG: I think what interested me first about the play was the play itself – Luis' play, the story, the syntax, the lives and journeys of the characters. As I delved into it and also began to re-explore the Sophocles and Greek myths, that only deepened and expanded my appreciation for the power of the characters to affect an audience. There is also something deeply catholic, deeply Latino – in this case Chicano, but also speaking to my own roots – about the systems of the play and its societal structure, its perspective on sin, grief, and redemption – that spoke to me more and more as we were rehearsing it.  But the raw power of the love and hate that is palpable among the family members is the first and most important thing that drew me to the play.  
DCTS: What are your thoughts on the challenges of modernizing a story so old? How much responsibility do you feel to maintain the integrity or structure of the original Sophocles? Or, does it seem smarter – even more truthful – to break the rules and study them, abandon them, reassemble them?
MJG: I think that the writer has a responsibility to his or her self, to his or her text, to be as true to their vision, and rigorous – even ruthless – in the pursuit of it, as they are capable of.  I don't think the writer has any particular responsibility to the texts that have inspired them, even if adapting them, unless they are purporting that they have somehow translated the original into another time and language (which isn't really very close at all, as hard as you might try).
Luis, in his Oedipus El Rey, has as little obligation to the original as O'Neill did with Desire Under The Elms, or Sara Ruhl in her Eurydice. They use their sources as a vehicle for their distinct, idiosyncratic, deeply personal visions that, because they are wonderful writers, like the Greeks, impact a larger audience.
DCTS: So, should one strive to find precise parallels between today and long ago/far away, or are there ways to approximate the details and maintain emotional/dramatic truth? When the two worlds are so different, how do you think one even gets close?
MJG: Make rules, break rules. Understand, learn, write. That said, if you are going to adapt, in whatever way, another text, you have to contend with it, and know that the audience is going to look at your work in relationship to the other. And you have to deal with it, as you say, by making or rejecting parallels, comparing and contrasting, using and throwing away pieces of it.  And accepting that the audience, insofar as they know and are impacted by the original, will view both as in conversation. I'm not sure we got close to bringing the worlds of the Sophocles and of Alfaro together, but I do think that what we are contending with at the dark root of the play is central to the Greek text. And, so, very close indeed.
DCTS: Another way to think of it might be: What doors does working with an adapted text close – in rehearsal, production, design – and what doors does it open?
MJG: It definitely provides surprising inspiration sometimes – for the physical elements, for the text, for the acting styles. Some of which we used, some of which we did not. For example, we rejected the idea of masks, but we played with it for a while. I don't know that it closed any doors. If it did, it was more unconscious than anything else.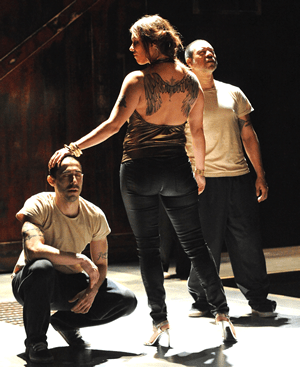 DCTS: In terms of working with the actors: Where did the group find common ground in terms of motivation and expression?
MJG: Well, always when working on a play the actors have to find common ground so that they are in the same world, so that we can create a consistent world for the play.  As the great majority of American actors are itinerant (as opposed to belonging to a permanent or ongoing ensemble of some sort, much as I have here at Cornerstone) the best ones have become expert in creating a sense of ensemble and finding that consistency over a very short but very intense period of rehearsal – 4 to 6 weeks is not much time to put on a play, particularly a new play or ambitious and probing production of an existing one.  We spent a couple of days at the table, reading, talking and breaking down the text, while Luis continued to rewrite (we had a fairly extensive period of rewrites early in the process, for the first week and a half or so, though they continued up through previews).  But then we dived in, finding the style of the coro [chorus] through trial and error and experimentation, and that process of honing the coro very much informed the world of the play.
DCTS: How does this apply to the designers? I'd love to hear a little more about how the striking visual and sound worlds came together.
MJG:  The designers came to as many rehearsals as possible, and how we built the play informed the lighting and sound decisions. We had made some early stabs at ideas, but until I was in the room with the actors it was all pretty much guesswork. So the sound designer composed based on what he was seeing and conversations he and I and the other designers were having, and it was the same with lighting and costumes. Misha, who did set and costumes, and I certainly had many conversations, and the set was the one element that was established before rehearsals, and provided the base line for the other design choices. Our most important design decision was that I wanted to set the play here, in the theater, and not pretend we were somewhere else. In this room, with the folks who come to see it.  So he created an environment that gave us that, that brought the actors out into the room, that gave us nowhere to hide, and that was informed by the Greeks inasmuch as it forced us to be presentational. This in turn affected how the actors and I created the movement and storytelling of the piece, which informed the other design decisions.  
DCTS:  Did it seem to you that the actors were drawing on the same kind of passions and emotions that you brought to the piece? And, when not, how did it feel that they were adding their own colors, histories, etc?
MJG: I think all the actors brought highly individualized and personal passions to the piece. We didn't talk very much about that. I just asked them to bring it, to trust me and each other, to honor the room as a safe space and to risk.  Which I think they did brilliantly. I had worked with three of the actors to a great extent before, and a bit with two of the others, so there was a mix of familiarity and lack thereof in the room. Which can be awkward, but I think we negotiated pretty well. Andres Munar, who plays Oedipus, and David Anzuelo, who plays Laius, and I have a long working history, and that allows for a shorthand and a willingness to trust and risk, to not know where it's going but jump in. I've also worked quite a bit with Romi Diaz and have always been able to rely on her going where she needs to go, regardless of how hard it might be. After this process I'd work with any of them again in a heartbeat.
Oedipus el Rey runs thru March 6, 2011 at Woolly Mammoth Theatre, 641 D Street NW, Washington, DC.
Details here.
Buy tickets.
Tickets to Oedipus El Rey are available online at Woolly Mammoth:
For more information about Cornerstone Theater Company in Los Angeles, visit their website.