St. Patrick's Day madness has safely passed, but Baltimore remains the scene for green, as Shrek The Musical brings the lovable, lime-skinned ogre to the Hippodrome Theatre for a two-week stint. All the genial grossness and tongue-in-cheekiness from the animated movies and the William Steig storybook has been successfully transferred to the stage in this family-friendly musical directed by Jason Moore and Rob Ashford.
The appeal of the four hit "Shrek" films lies in its ability to entertain youngsters while containing more sophisticated cultural references to keep adults interested and amused. This quality also is evident in the live musical, which features wit-laden lyrics by playwright David Lindsay-Abaire and a sprightly score by Jeanine Tesori that skillfully reflects pop music trends without sounding like a mash-up of generic solos from "American Idol".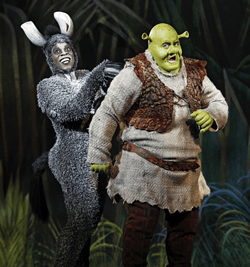 Shrek The Musical concentrates on material from the first "Shrek" movie and the book, which turn the beautiful princess-meets-handsome-prince story on its hoary ear. Shrek (Eric Peterson), an ogre living in a stinky swamp, proud of his loner status but also a bit prickly about his independence due to the fact his parents cheerfully tossed him out at the tender age of 7. "We're ugly, son/That makes life harder," his parents blithely belt out in "Big Bright Beautiful World" while giving their tot the boot.
The adult Shrek's solitude is interrupted by a bevy of fairytale characters who have been relocated to the swamp for being "freaks" by the vainglorious, vertically challenged Lord Farquaad (David F.M. Vaughn). Mr. Vaughn's hilarious Farquaad, by the way, executes Rockette-style high kicks as well as splits and ballet moves while scampering about on his knees maneuvering a tiny pair of puppet legs. It's a visual gag that grows in inventiveness as the show progresses.
Although the audience may find a Pinnochio (Blakely Slaybaugh) in denial, a cross-dressing Wolf (Derek Hanson) and three Teutonic pigs (Julius Thomas III, Tyrone Davis Jr., Brian Gonzales) welcome company, Shrek will have none of it. After reluctantly befriending the chatterbox Donkey (a superb Alan Mingo, Jr.), Shrek goes to the kingdom of Dulac to demand Lord Farquaad return his swamp. In exchange, Farquaad asks one teensy favor—that Shrek rescue the Princess Fiona (Haven Burton) from a tower guarded by a dragon and a molten lava moat.
Donkey seduces the dragon in a rousing, soul-diva number "Forever" that features a massive creature who shimmies and slithers to the Motown-gospel beat thanks to three puppet masters. Shrek climbs the tower to rescue Fiona, who is a little taken aback that her savior looks more like a giant, mold-covered spud than Orlando Bloom. She, however, is no Barbie doll. While possessing the crystalline singing voice of a Disney heroine, displayed in the songs "I Know It's Today" and "Morning Person," she is feisty, fanciful and, well, flatulent.
In other words, the perfect person to pierce Shrek's thick green skin. By the end, true love has found its true face, as the musical imparts the message that everyone needs to revel in what makes them different and that weirdness can be worthy.
This reviewer was skeptical at first, thinking the ankle-biters in the audience would get antsy in a 2-1/2 hour show, but they bopped to the music from the opening number "Big Bright Beautiful World" right on through to the "I'm a Believer" finale, and gave shout-outs to their favorite characters, who are buoyantly portrayed by a top-notch cast.
Older viewers found themselves chuckling at the clever allusions to other Broadway shows, such as the animal puppets from "The Circle of Life" number from The Lion King (a lot of kids got it, too) springing up in Act One, the daunting final note from "Defining Gravity" from Wicked (sung by the Lord Farquaad, no less), a nod to "And I Am Telling You I'm Not Going" from Dreamgirls and "Rose's Turn" from Gypsy, and the fairytale characters waving a flag in the song "Freak Flag" that bears an uncanny resemblance to the one from Les Misérables. Miss Burton, accompanied by a bevy of rodent dancers, executes 42nd Street style tap-dancing in the smashingly satiric "Morning Person," where her high notes cause a bird to explode and she also tosses a deer off a cliff in her caffeinated glee.
The kidlets are not left out either, as Mother Goose mentions abound, from the cow jumping over the moon and that couple on the lam, the Dish and the Spoon, to a funny back story ("The Ballad of Farquaad") detailing what made Lord Farquaad so evil that involves a liaison between Grumpy the dwarf and the Princess and the Pea.
All this is brought to the stage with energy and offbeat humor that is bolstered by solid production values and charmed performances by the cast. Mr. Petersen puts an agreeably youthful spin on Shrek, this vulnerability countered by a powerful singing voice and solid physical presence. Miss Burton's Fiona is a delightful mass of contradictions, wistful one minute and willful the next. Mr. Mingo Jr. steals many a scene as Donkey, gamboling about like the noble steed he aspires to be, wiggling his donkey ears to great effect and singing like an equine Ray Charles.
Shrek The Musical is not the deepest show in the world, but then again what would you expect from a musical that contains an escalating ode to burping and tooting that pays homage to "Anything You Can Do" from Annie Get Your Gun? It's low humor done with high style.
Shrek The Musical plays thru April 3, 2011 at the Hippodrome Theatre, 12 N. Eutaw St., Baltimore, Md.
Details here.
Buy tickets.
Shrek The Musical
Book and lyrics by David Lindsay-Abaire
Music by Jeanine Tesori
Directed by Jason Moore and Rob Ashford
The National Tour presented at the Hyppodrome Theatre
Reviewed by Jayne Blanchard
Recommended
Running time: Approximately 2 and a half hours, with one 20 minute intermission