I have always maintained, and I believe I've said so several times in this column, that there should be room on Broadway for the whole spectrum of musical theatre. Certainly there was room in the 1920s when Show Boat, The Music Box Revue, Very Good Eddie, Naughty Marietta, Ziegfeld Follies and Shuffle Along could all run happily side by side, one as different from the other as Hamlet is from East Lynne.
In recent seasons, there's been a trend toward conformity. What worked last year is tried again this year, usually with unhappy results. One Rent seemed to spawn four "new" musicals with rock scores, one jukebox musical (Mamma, Mia!) brought us six or eight others (i.e. Rock of Ages, American Idiot,) one pop hit musical derived from a pop hit movie (try Hairspray) spawned several copycats (Flashdance, Footloose, Legally Blonde, Saturday Night Fever). One hit revival (Kiss Me, Kate) convinced a number of consortium "producers" that revivals were the answer so in quick succession we got Sweet Charity, Wonderful Town, Bells Are Ringing, none of which even earned back costs. One or two smash hit musicals based on a classic novel (Phantom of the Opera, Les Misérables ) brought on a plethora of copies (Jeckyl and Hyde, Dracula, Scarlet Pimpernel, Martin Guerre, Thou Shalt Not which was based on Emila Zola's 'Therese Raquin"), none of which recouped its investment. Now and then an original musical slipped past the conventional wisdom and we got to enjoy an In The Heights, Curtains, A Little Night Music (that one is based on a film, but a foreign film not seen by many, and anything Sondheim adapts turns into an "original"). What consoles me as a new generation of very hip composers attempts to replace those from the golden age is that there still seems to be room for variety on the main stem, as indeed there should be.
You may think I'm turning soft, for I've been writing a lot of rave reviews lately. But my point is that in a season which has embraced Rock of Ages, American Idiot and Million Dollar Quartet, and at least two new original musicals, Catch Me If You Can and Book of Mormons, a first rate revival of Frank Loesser-Abe Burrows' How to Succeed In Business … can extract from a young audience the same roars of approval that they offer a show with their own kind of music (to me it's music that is all beat, no melody, lyrically infantile for the most part; to them it's exactly what they want). For that's what happened at a recent preview matinée at the Hirschfeld Theatre where Daniel Radcliffe and John Larroquette are heading the bill. Not only do Radcliffe and Larroquette get rock star greetings on their entrances, but at least four times the score and its staging by Rob Ashford are greeted similarly. You think Idina Menzel brought down the house with "Defying Gravity" in Wicked? Well, give a listen to what happens to Radcliffe, Larroquette and company at least 4 times during the course of How To Succeed. It's music to a theatre-lover's ears. And sound designer Jonathan Deans lets us hear both cast and audience loud and clear, but undistorted, full of lilting life.
Who would have thought that a young audience (and our matinée had many young people in it, right down to the teens and tweens, probably due to the presence of young Radcliffe, but hey, whatever brings them in .. .) would wildly applaud a young lady singing "I'd Be Happy To Keep His Dinner Warm" or a group of curvy secretaries begging "Cinderella Darling" to hurry up and marry her boss. Soooo sixties, but the audience sensed that it honestly reflected the attitude of the day, that no one was apologizing for letting us in on a time when we were still in the dark ages when it came to women's place in the scheme of things. By being exposed to the thinking of the time we could realize how far we've come, and perhaps better understand how far we still have to go in so many areas of attitude. To do differently would be like changing the name of "Mammy" in "Gone With The Wind" to "Sister" just because the former offends today. How to Succeed is set in the 1960s, the time of "Mad Men" and Promises, Promises and yes, it was good for us to hear that "A Secretary Is Not A Toy", a little lecture from composer/lyricist Frank Loesser, but done so adroitly it was like a spoonful of sugar with which to more easily swallow the medicine.
Rob Ashford has topped his own sparkling work on last season's revisical of Promises, Promises, which allowed Sean Hayes to prove he was not only stageworthy but a genuine musical comedy star, after all those years on the sitcom "Frasier". This time out it's Daniel Radcliffe, thought by some to be stuck forever in his public's mind as "Harry Potter" of the movies, that knocks one out of the park. Mr. Ashford has carefully protected his star, capitalizing on his many assets, minimizing his very few problems.
Radcliffe is a tiny lad; standing next to his co-star he barely reaches Larroquette's chest. Among his colleagues at the World Wide Wicket Company he's the little guy, surrounded by young and middle aged studs who are exuding testosterone even when wearing horn rimmed glasses. Everyone's secretary stands inches above him, except his number one, a lass named Rosemary, and even she in heels, has the advantage over him by an inch or two. But Ashford doesn't try to hide this. Rather he brings attention to it, and by the time the show's over, he has most of the audience, and all of the male cast, wishing they were smaller because J. Pierpont Finch as played by Daniel Radcliffe has shown them all how to suceeed. He's by no means the most accomplished singer in the company, and his approach to the character of Finch in the book scenes is straight on . No mugging, no giggles and gurgles (in the manner of the first Finch in 1961, a brilliant Robert Morse), but with a basic honesty, tremendous energy and charm, and in the final number, "The Brotherhood of Man", Ashford has given him the epiphany we didn't even know we craved. That would be Dan Radcliffe dancing his butt off, keeping up with the entire cast including those lads who've been dancing since they were toddlers. I do believe this is the first time this young star has ever danced in public, and he rips the roof off with his accomplishments in this number alone. By the time he takes his final bows, he has totally satisfied all his fans, and converted those who hadn't yet made up their minds about him (which sort of included me) to say "Yes! And I'll never doubt you again!". This pint of peanuts delivers.
Rob Ashford did a similarly delightful job on the Burt Bacharach Promises, so the two shows resemble each other. But there is nothing second hand or tired looking about this How To. Derek McLane's sets and Catherine Guber's costumes are sleek, attractive, fluid, harmonious, terrific. They, and Howell Binkley and Jon Weston's light and sound designs give the entire show sparkle that puts a glow on the sixties, makes us remember those years as they should have been. Abe Burrows, basing his book on an earlier one by Jack Weinstock and Willie Gilbert, who in turn adapted the best selling book by Shepard Mead, filled his work with wit and a cheek stuffed with tongue so that even the sexism, machismo, pre-feminist coyness, keep us laughing at how simple minded we all were just before everything exploded, all the myths went up in smoke, we grew crazier but wiser and maybe a tad more mature. What Rob Ashford and his gifted cast and staff has done is remind us why musical comedy was invented in the first place; to entertain us while showing us what fools we mortals be. So we're having a fine old time while laughing at, and learning from ourselves.
A genuine joy this revival, but if it wins the Tony® for Best Revival, I hope only a small handful of its hundreds of producers take the stage, for I kid you not, there are 23 producing names above the title, and some of those represent companies employing dozens more. Remember Ziegfeld, Merrick, Bloomgarden, Padula, Ostrow, Feuer and Martin, Fryer and Carr, George Abbott, Griffith and Prince and a dozen others? All single or partnered producers, but with two or two dozen putting shows together, no matter. In this case, the consortium came through and I assume left Mr. Ashford in charge creatively, for the result certainly has the look of one guy's vision. I'll take a chance and thank Rob Ashford for this smashingly entertaining Broadway musical which sends you out into the night feeling ten years younger.
How to Succeed in Business Without Really Trying is playing at the al Hirschfield Theatre, 302 W. 45th St, NYC.
Buy tickets.
Related:
Joel Markowitz interviews dancer Ryan Watkinson
———–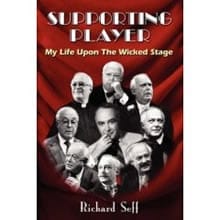 Broadway performer, agent, writer, and now librettist, among his many accomplishments, Richard Seff has written the book for Shine! The Horatio Alger Musical!, which debuted at the 2010 New York Musical Theatre Festival.
He is also author of Supporting Player: My Life Upon the Wicked Stagecelebrating his lifetime on stage and behind the scenes, available through online booksellers, including Amazon.com.
Richard Seff chats with Joel Markowitz: