Matt August returns to direct Ford's Theatre's world premiere of the musical Liberty Smith following up on the popular run of his direction of A Christmas Carol, that played at Ford's from 2004 through 2008.  His previous directorial credits include the Broadway production of How the Grinch Stole Christmas (2006, 2007) and subsequent national tours (2008-2010).  Off-Broadway credits include Sixteen Wounded, Two Gentlemen of Verona, Judith and Meet John Doe.  August has served as a Killian Fellow for the Oregon Shakespeare Festival, a Robert Wilson Watermill Directing Fellow, and was a recipient of a Drama League Fellowship.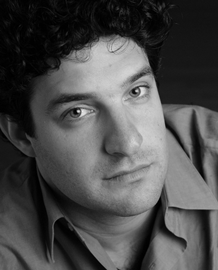 Liberty Smith has been in the works for some time.
Actually we have been waiting four years to do Liberty Smith since I did The Christmas Carol here.  When I initially was brought on this project in 2006 [authors and composers] Michael Weiner, Adam Abraham, Marc Madnick, Eric R. Cohen and I wanted to do it either the following season or the one after that.  It continued to get bumped each season after that so we were never positive it was going to happen until a year ago.  I've been on this project for four and a half years, and to finally see it in three-dimension is a thrill.
The musical is a fictional story about Liberty Smith, childhood friend to George Washington and apprentice to Benjamin Franklin. What attracted you to direct it?
When I first got it, I thought it was an amazing and original idea – not just one that was adapted from other material – and the music and lyrics were fantastic.  There was a game plan that changed after I came on board, but everybody seemed to be on the same page.  Everything that we intended to do with the show is being done.
I inherited a draft of the original script that Eric and Mark had written and it needed a lot of work.  It was a very funny script to begin with and all the groundwork was already laid.  We did a page one rewrite and added a love story and tied in all the major events of the revolution.
There are 21 musical numbers and 20 cast members in this show.  How has that been a challenge for you?
There's a lot of music and we have some of DC's best pipes.  They're singing their faces off and handling it gloriously.
You're right. The cast includes such local favorites as Tracy Lynn Olivera, Lauren Williams, Bobby Smith, Harry A. Winter, James Konicek, Matthew A. Anderson, Christopher Block, Donna Migliaccio, and Gia Mora.
Also this is the largest show Ford's Theatre has ever produced.  It has 170 different costume looks and there are double or triple the costume changes.  There's one actor in the show that has 25 costume changes.  Our wardrobe department is going non-stop backstage getting people in and out of costume changes.  I haven't watched it but I hear that's a show in and of itself!
Tell me how you cast the show.
We kept a bunch of the actors that did the workshop with us in 2008.  We felt they were really great and we wanted to hold on to them.  They were perfect types for the roles and we felt like they did their assignments beautifully.
We did hold a round of auditions about a year ago here in DC.  We made offers but we didn't track them.  We felt that we wanted them but we also wanted to keep our options open.  So when we had auditions everyone came back and we had a couple of days of auditions where we read almost every musical theatrical actor in the city!  Based on that we decided we'd keep the actors that had attended the workshops in the slots that they had already done.
Liberty, Kathy and Emily were really hard to cast because they're hard roles to sing and they needed to be age appropriate.  There's an innocence to them, so we were looking for something very specific for those roles.  We also brought on some newcomers that we felt would bring great dynamics to the rest of the roles.  We found Geoff Packard [Liberty, just seen here as Candide in Candide] and flew him out to LA where Michael, Eric, Mark and I live and we did about an hour work session with him.  Then we held another round of auditions in New York to find an Emily, and Kelly [Karbacz] came in and blew everybody away and we thought she'd be great with Geoff and she is!
Let's talk about the musical direction and choreography.
I am so excited to be working with choreographer Denis Jones.  I have known him for a long time when both of us were associate directors and choreographers on Broadway.  This is the first time we have actually gotten to do a show together.  He has brought so much wit and life and humor into this, that it's just amazing and adorable.  In some places it's simple and some places it's so hilarious you fall out of your seat laughing.  He's a joy to work with every step of the way.
Our musical director is a local guy, Jay Crowder, who did the workshop with us.  He works closely with our composer, Michael Weiner, who has been in residence here, to create a great collaboration.
What is your sense of the production overall?
This show proposes that America was founded with the intention of getting a date with a great woman.  Our hero, Liberty Smith, is given a quest by the woman that he loves to free The Colonies from the rule of Great Britain, and if he can do that she will marry him.  The piece is set in 1859 and blends all of the elements of the theatre.  It's a real love story with an incredible amount of heart and humor.
Do you think teaching history through music and comedy is an effective way to get children to learn?
Yes, as long as it's backed up and supported by a closer version of the truth.  We take a lot of the icons of American history and the founding fathers, coupled with seminal points of the revolution that everybody knows, and we put them together in a fresh and exciting way.
What is your background?
I was a street theatre performer.  Later I directed and traveled throughout Europe, and then was with an Alaskan Shakespeare theatre company.  I got an internship with Juilliard and directed regional theater, ultimately becoming an Associate Director on Broadway with "The Grinch That Stole Christmas".
How would you describe your personal directing style?
My feeling about directing is that a show should feel like you're awake but dreaming.  What I like to do when working is create an environment that is not surreal but real and to make it move according to the way the story moves allowing the characters to shape the production.
How would your cast describe you?
They would say that I work very quickly!  We've had a lot to accomplish and they just hung on for the ride.
What you like to do in DC?
When I have time, I like to stroll along the Mall and pop into the museums.
Favorite places to go?
Love the oysters at Old Ebbitt's Grill.  Also a friend of mine is the manager and bartender at Matchbox in Chinatown where they have great gourmet pizza and a terrific beer selection.
What would you like to say about this experience?
It's been great.  Being in Washington I feel the audiences love the theatre, the way I don't experience in other cities.  It's a very smart audience and you have to be on your game so that they can be involved in the process.
Liberty Smith is in onstage thru May 21, 2011 at Ford's Theatre, 511 Tenth Street, N.W. Washington, DC.
Details here.
Buy tickets.
Related: