If you're the sort of theatre goer who enjoys taking old plays off the library shelf, dusting them off, having a look at what went down well in past decades, New York has a grand assortment for you, on and off Broadway. 
Three Men On A Horse is rarely done, for it involves a dozen characters, three acts, several sets as well as directors and actors who can stage and play this kind of manic high speed comic material.  In Three Men we have a henpecked but content  man named Erwin Trowbridge who is living in a tract house with his little wifey Audrey, whose brother Harry lives next door as he is the contractor who put up all the other houses as well.
It's the middle of the Depression, and houses aren't selling, so Harry is very protective of little sister Audrey because he thinks of Erwin as a loser even though he has a $40 a week job writing verses for a greeting card company. Mother's Day is coming up, and Erwin has to come up with over 50 verses in the next day. But he has a big fight with Audrey and Harry and is so upset he wanders into a bar where he meets a trio of barflies who are down and out gamblers, pretty much broke except for about $7 between them. When they learn that Erwin's hobby is picking winners in all the races, they put him to work for them by conning him into thinking it will be good for him.
Erwin himself never bets, so they agree to give him 10% of their winnings on every race he calls for them.  And so it goes for three hilarious acts, as Erwin's boss Mr. Carver shows up looking for him and his Mother's Day verses.  It's funny stuff, from a time when we really knew how to laugh, and a packed house at the tiny Beckett Theatre on West 42nd Street ate it up, as did I.  This company manages to find the most marvelous actors, most of whom work almost exclusively in theatre, so they are not big box office names, but as proved last year when I wrote about The Late Christopher Bean, they are gems, each and every one.
This time most of the cast is comprised of TACT (the Actors' Company theatre) members, but there are guest stars and two of them, Geoffrey Molloy and Becky Baumwall, play Erwin and Audrey with just the right amount of comic seasoning, creating a couple of daffy lovebirds.  As a result, we actually root that Erwin will find his way, that Audrey will calm down, that Harry will get his comeuppance with a vengeance.
When first produced in 1935 the play ran for 13 months and greatly advanced the careers of Shirley Booth, who played "Mabel" the gang leader's girl friend, and Sam Levene, who played "Patsy", her vis-à-vis.  Filmed in 1936, it featured  Joan Blondell, Frank McHugh, Sam Levene, Guy Kibbee and a host of contract character actors.  The plot takes a while to get started because there are so many characters to introduce, but by the time it has thickened, the third act is filled with belly laughs and enough twists and turns to keep us laughing while we listen right up to final curtain.  The play tells us a lot about ourselves, and how we've become quite a different lot, us Americans, since the '30s. It's nice to remember we were once an innocent nation, able to laugh at ourselves far more than we are able to today.
It's a lovely cast, but  I must mention that when Mr. James Murtaugh enters as Erwin's boss (the role Guy Kibbee played in the film), he takes us from fun to FUN with his brave take on the manic Mr. Carver who MUST get those verses by the end of the day or die.  Last year, Mr. Murtaugh played a more central role in The Late Christopher Bean with TACT, and he scored a touchdown there as well. Now he's back lending his comic skills to this very funny vintage play.  If you bring your sense of the ridiculous with you to the theatre, you're going to have a fine time.
The Actors Company Theatre production of Three Men on a Horse has been extended to April 23, 2011 at The Beckett Theatre, 410 West 42nd Street (Between 9th and 10th Avenues), NYC.
Buy tickets.
Not so with another vintage comedy, this one from the mid-1960s.  What with Promises, Promises and How to Succeed
Without Really Trying popping up recently, we seem to be spending the teens of the 21st century  in a 40 year old time capsule.
Cactus Flower, by the venerable Abe Burrows who made How to Succeed such a delight, adapted this play from an original by the French playwrighting team  Barillet and Gredy. These two French gentlemen  were sort of the "Abe Burrows of Paris" or vice versa. These French farceurs served Broadway well, for their 40 Carats, The Marriage-go-Round and Same Time, Next Year among others were all big box office in the USA. In its day, Cactus Flower was a huge crowd pleaser, one of many we used to call 'boulevard comedies' and they were just what audiences wanted in those pre-sitcom days. All of Neil Simon's slice of life plays, most of Jean Kerr's, the comedies of Jerome Chodorov and Joseph Fields, so many others flourished for some 40 years before the new generation of comedy writers decided Hollywood was far more lucrative and secure, and west they went to create "All in the Family", "Maude","Three's Company", the Cosby Show, "Frasier", "Cheers" and so many other goldmines.    Had these creators come along earlier, all of these series would have been Broadway plays, undoubtedly hit Broadway plays.
Cactus Flower was originally produced in 1965 when it ran for over 1200 performances. David Merrick was its producer, and it had all the trimmings of a first class offering. Barry Nelson, Broadway's light comedy king (he spent about 11 years of his career in just four long running hits; the others being The Moon Is Blue, 42nd Street and Mary, Mary ) co-starred as Dr. Julian Winston. His co-star was movie star Lauren Bacall in her second Broadway outing, and the public loved seeing her in a nurse's uniform and horn rimmed glasses until she took all that off late in the play and became – Lauren Bacall.   Delicious ingénue of the day, Brenda Vaccaro, rounded out the trio of leading players, but even in support there were fine actors like Robert Moore and Bert Brinkerhoff who were known to the carriage trade that made the early run a hot ticket. The sets by Oliver Smith and the clothes by Theoni Aldredge were pure glamour; this was the perfect "made for the theatre party ladies" comedy that each season offered once or twice, and it was a bigtime winner.
Alas and alack, without the first class stars, without the dazzling scenery and costumes, without even the A-list supporting cast, this production fizzles when it wants to sizzle. Maxwell Caulfield is a charming actor; he's got the looks and the smile and the energy but when it comes to comedy, you either got it or you ain't, and all Mr. Caulfield can do to make up for the fact that he ain't got it, is try hard. Unfortunately it shows.  His leading lady, Lois Robbins  is a fine actress, but her major long runs have been in soap operas. That's no crime, and she has the class the role requires, but not the extra wattage of star power. Ms. Robbins also has the ability to switch from the repressed single-lady-living-with-Mom to the swinging single lady that gives her an emancipating evening dancing the frug and the watusi just in time to catch her dentist boss' eye, and to let him know that she's the one he should be spending his life with, not the cute little floosie who has been the latest of many such who've kept him busy, and single.
There is just no reason to resurrect this comedy of bad manners.  Everyone seems infantile, and it all seems inconsequential. Jenni Barber, who lists  among her credits  Shakespeare under the direction of Sam Mendes, is a carbon copy Goldie Hawn, who played her role in the movie when it was made with Walter Matthau and Ingrid Bergman. It established Hawn as a star; it won't do that for Barber.   She's a kewpie doll with a squeaky voice but she doesn't listen – she just races on, giving more or less the right readings, but losing most of the laughs. Anthony Reimer as the loudmouth friend of Dr. Winston is all over the place doing things that make him most unappealing in the role to which Robert Moore brought great charm and dry humor in the original production. Jack Weston, who played it in the film, was another fine light comic actor , very different from Moore, but equally adept at creating an original and appealing "other man".
As I said at the beginning of these reviews, if you're the sort who likes  to have a look at the past, I think you'd do better, and be kinder to Messrs. Burrows, Barillet and Gredy if you hopped on over to the library, or rang up the Drama Book Shop and ordered the text of Cactus Flower. It's a prime example of the well made play that used to tickle and delight us in our salad days. It would not amuse those in their salad says now. I fear they'd ask for an anthropologist to guide them through the antics and shenanigans being performed by this very odd tribe of primitives up there on stage.
Cactus Flower is onstage at the Westside Theatre Upstairs, 407 West 43rd Street (Between 9th and 10th Avenues), NYC.
Buy tickets.
———–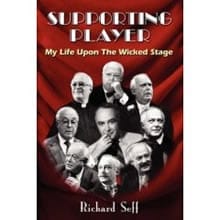 Broadway performer, agent, writer, and now librettist, among his many accomplishments, Richard Seff has written the book for Shine! The Horatio Alger Musical!, which debuted at the 2010 New York Musical Theatre Festival.
He is also author of Supporting Player: My Life Upon the Wicked Stagecelebrating his lifetime on stage and behind the scenes, available through online booksellers, including Amazon.com.
Richard Seff chats with Joel Markowitz: