The Resurrectionist King, now being given active voice by Active Cultures, tells a pretty good story. Regrettably, it tells that story in the second Act, after the passage of forty-five tedious, predictable, unfunny minutes. The second Act is a moral boxing match on the subject of grave-robbing, a ghoulish practice essential to the teaching of anatomy. The first Act is the run-up to a failed lecture hall presentation. Which one do you think will be more interesting?
A Resurrectionist was – and this is a fabulous late 19th-century euphemism, the equal of anything our contemporary spin doctors can dream up – a grave robber. In their own bizarre, grisly way, they were useful fellas (they were almost all men), providing medical schools with the cadavers they needed to give students hands-on experience with the human anatomy. What they did was illegal, but just barely so; there was no specific crime against grave-robbing, and when a Resurrectionist was brought before the law it was usually for vandalism or some other vague, minor offense.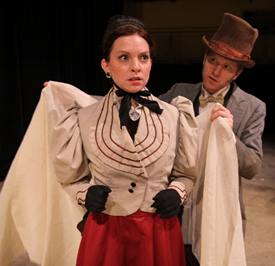 William "Vigo" Jansen (played by Evan Crump) was one of the most proficient of these ghouls, and certainly the most colorful. He served as his own press agent, periodically boasting about his exploits to his Washington Post contacts and on one occasion taking reporters along with him to watch him snatch a body from a medical school which had not paid his invoice. Apparently dissatisfied with mere newspaper coverage, Jansen decided at one point to give a speech about his profession, with disastrous results. (The climax of his largely-incomprehensible oration was a demonstration of his art; unfortunately, the "corpse" started laughing halfway through his resurrection, and things disintegrated thereafter.)
This Stephen Spotswood script takes place shortly before Jansen is supposed to go on. He, along with his (fictional) backer, Dr. Crow (Jeremy Lister), having been given their performance date on short notice, attempt to cope with a myriad of problems, including the implacable hostility of the theater manager (Dexter Hamlett), the absence of a corpse to be resurrected, the absence of a coffin for said corpse, and the absence of a large mound of dirt for said coffin. It is also evident that Jansen has nothing to say, and is prepared to say it at great length.
The same, unhappily, can be said about the first Act. Spotswood gives his characters each one note, and has them play that note as loudly and for as long as they can. The theater manager seems to have no purpose but to prevent the lecture from going forward; the stage manager, Dara (Rachel Manteuffel) seems to have no purpose but to show her father (the theater owner) that despite her inexperience she can make a show happen; Crow is determined to use the lecture to recover his scholarly reputation, now in tatters because his association with Jansen has come to light. Jansen is all ego and self-glorification. Only the stagehand Saul (Brandon White) is allowed some complexity; he must balance his burgeoning independence with his loyalty to the theater manager. (White does a nice job handling the conflict.) They all express their dominant characteristics repeatedly as the Act goes through a series of contortions similar to those on any TV sitcom; I will not list them here.
The overall result of the unfortunate combination of hackneyed ideas, clichéd language, and monomaniacal characters in the first Act is to make the story unbelievable. Who would go to listen to a lecture by a grave robber? you think.
And who would pay to see somebody pull a dead body out of a mound of dirt? And who would pour a mound of dirt, big enough to conceal a dead body, onto a stage in the first place? And yet, all of this actually happened. The late nineteenth century was a much different time than ours is; the playwright's job is to make the times comprehensible to us. It is harder to write about the truth than it is to make things up, as we are more prepared by life to believe fiction.
As bad as the first Act is – and I will not mince words; it is bad – it is outweighed by the merits of the second. We are ushered into a brand new performance space, and it is as if we are seeing a brand new play. We are backstage, minutes before Jansen is to go on. The featured speaker is busy getting liquored up (Jansen was a serious toper, and was drunk throughout the actual lecture), much to the dismay of Dr. Crow, when he is confronted by an audience member (Megan Reichelt) who has a few choice things to say about his profession. A play breaks out, full of passionate ideas about the nature of the body and our attachment to the dead, beautifully expressed. Reichelt and Crump are brilliant in this exchange, ratcheting tension up to the maximum and slowly, and beautifully, revealing who their characters really are. The other characters – particularly Hammett's designing theater manager – maneuver in and out of the confrontation convincingly, and for forty minutes we are in a forest fire of ideas and emotions. While neither the ideas nor the devices Spotswood uses are original, they are powerful and convincing.
I must say I didn't buy Lister as Dr. Crow. Crow is a man who has lost his cachet in the medical profession – which is everything to him – as a result of his association with Jensen. He should be depressed, or angry, or vengeful, or perhaps visionary, but he is here merely prim, and a little academic. The rest of the cast is good enough to boost the strong writing in the second Act, but not good enough to resurrect the first.
Spotswood, a good writer whose work is gradually receiving the attention it deserves locally, in this play gives an object demonstration of Edmund Gwenn's famous maxim: Death is easy, but comedy is hard.
————–
Acknowledgment: My information about the real-life exploits of Mr. Jansen come from an amusing article called "Esprit De Corpse" by Michael Little which ran in the April 22, 2005 edition of the Washington City Paper and a copy of which Active Cultures thoughtfully provided in the press kit. According to an interview which Active Culture's Jacqueline Lawton conducted with Spotswood, the story first provoked the playwright to develop this work.
The Resurrectionist King runs thru April 17, 2011 at Joe's Movement Emporium, 3309 Bunker Hill Road Mount Rainier, MD
Details here.
Buy tickets.
The Resurrectionist King
By Stephen Spotswood
Directed by Tom Prewitt
Produced by Active Cultures Theatre and James Hesla
Reviewed by Tim Treanor
Somewhat Recommended
Running time: 1 hour and 40 minutes, including 1 intermission
Other reviews: