The very wise Roundabout Theatre management, and the very gifted director/choreographer Kathleen Marshall decided to lift some Cole Porter gems from their sources and plop them down in the middle of this stunning revival of Porter's Anything Goes at the Stephen Sondheim Theatre on Broadway.
Delicious ditties like "It's De-Lovely" (from Red, Hot and Blue), "Friendship" (from DuBarry Was A Lady), "Easy to Love", (from several films)  have been added, a  few have been cut or exchanged. There aren't many  left who caught the 1934 first version of this light hearted musical, and Porter wrote everything that's been inserted here, so I  hope there will be no quibbling from purists.
I think the creative staff  agreed it had a gen-u-ine star in Ms. Sutton Foster, who was brought aboard to play Reno Sweeney, the role that shot Ethel Merman into the big time first time out. So they wisely upped Reno from a supporting role to a starring role, and Sutton Foster will never be below the title again. She delivers on all fronts – she's a "looker" (as they used to say), she can dance with the best of them, always managing to look like she's having more fun than anyone while doing so and you can turn off all the microphones when she lets loose on a song.
Ms. Marshall keeps her front and center as often as she can, and she builds big numbers like "Anything Goes" and "Blow, Gabriel, Blow" around her. In these big ones, the choreography makes use of virtually the entire cast —  it's got the star of course, plus tiny co-star Joel Grey and most of the principals right down to ensemble and bit part actors like William Ryall, John McMartin, Jessica Walter and Walter Charles, none of whom, to my knowledge have ever been seen "hoofing" (again as they used to say) in a Broadway musical.
Joel Grey is low-key but charming, John McMartin makes us wish there were more octogenarians on Broadway, Jessica Walters makes women of a certain age robust and ripe, Colin Donnell and Laura Ostes are the romantic leads that could hop from this one to Show Boat to Rio Rita to Seven Brides for Seven Brothers etc, etc .   Everyone comes through; as a result these numbers are real rousers (a phrase from the past meaning "wow!")
There are beautiful ballads of course, those soft syrupy melodies which Porter delivered again and again. "All Through the Night", "Easy to Love", "I Get A Kick Out of You" (sung slow and sexy by Ms. Sutton at the very top of the show). There are novelty numbers which get lots of laughs; a ridiculous show stopper for Adam Godley as the silly Lord Evelyn Oakleigh, a song called "The Gypsy In Me", which he shares with Ms. Sutton, a change from the original production's pairing of Lord Evelyn with the so-called leading lady "Hope Harcourt".  Very clever of Ms. Marshall, for it offers us yet another color to this Reno Sweeney.
One choice I will question: I can't figure out why it was decided to give the "eleven o'clock number" to a character who'd been way down on the support list until her big moment with "Buddie, Beware"  Perhaps Ms. Marshall felt that with Reno inhabiting the "Gypsy" song, balance required someone else to do the final song. Jessica Stone, who got the big break, certainly held the stage with it. But  for me, the more Reno the better.
The original script concocted on the run by Howard Lindsay and Russell Crouse, which was itself vaguely based on an earlier version by P.G.Wodehouse and Guy Bolton, has been respected and its plot used by Mr. Crouse's son Timothy and John Weidman. They've maintained the period (the early 1930s), the light hearted style of the original, but they've added jokes here  and there that keep things bubbling all evening long.  Derek McLane's ocean liner set is a sparkling gem that allows for levels of dancing feet all over the various decks. In a number that features the romantic leads, five or six other couples appear all over the ship in the moonlight, and you can really feel romance in the air as they sing and dance our troubles away.
Anything Goes will endure as long as the world needs escape from the grim realities that seem to appear and re-appear in each generation, which means there will be other revivals of it after this one.
But, even remembering with great fondness the 1988 Patty LuPone one, and the British edition that followed a year later with Elaine Paige and John Barrowman, this present Sutton Foster-Kathleen Marshall version running now will be the one to beat.  Delicious, delightful, on all counts and in all departments, de-lovely.
Roundabout Theatre Company's production of Anything Goes is onstage at the Stephen Sondheim Theatre, 124 W. 43rd St, NYC.
Buy tickets.
———–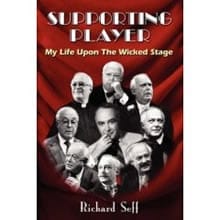 Broadway performer, agent, writer, and now librettist, among his many accomplishments, Richard Seff has written the book for Shine! The Horatio Alger Musical!, which debuted at the 2010 New York Musical Theatre Festival.
He is also author of Supporting Player: My Life Upon the Wicked Stagecelebrating his lifetime on stage and behind the scenes, available through online booksellers, including Amazon.com.
Richard Seff chats with Joel Markowitz: