I don't know who first said "let's make a musical out of the hit movie "Catch Me If You Can". Let's assume it was Margo Lion, the producer, Jack O'Brien, the director, or Marc Shaiman, the composer, but clearly it was also decided to bring together virtually the entire creative staff of their last musical together, Hairspray, which had been a huge success.  In retrospect, this was not such a good idea, because their efforts have delivered a slick, by-the-numbers musical that only gets off the  ground once or twice during a long evening, and then only because the leading players are delightful and they bring some sense of excitement to the very conventional material.
When I say "the entire creative staff", I mean stage, costume and sound design as well as choreographer and others down the line. The one new face is that of Terrence McNally, the veteran librettist who took over for Hairspray's Thomas Meehan and Mark O'Donnell, who must have decided to quit while they were ahead.  The talented  Mr. McNally seemed to be slumming a bit on this 'writer-for-hire' assignment, adding little that's new to the Dreamworks Motion Picture on which it is based.
In casting Norbert  Leo Butz, Aaron Tveit and Tom Wopat in the roles played in the film by Tom Hanks, Leonardo di Caprio and  Christopher Walken, their decisions are fresh and fine and funny. All three elevate the show into something worthy and theatrical. For the most part, the musical material given to Butz and Wopat is the most original and stageworthy, but both actors add star quality of their own, and they land on both feet with "Little Boy, Be a Man", "Don't Be A Stranger", "Don't Break The Rules", and "The Man Inside The Clues".
Young Aaron Tveit, who is stuck with the bulk of the very generic score, is featured in all of the five first numbers, and it takes all of his youth, looks, charm and singing/dancing chops to get them off the ground. It's a lot to ask of a relative newcomer,  whose only major credits are "Link Larson" in Hairspray and an excellent supporting performance as the son in Next To Normal.
His role in this one is that of a boy supposedly 16 to 18 years of age, and Mr. Tveit is no longer a teenager. He would be right for the leads in Promises, Promises or How to Succeed, but Sean Hayes and Daniel Radcliffe beat him to those roles this year, and though both had had very little, if any, experience with musicals, Hayes brought the name that came from all those years on "Will and Grace" as well as a star turn in a revival of Damn Yankees and Radcliffe came with all those Harry Potters as well as a strong stage debut in last season's Equus. Both brought the weight of true star quality to the stage and both had material worthy of a star.
Sveit is on his way, but all he's got going for him is his fine performance. With inferior material, the fact that he registers as well as he does is a tribute to him.
The very generic score, beginning with something called "Live in Living Color" has lots of flash, and a large ensemble jumping up and down and waving its arms in the air a lot, but there's really no idea behind the number and it doesn't generate much heat. "Someone Else's Skin" and "Jet Set" also sound like something from a TV Special, the kind that isn't all that special. The design concept, which features the orchestra on a raised bandstand onstage, one that moves forward and back, furthers the impression that we are all gathered to see an Awards Show or some other expensive TV event. It's only when Norbert Leo Butz arrives in the middle of the first act, followed soon thereafter by TomWopat, that some big time A list Broadway magic starts to happen.
The Second Act gets off to a bad start when all the sexy nurses in the hospital begin to dance. I forgot to tell you that the leading character is a young man who likes to pretend to be people he is not, and at the top of the second act, he's decided to pass himself off as a pediatrician, having convinced the chief of staff that he's got a degree from the Death Valley School of Medicine.  It's very agreeable to see lovely young ladies in tight white mini skirts, but they look more like the cast at Minsky's Burlesque, not "General Hospital", and their big number, "Doctors Orders" is a stage wait. It's followed by a reprise of the opening number, "Live In Living Color" which means we have to wait 10 minutes or so before the act really begins with Tom Wopat and the lovely Rachel de Benedet as the hero's mother and father to bring some big time magic to a lovely number called "Don't Be A Stranger".
As this is a chase story in which the detective played by Mr. Butz spends two acts trying to stop the false check writing and criminally impersonating young leading man, the inevitable does occur, and the kid is caught. But to take the sting out, to give us the happy ending a light musical requires, we're allowed to see what happens after he's paid his dues to society in a kind of dream ending that is meant to send the folks home happy.
Mind you, those four performances (plus a one-scene, one-song funfest from Nicholas Wyman as the father of the young lady who steals the hero's heart) keep the show afloat during the evening. But the word "mediocre" keeps cropping up in seeking an adjective to describe the total effect. Sad, because Butz, Tveit, Wopat, de Benedet and Wyman all deserve a better vehicle. All I can say is if you want to keep some talented performers working for a while, catch it if you can.  But if you're looking for a really fun evening at a first rate musical, don't.
———–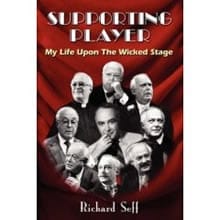 Broadway performer, agent, writer, and now librettist, among his many accomplishments, Richard Seff has written the book for Shine! The Horatio Alger Musical!, which debuted at the 2010 New York Musical Theatre Festival.
He is also author of Supporting Player: My Life Upon the Wicked Stagecelebrating his lifetime on stage and behind the scenes, available through online booksellers, including Amazon.com.
Richard Seff chats with Joel Markowitz: