Last September I told you about a book covering the fascinating topic of how Rodgers, Hammerstein and Logan created the musical South Pacific out of James Michener's pulitzer prize winning novel "Tales of the South Pacific." Now, as they say, you can read "the rest of the story!"
Stephen J. May, who provided technical advice for the glorious 2008 revival of the musical, has written a brief but fascinating book on just who this James Michener was, what his experiences in the Pacific during World War II were and how he turned it all into a new breed of episodic novel that made him a best selling, prize winning novelist for his entire career.
May calls the kind of fiction Michener excelled at the "sociohistorical novel" and it is an apt description. It soon becomes clear that May is skilled at finding apt descriptions and ways to encapsulate some very complicated situations into brief explanations that hold the reader while, at the same time, avoid frustrating with apparent oversimplifications. Not that his prose is flawless. He occasionally falls into the trap of non sequiturs and cliches and he and we could have benefited from the work of an editor who caught and corrected obvious typos or errors. But his statements are usually clear and direct and his command of the topic apparently well supported.
May says that the book is a response to his realization that he didn't have answers to many of the questions he was asked when he was involved in the preparation of the anniversary release of Joshua Logan's film of the musical. The void in his knowledge drove him to dig deeper into Michener's experiences as a roving problem solver for the Navy (a "paper pusher" among combatants) and then as a compiler of official histories throughout the Pacific Theater during the last year and a half of World War II.
This is a book in three parts. First May tells just how the book on which the musical was based came to be. In the second, he deals with how that book came to be a musical.  Part three deals with the rest of Michener's life, building on the success of his first novel to popularize the form of fiction he all but created.
May manages to make the connections between the fictional South Pacific and the people and places Michener came to know during the war.
Was the atoll off the island Espíritu Santo which was variously called Aoba, Oba, Omba or Ambae really "Bali Ha'i"? "Most certainly it is" says May. He also tells us that the name for "Bali Ha'i" came to Michener when he noted a sign near an abandoned village on Mono Island in the Treasury Islands. It read "Bali ha'i" meaning "one of a pair."
May sketches the story of Aubert Ratard, a French expatriate who settled on Espíritu Santo whose story became the basis for Emile de Becque. It is fascinating to know of this connection, but I do wish May did more than sketch Ratard's story.
Another great character didn't even need a name change. There really was a "Bloody Mary," an "irrepressible Tonkines woman" who was "half purring kitten and half wild boar filling Michener's ear with her complaints, usually spiced with some lusty GI profanity."
May includes the story of a "navy flier who had to bail out into the waters of 'The Slot' and who after an intensive search, was finally rescued – at a cost of more than a half million dollars to the taxpayer." He also tells of a "resourceful sailor who, using old oil drums and rubber hoses, built a shower out of a tree." Does all this sound familiar?
One aspect that will intrigue theatre lovers is the pre-South Pacific connection between Michener and Hammerstein. Michener grew up in Doylestown, Pennsylvania, the bucolic rural locale where Hammerstein settled before World War II and where much of the musical was written.
May's expertise is more within the realm of Michener and the novel than in the world of musical theatre. He woefully misstates the origin of the partnership of Richard Rodgers and Oscar Hammerstein II, but he has a marvelous phrase with which to describe Rodgers' melodic gift. He calls it "near-Mozartean."
He also includes one story related to the musical that I found absolutely charming. He says that early in the planning for the musical, Rodgers asked Michener" do I have to use wailing guitars and ukuleles?" Michener's response was "The only musical instrument I ever heard the natives play was two clubs beating the hell out of a gasoline drum." Rodgers reaction? "Thanks. I hate guitars."
May's description of the success of the musical includes another tasty tidbit for theatre lovers. He reports that there was a market for "false souvenir ticket stubs that could be left innocently on coffee tables as status symbols."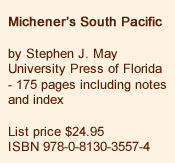 For the most part, the book is well illustrated with a baker's dozen black and white photos that help visualize Michener and his story. May doesn't waste space on photos from the musical. There are plenty of those in other volumes (including Jim Lovensheimer's "South Pacific: Paradise Rewritten" which was reviewed here last September.)
What May doesn't provide, and which would have helped a great deal, is a map of the South Pacific showing where many of the events in Michener's adventures took place. I found I was frequently going online to use Google Maps to locate specific spots.