"All acting (except for solo shows) is ensemble acting, and the folks in this section are among the best at it. You can sense when you're in the presence of an excellent ensemble; everyone – even that guy sitting stage left with his feet up – seems engaged in the action, and when the characters interrupt each other, or speak on top of each other, it's just like it is at your house. A well-acted ensemble production is a joyous collaboration among professional artists, and in this section, they  tell you what it is like to be part of that." – Tim Treanor
Featured:  Thanks to members of the casts of American Buffalo, Clybourne Park, Hairspray, Henry VIII, If You Give a Pig a Pancake, Oklahoma!, Orestes, a Tragic Romp, Othello and Travels with My Aunt.
American Buffalo
When did you first realize there was something special about working with this cast?

Peter Allas: About a month before rehearsal I flew out from California to do a promo photo shoot for the play and met, for the first time, Ed Gero "Donny" and Jimmy Davis "Bobby", and within 5 minutes we clicked and were in character, goofing around just like the play. Thanks to our brilliant director, Joy Zinoman, who had assembled us piece by piece and knew just what special chemistry this play required. Ed had a presence right away, like a "guy's guy", that I felt "Donny" had to have but was missing in other readings that I had over the years, and Jimmy brought a new enthusiasm and caring as "Bobby".
Jimmy Davis: The moment I heard and set eyes on Ed Gero and Peter Allas sharing a conversation before the first rehearsal. Their relationship as people so closely mirrors that of their characters. It was kind of uncanny and little bizarre.
Which moments in the play do you think best exemplify the ensemble's work?
Peter: Since it is only 3 actors I'd have to say…..The rehearsal process! But if I had to chose one scene, it would clearly be the last scene in which all three of us are on the stage and the play unravels with madness but requires precision, listening and concentration so that all three of us could be in sinc like "Jazz Musicians".
Jimmy: I am so happy to know that American Buffalo is being appreciated as an ensemble piece. Even a play like ours, written for only three characters, requires a great sense of interconnectedness between the actors…perhaps even more so. A true tripod. That said, I couldn't pick just a few moments to exemplify this ensemble's work. The whole Buffalo experience was one gargantuanly large undertaking of a moment that I will always cherish.
Clybourne Park
When did you first realize there was something special about working with this cast?
Jennifer Mendenhall: Um, reading the cast list. And the joy of working with almost everyone for the first time.
The responsive way everyone dealt with the pain at the heart of this very funny play, and the care they took with each other. And Howard gets credit for choosing this ensemble; it was a very satisfying time.
Jefferson A. Russell: I realized it before the first rehearsal, after I saw who was in the cast. We had a director and a cast of folks whose work I've long admired.
Dawn Ursula: First few rehearsals. The specificity and care that each performer took with every line, every moment, every piece of blocking and business was so exciting.
Which moments in the play do you think best exemplify the ensemble's work?
Jennifer: There are some farcical sequences that demand real agility and solid focus, directing the audience's eyes and ears while staying rooted in the character. AND NOT LAUGHING at your cast mate, even though you cannot believe how funny they are. Yeah, we deserved a medal for making it through those scenes.
Jefferson: I don't know if there's one moment for me but I always enjoyed the play that everyone brought into the rehearsal process and throughout the entire run. It never got tired.
Dawn: Oh, too many! Perhaps, the times where we had almost the whole cast on stage (minus one character who came in at the end of the play). Those moments were electric. It felt like if you threw powder on the stage you would see the wires criss-crossing and connecting everyone to everyone else.
Hairspray
When did you first realize there was something special about working with this cast?

Celia Blitzer: We all worked extremely hard during the rehearsal process of Hairspray and had so much fun at the same time. A 5 month run is a pretty long run for DC theater. We got a short break around July 4th and when we all came back to the show it was like kids coming back from spring break. We were excited to see each other and continue doing what we loved to do.
Bryan Jeffrey Daniels: I knew it was something special about working with this cast from the first day. I say this because we all just jumped right in and basically learned all the music and dances and lines within like a week and a half. I mean that's like unheard of these days!! It was so awesome!!
We would help each other out when we had trouble in areas or with parts and we really developed even more ourselves throughout the whole eight and half month process. We developed artistically and socially and personally. We really created some fun memories and life-time friendship and even relationships. We had a long time to be together and I guess you would think we would've killed each other from the 3.5 months of rehearsal and the 5 month run, right? Well like any family we had our ups and downs and I feel really blessed to have even been in the presence of such great, talented, and wonderful people. It would be very disingenuous of me to say that this cast was one of the greatest when in fact they ARE, to date, one of the top BEST!!! I LOVE YOU ALL FROM "TOBY'S-HAIRSPRAY 2010"!!!!
Christen Svingos: Many of us have worked together in the past including the director and choreographer. Toby's Dinner Theatre houses a FAMILY of talented actors and actresses. We molded as a unit during our first vocal rehearsal. Our powerhouse sound resonated through the theatre and at that moment I knew I was part of something great!
What moments in the play do you think best exemplify the ensemble's work?
Celia: As actors, we've all gone to see those really amazing shows and thought how much fun it would have been to a part of that show. Well, I got the opportunity to sit out and watch Hairspray one night when my understudy went on as Tracy. I caught myself crying during "The Nicest Kids In Town" of all songs because I was sitting there thinking about how amazing this show is and I would love to be in it. Oh wait, I am! How often do you get a chance to sit out and watch the show you're in.
As I watched it, I could see how much fun the whole cast was having. The energy that filled the theater was astounding. I had the time of my life working with that cast and I am truly blessed to have been part of Hairspray.

Bryan: Well there are a couple that I would say exemplified our work. One, being how, when we were short people for other job reasons or sickness, we would all fill in the parts and leave no stone unturned. Especially when the "Motormouth Kids" were down one maybe two and we couldn't afford that because we were few in numbers to begin with but we always did our thing. Lil' Inez doubled as a dynamite cover and herself I played a mom and my part. It was just amazing and so fun. Never a dull moment.
The second I would say was our overall sound!!! The sound was impeccable. Our music director, Brant Challecomb, was such an amazing, helpful, sincere, guy!! He always made sure we were up to par and gave us notes even till the last day to make sure we "CLOSED THE SAME WAY WE OPENED". He always encouraged that flare and we as an ensemble delivered every night.
Lastly, I would say our pushing around if someone had to step in and adjust. We are true professionals. Oh yeah, our swing/understudy, Maria Rizzo, covered every female in the Corny Collins ensemble within the run. AND I MEAN EVERYONE, from the leads to the chorus!!! I just have to give her a big shout out!! So yes, great cast, great fun, great work, great memories!! Toby's- Hairspray 2010
Christen: The first time we finished "You Can't Stop the Beat", I realized that this production had the energy and talent to rock the East Coast from Baltimore to DC.
Henry VIII
When did you first realize there was something special about working with this cast?
Stephen Patrick Martin: I often feel that my cast is special. This time was really no different.
What moments in the play do you think best exemplify the ensemble's work?
The opening of the second act when Cardinal Wolsey was inundated with letters leading to a communication catastrophe later in the play.
If You Give a Pig a Pancake
When did you first realize there was something special about working with this cast?
Branda Lock: I was pretty confident going into this production it would be special, even before the first reading. Having done If You Give A Mouse A Cookie with Jerry, Karin, Jason, and Adventure Theatre previously I already had formed some special working bonds and relationships. The thing that I wasn't expecting was how Holly [Twyford] would make working on this particular show even more of an incredible experience.
What moment in the play do you think best exemplifies the ensemble's work?
There was one moment in particular in this marathon of a play I will never forget in rehearsals and in performance. The moment Holly, dressed as Felecia the pig, after a pancake and syrup, a bubble bath, a photo shoot to "Vogue", a tap number, and five laps around the stage, when she grabbed me by the shoulders and said "Listen to me Laura .." and every time she said it I knew that today we weren't going to die from exhaustion, today we were going to make it through this play.
Oklahoma!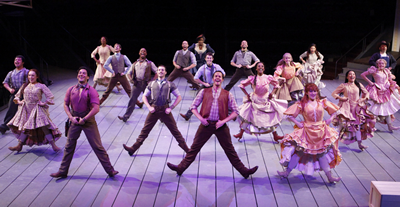 When did you first realize there was something special about working with this cast?
Cara Massey: I realized how special our cast was on our first Saturday rehearsal when we presented our personal character improvs.
On the first day of rehearsal our director, Molly, told us all that we had a homework assignment. We were all to create a 3 minute scene as our character that had to be about a major turning point in the character's life, had to include 30 seconds of "filled" silence, and reference the moon and a horse in some capacity. My jaw dropped to the floor and I thought, "how on Earth is this gunna work??"
That Saturday we presented our scenes one at a time for the entire cast and crew and each person's Improv was so incredibly unique and full of life. Everyone had their own story and their own true character; it was a beautiful moment of unity.
Annie Petersmeyer: I realized there was something special about working with this cast during the first read through. The moment Nicholas Rodriguez opened his mouth to sing "Oh What A Beautiful Morning" I was completely mesmerized. It continued from then on leading into the first run of the ballet, bringing tears to everyone's eyes. It was a beautiful moment we all shared together.
Vincent Rodriguez III: I remember sitting down the 1st day and watching everyone find a seat before being addressed by our production stage manager, Sue White, then by our director Molly Smith. Only a few minutes later were all of us standing up, filling the space and being guided through a mapping exercise by Molly. Learning how different and similar we all were as people and how we would use that knowledge in our understanding of who the characters of Oklahoma! are and how we would approach playing them. So, when did I realize something was special about working with my cast? Within the first 10 minutes of being in the room with them.
Cody Williams: Our director, Molly Smith, had everyone write and perform rehearsed Improvs as our character. It had to be about a pivotal point in our character's life. This was the day that I realized there was something really special taking shape.
Holly Wright: The first week of rehearsal.We created an entire community that first week.
Jessica Wu: From the very first activity on the very first day (before we'd even elected deputies!) the entire company – including interns, the creative team, board members, and theatre staff – got on it's feet and did a 'mapping' exercise. It was more than a get-to-know-you… We were all from different places, cultures, and circumstances, but it brought us all together and really set the tone for the community we tried to build in Oklahoma.
What moments in the play do you think best exemplify the ensemble's work?
Cara: It's gotta be the top of Act 2, Farmer and the Cowman through the auction scene. There is so much going on during these 15-20 minutes and every single character on stage is clearly defined. During the fights you see how we all relate to one another as neighbors, who likes who, who doesn't get along, and the reactions to the scuffles, dramatic and comedic moments are so uniquely individual to and telling of each character.
Annie: The opening of Act two is tremendous. The fighting among the ensemble shows the earthiness and heart of the characters and the actors themselves. We all shared the joy and fear of taking physical and emotional risks in the round TOGETHER.
Vincent: I know for the men, it was the first "dance" number of the show, "Kansas City". Not only was it a crowd favorite, but it also the very first entrance of any of the ensemble. It was very telling of what the tone would be for the entrances and dances to come. Parker Esse, our choreographer, staged it like a scene. He started from the very beginning and built through to the end, making sure we, the actors, knew where impulses were coming from and where they would lead to. It's certainly one of my favorite numbers to perform in the show. I never felt like just a dancer. I was a character in a play who moved and danced a certain way. We were postured to perform it in that way.
Another huge highlight for the ensemble was the ballet. Many things came together for the show by how the ballet was staged and performed. The "Cain't Say No" portion of the ballet was turned into a tango. Although not periodically accurate, in our version it made sense due to the fact that we had it take place in Jud's smokehouse with the photos of his pin up girls coming to life. It was certainly the most sexy, dark, sultry and seductive part of the show. The audience got to see how Laurie is seduced by what Jud thinks and has to offer.
Finally, the most chaotic, fun and hoorah for the ensemble was the opening to Act II, Farmer Cowman. It opened with a big fight scene incorporating tools from the farm like axes, ropes, brooms, buckets, ladles; then into song, into scene, into song, into scene, into fight, into song, into dance then back into song. Certainly the most exhausting number for us, but also the most exciting and telling number for the ensemble. Especially in the round which made it more difficult but also allowed us to shine all around. We were all featured in one way or another. I know for me, I felt like it was the ultimate showcase.
Cody: There are three moments that really stand out to me. First is Parker Esse's astonishing dream ballet. It really showcased the acting and dancing talents of the entire cast. Second would have to be the auction scene. The commitment brought to this scene by everyone in the cast was so amazing. Finally would have to be the number "Oklahoma!". There was so much heart and joy in this number.
Holly: One big moment is The Farmer and The Cowman scene at the Skidmore Ranch. Almost everyone in the show is onstage at that moment and its a lot of fun; so much moving and fighting, you don't know where to look! I felt this way and I was in the scene! There was always something new to look at that I had never noticed before.
The next big moment for me is the auction scene because everyone in the show is onstage. I could feel the crackle of energy when the bidding started.
Jessica: The 2nd act auction. It's the only moment in the entire show when every character is on stage and, if you were to look around at that moment, there would be 20 different fully realized stories taking place.
Orestes, A Tragic Romp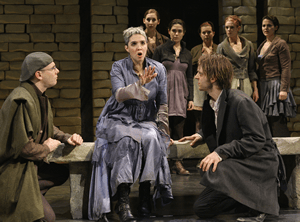 When did you first realize there was something special about working with this cast?
Rebecca Hart: I'm going to speak here as a member of the five person Chorus ensemble in particular…It was probably the first day of music rehearsal, hearing everyone's very different vocal qualities, and looking around the room at these starkly different types of women from such different artistic backgrounds and getting excited about the one entity we were all going to make together.
What moments in the play do you think best exemplify the ensemble's work?
One that no one in the audience would ever have seen. The Chorus is upstage, the five of us huddled together, droning a long ongoing harmonic hum over a particularly tense moment between Orestes, Electra, and Pylades, supporting the action. We're staggering our breathing, listening intently to each other to make sure no one inhales with anyone else so the sound never stops. There's no way to get our starting note except for a very faint sound cue which only one or two of us hear. The one who hears it first intones it very very softly for the rest of us, whoever is closest to her repeats it for the next person so we can all start in harmony together. Some of us are changing notes every five beats, some aren't, and we all have to be on the same page to avoid dissonance and a general train wreck. Then, there is no metronome, no instrument, anywhere on stage to keep the time. One Chorus member's hand is discreetly on my lower back, tapping out a rhythm, which is echoed by another's hand on my arm. Everyone is facing forward, eyes on the action, listening to the story, but we all have developed eyes (and ears) in the back of our heads for each other.
This is only one of so many small ways we communicated almost telepathically during that show, speaking and moving as one and really learning the definition of ensemble work.
Othello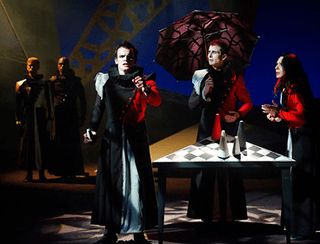 When did you first realize there was something special about working with this cast?
Philip Fletcher: I knew we had a great cast with Othello because it was announced prior to rehearsals that the fantastic Roger Payano and Salma Quarain were going to be leads in the production, and because all of the other actors were also Synetic veterans familiar with the movement style and the expectations of Paata and Irina Tsikurishvili. It didn't hurt that we were all friends already either.
Salma Shaw: The rehearsal process was very challenging for me as I was dealing with an injury at the time, and the support of the cast was invaluable to me. They encouraged me and kept me positive, so that I could work through it. They really were my brothers, sisters, friends and family!
What moments in the play do you think best exemplify the ensemble's work?
Philip: The precision battle and dance sequences choreographed by Ben Cunis and Irina, basically Synetic's bread and butter.
Salma: Every member of the cast added to the beauty and tragedy of the play through their individual work. If I had to pick a couple of scenes, though, it would be (1) the garden scene where Othello (Roger Payano) and I (Desdemona) were searching for each other, and (2) the madness of Iago scene where Iago (Philip Fletcher, Irina Tsikurishvili, and Alex Mills) is possessed with jealously and hatred of Othello (Roger Payano), Cassio (Scott Brown), and Emilia (Irina Koval). These show what I think Synetic does best: overlaying metaphor and symbolism to heighten the drama and emotion in a familiar story.
Travels with My Aunt
When did you first realize there was something special about working with this cast?
Nigel Reed: Working with a cast that includes Bill Largess, Lawrence Redmond and Michael Russoto, and is directed by Kasi Campbell, can only be a special experience. Kasi had directed Bill and I in a production of this show at REP Stage 13 years earlier.
It was wonderful to be able to revisit this script at a time in our lives when our added maturity as men, and as actors, undoubtedly influenced many of the choices we were to make.
Bill Largesse: Day one– although really, as soon as I heard who else was in it. Three other actors whose work I love, and who are great co-workers in every way.
What moments in the play do you think best exemplify the ensemble's work?
Bill: Certainly the opening sequence, in which each of had a turn at playing Henry Pulling, the central figure. Also the various scenes with the policemen, which in one way or another involved all of us. Maybe best of all was the flashback to WWII, in which the role switching was so fast and furious. (And where I played both an Italian prostitute and a suicidal Irish Wolfhound!)
All links to our 5 part 2011 Curtain Call series