Say the name Samuel Beckett, and most people think: Waiting for Godot, existentialism.  Theatre of the absurd, where absurd means meaningless.  As we watch Peter Brook and Marie Hélène Estienne's spare but striking staging of five uneasy pieces by the late Irish playwright, the word also takes on its more everyday meaning.  And we realize that Beckett is not only one of us.  He sees inside of us.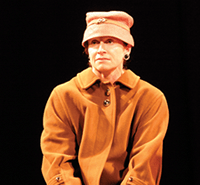 Brought to the Kennedy Center from the Young Vic Theatre in London, Fragments was created in French at the Théâtre des Bouffes du Nord in Paris in 2006 from four short, unrelated Beckett texts, to which Brooks added a fifth, 87-word Beckett "fragment" for the five-performance Kennedy Center production.  The three actors — Hayley Carmichael, Bruce Myers and Yoshi Oïda — take on multiple roles; at one point, all of them women.  Which is probably the least absurd fragment of them all.
As we look up from our seats, the back wall is an expanse of black, with nine small rectangular red lights inserted along the top.  At the back of the stage, two huge white plastic bags tied at the top have been plopped on either side of the floor.  The rest of the set consists of two square black blocks, one with a violin lying across it.
In "Rough for Theatre I," a small older man, "A" (Oïda), dressed in white T-shirt and pants, picks up the violin, scratches a few discordant chords on it with the bow, and calls out to the unseen expanse: "A penny for a poor old man?"  "B" (Myers), astride the other box, propels himself over to A with the aid of a long wooden pole.  (In the original, B was in a wheelchair.)  They talk about the dreariness of their lives.
"Why don't you let yourself die?" B asks A, who keeps asking B to describe their surroundings for him.  "I'm not unhappy enough," A replies.  "If you ask me," B observes, "we were made for each other."  He dubs his new friend "Billy" because it was his son's name, and offers to guide him.  Billy is protective of his new friend, who asks him to cover his foot (most everything else is covered by the blanket he's drawn up around himself).  Billy once played a harp, he tells B, but his daughter made him sleep on the floor.  "Who do you think you are?" she told him.
It's not long before they begin to argue, and A starts taunting B, at last grabbing the dibbled man's pole and raising it threateningly over his head.  Lights out.
In "Rockaby," a pale young woman (Carmichael) in a somber, short black dress and long gray sweater rocks steadily back and forth on a four-legged chair chanting a repetitive, circular, Ophelia-like plainsong of quiet despair about her dead mother — and, as we come to understand, herself.  "In the end she went and sat by her window . . . going to and fro . . . Only windows, facing other windows. . . .  a little like herself, another living soul. . . .  Mother rocking . . . sat and rocked till the end came. . . ."
As originally written, the woman sits silently in the chair, listening to a recording of her voice through a loudspeaker.  But Brook found, as he told The Washington Post, "that the words have a deeper meaning if the actress is sitting there speaking the words as her thoughts."  Not having heard the original, we can only speculate.  What is certain is that Carmichael's muted intensity as she enacts the devastating silence of the woman's unrelieved loneliness cuts right to the bone.  In the large Eisenhower, filled almost to capacity, you could have heard a pin drop.
Swiftly switching gears, "Act Without Words II" had the audience erupting in laughter at its vaudevillian, silent-film silliness.  Here the white vinyl sacks take center stage as Myers and Oïda drag them forward and climb in and out of them, finding them perfect repositories for the single shirt, slacks and pair of shoes they will try on in turn.  Watching Oïda's puzzlement as he tries to figure out why the pants don't quite fit, then feels the zipper at the back and slowly, uncertainly moves his hand around to the front to make sure something else isn't in the wrong place, is a gem.  So, too, is Myers in his blissfully happy pants dance, jiggling like jell-O as he brushes both the suit and his teeth with a toothbrush he finds in one of the pockets.
"Neither," the added fragment, goes by so quickly I at first didn't realize it was a separate piece.  That is not to say it flies by without impact.  To the contrary, it almost made me want to jump out of my seat and cry out Faustus's fateful words:  "Remain!  Thou art beautiful."
The last piece, "Come and Go," is the childhood game of Gossip gone exquisitely bad, enacted by three elderly, hat-wearing women in rocking chairs and dressed in fiery concoctions of flaming red, orange and gold.  Each is so hilarious and outrageous, and yet oh so true to life as she concocts the most impossibly scandalous tidbit about the one who's left, the poignancy of the situation — and the thread running through this astutely constructed work — hits us like a brick at the end.  In the end, we are ridiculous, and we are alone.  But oh boy, Beckett seems to be saying, life can still be a kick — even if sometimes it's aimed at you.
Fragments
Texts by Samuel Beckett
Directed by Peter Brook and Marie Hélène Estienne
C.I.C.T./Théâtre des Bouffes du Nord  production presented at The Kennedy Center
Reviewed by Leslie Weisman
Recommended
Running time 1 hour, 10 minutes with no intermission
Other reviews: