Four companies share top production awards: Candide and Oklahoma! take top Musical Awards; Clybourne Park and Hamlet tie for Drama
Candide, the Shakespeare Theatre Company's first venture into musical theater (co-produced with the Goodman Theatre), and Oklahoma!, the first play to be staged at Arena's new Mead Center for the Performing Arts, shared top honors as the area's outstanding musicals.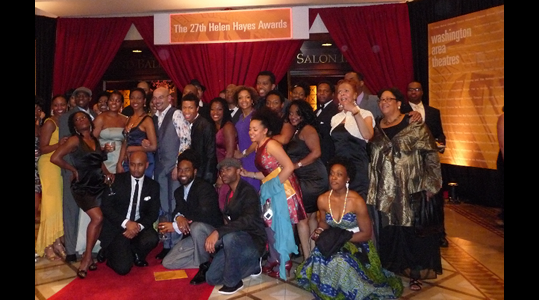 Candide won an Outstanding Director in a Resident Musical Award for the protean Mary Zimmerman, whose previous awards include a MacArthur "genius grant" for her eclectic, innovative approach to theater. Lauren Molina's portrayal of Cunegonde earned her an Outstanding Lead Actress in a Resident Musical award, and the redoubtable Hollis Resnick was honored as Outstanding Supporting Actress in a Resident Musical. Daniel Ostling also received the award for Outstanding Set Design in a Resident Production.
Oklahoma!'s Parker Esse was honored for Outstanding Choreography in a Resident Production, and George Fulginiti-Shakur earned an Outstanding Musical Direction in a Resident Production award.
Oklahoma!'s Nicholas Rodriguez (Curly) and Candide's Geoff Packard (Candide) shared the Award for Outstanding Lead Actor in a Resident Musical, and Oklahoma! and Candide were both Outstanding Resident Musicals.
The awards for drama were somewhat more evenly distributed. A new play, Woolly Mammoth's Clybourne Park, shared the prize for Outstanding Resident Play with the most memorable of the classics – Shakespeare's Hamlet, which had been given a vigorous production last spring at the Folger.  Clybourne Park playwright Bruce Norris thus adds a Helen Hayes Award to the Pulitzer Prize his work won last week; Mr. Shakespeare remains Pulitzerless.
For his work in the title role of the Folger production, Graham Hamilton received the Robert Prosky Award for Outstanding Lead Actor in a Resident Play as did Johnny Ramey, who portrayed a gifted, ambitious young man with a dangerous secret in Studio's Superior Donuts.
Erika Rose was named Outstanding Lead Actress in a Resident Play for her work in Theater J's In Darfur, in which she portrayed Hawa, a Darfuri woman desperately in need of protection against marauders. In her moving and eloquent acceptance speech, Rose described her role as one so powerful that she could play it "without thinking of myself at all" – an acting ideal. "It's not a date night show," she added with a sly wink to the audience.
Other resident-production performance awards went to Sunset Boulevard's Ed Dixon (Signature Theatre) as Outstanding Supporting Actor in a Musical, Richard II's Naomi Jacobson (Shakespeare Theatre) as Outstanding Supporting Actress in a Play, and Henry VIII's Louis Butelli (Folger Theatre) as Outstanding Supporting Actor in a Play – an award newly renamed for Helen Hayes' late son, actor James MacArthur.
Woolly's Artistic Director Howard Shalwitz (Clybourne Park) and Synetic's Paata Tsikurishvili (Othello), both took home the award for Outstanding Director of a Resident Play.
Othello also won an award as Outstanding Ensemble in a Resident Play. Signature's Sycamore Trees was named Outstanding Ensemble in a Resident Musical.
David Ives' translation and adaptation of The Liar (Shakespeare Theatre) won the Charles MacArthur award for Outstanding New Play or Musical.
Adventure Theatre's If You Give a Pig a Pancake was named Outstanding Production, Theatre for Young Audiences. It capped a good night for Artistic Director Michael Bobbitt, who also choreographed the evening's productions and introduced the nominees for Outstanding Sound Design – an award won by Tom Teasley for his work in Constellation's The Ramayana. This was the second year in a row that musician Teasley has captured the Sound Design for his live performance in a Constellation production.
Bobbitt's choreography was a critical element to the night's flawless, hostless production, which Jerry Whiddon directed, for which George Hummel provided musical direction back by a 14 piece orchestra with performances of paradies of show tunes featuring the witty lyrics of Renee Calarco.
The production team managed to fit twenty-seven awards into two and a half hours, and leave time for veteran song-and-dance man Tommy Tune to receive the Helen Hayes Tribute, sponsored by Jaylee Mead. Tune responded with a brief, graceful speech in which he recalled waiting in the Green Room to announce a Tony Award with Helen Hayes herself, and the enthusiasm they shared as they heard her husband's name, nominated for his writing work on The Front Page. It was the same enthusiasm, Tune averred, he felt that night.
Hayes' name was invoked frequently, and nowhere more vividly than in the unveiling of the Helen Hayes Forever stamp, which was given its inaugural issue by the U.S. Postal Service last night.  Forever stamps remain sufficient for first-class postage notwithstanding subsequent increases in postage costs.
Outstanding Lighting and Costume awards both went to Synetic Theatre: to Colin K. Bill for lighting  Synetic's The Master and Margarita and to Anastasia Rurikov Simes for her costumes for Othello.
Non-resident awards were received by Josh Lamon as Outstanding Supporting Performer for his multiple roles (including, most memorably, Margaret Mead) in the Kennedy Center's Hair, Outstanding Lead Actor Laurence Fishburne as Thurgood Marshall in Thurgood, at the Kennedy Center, and Outstanding Lead Actress Caroline Sheen, who played the title role in the Kennedy Center's Mary Poppins. None of these performers were able to personally receive their awards, though Hair's Steel Burkhardt, himself a nominee, accepted Lamon's award on his behalf. Thurgood was named Outstanding Non-Resident Production.
As previously announced, this year's John Aniello Award for Outstanding Emerging Theatre Company was also a dual presentation, received both by No Rules Theatre Company and by Factory 449: a theatre collective.
The Washington Post's Award for Innovative Leadership in the Theatre Community went to Ford's Theatre's "History on Foot" and "History on Stage" program. "History on Foot" is a walking tour which, using actors and other interactive tools, take visitors to the Washington, D.C. of Lincoln's time. "History on Stage" is a series of commissioned one act performances to bring elements of the Civil War to life.
Playwright Richard Hellenson, one of the award's acceptors, captured the essence of the artist's charge by recalling an overheard remark  the previous day at the Lincoln Memorial. As he gazed at the mammoth statue of our 16th President, he heard a young boy say to his father, 'Wow. Somebody had to carve all that.' Without missing a beat, his father replied. 'No. Somebody got to carve all that.'"
The evening ended with a somewhat cryptic announcement by Helen Hayes' Executive Director Linda Levy Grossman and Chair Victor Shargai that they had been working on "a play of [their] own" which would provide some significant benefits for area theaters. A spokesperson declined to elaborate further.
You may find a complete list of this year's Helen Hayes nominees and recipients on the Helen Hayes website.
Related: