How do you describe Jenny Jules' performance as Mama Nadi in Arena Stage's emotionally powerful production of Lynn Nottage's Ruined? These words immediately come to mind: fierce, compassionate, defiant, tough-as-nails, and passionate. DC area theatregoers are so fortunate that they have the opportunity to see this London actress in the role of Mama Nadi in Arena Stage's new production of Ruined. I can't remember when a performance has moved me as much as Jenny's did. I will never forget it.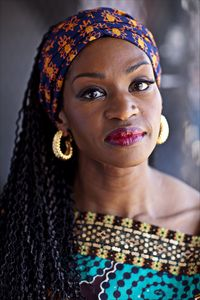 Joel: You played the role of Mama Nadi last year at London's Almeida Theatre. Why and how did you decide to tackle this difficult role again?
Jenny: I've no idea why I agreed to do this role again. I must be a mad woman. No seriously – I felt I hadn't quite finished with Mama or rather she hadn't quite finished with me and when Charles asked me to come to Washington I jumped at the chance to work with him and tell this story here in DC. Hopeful that policy makers could be in the audience any given night and then help bring about change in the DRC.
How does director Charles Randolph-Wright's approach to the play differ from Indhu Rubasingham's in London?
The extraordinary thing about Charles and Indhu is that they both approached the play in the same way. Their job as directors is to enable the actors to tell the most truthful story imaginable. To surround themselves with a very brilliant creative team who could bring Lynn and their visions of Ruined to life: musically, design and lighting wise. Also politically this is a story that must be told until the situation changes in DRC and the raping epidemic stops.
What do you think there is in this play that swayed the judges to award it the Pulitzer Prize?
This play is immense. When I read it I was still reeling from the power of the words and the images it conjured up a week later. For me this play is essentially about humanity from its most vulnerable and innocent form (a baby crying in Act 2 Scene 2) to its most evil and heinous: the actions of soldiers on civilians.
Art should reflect the world we live in. It should hold a mirror up to our lives and enable us to understand our culture. This play deals with so many issues – war, sexual violence against women, survival, love, denial, and tribal hatred. The story is interwoven with songs and there is live music played throughout. One would think that for such heartbreaking material this play should be a downer. However, Ruined is told with so much care and humour and without judgment on its characters' actions that it leaves the audience overawed by its sheer magnitude and brilliance. A no-brainer for such a prestigious and fantastic prize.
Were you aware of the Second Congo War before the play?
I was not aware of the war in DRC when I read this play. I was shocked and horrified that hundreds of thousands of women were being raped as a weapon of war in this conflict and even more perplexed that it was not being discussed in the international press.
If one woman is raped in The West and she reports it to the authorities the press put it on the front pages of our Western newspapers. This is hundreds of thousands being gang raped and mutilated and I'd read nothing.
How did you prepare to play Mama Nadi?
Preparing to play Mama Nadi was difficult. For me the best thing in the world was having Lynn present every day at our London rehearsals. She and Indhu helped me to create this very complex character by filling in background details and timelines and giving me golden nuggets in order to help me navigate the treacherous minefield that is Mama Nadi.
Ruined is being presented here for the first time in the Fichandler – in the round. Other than that, how is the Arena Stage production different?
Charles Randolph-Wright is a kind of genius because in theory this play shouldn't work in the round but it absolutely does. The play never loses its intimacy. It is difficult when you are surrounded by audience on all sides because as actors you are so aware of people moving around the auditorium, latecomers finding their seats. Ushers moving around it can be very distracting. We have to keep our focus and remain in the story.  From our first day of rehearsal Charles worked us hard and made us focus on the story we were telling, and this has allowed every one of us to trust and listen and stay in the Congo.
Tell us about working with the members of the cast, especially Jeremiah W. Birkett (Christian), Donnetta Lavinia Grays (Salima), Jamairais Malone (Josephine), and Rachael Homes (Sophie).
I am having a ball. I share the stage each night with beautiful, talented actors and musicians. Jeremiah is a fabulous Christian and I love working opposite him. My women are a delight – Donnetta, Jamairais and Rachael. We are very good friends and have an excellent working relationship.
All the cast members are exceptional. Babs, Clifton, Segun, Jude and JJ play terrifying soldiers and Psalm and Jaben are heartbreaking as Fortune (Salima's husband) and Simon. I adore Helen Hayes winner Lawrence Redmond who plays a Lebanese diamond and minerals dealer and we have four musicians playing fantastic live music and who are also involved in the action: Mongezi, Waldo, Ssuuna and David. Also we have six students from University of Maryland – Anastasia, Tinya, Hectorlyne, David, Tony and Jamar – who are the next generation of actors and as a company we are trying to give them a strong professional experience.
There are so many emotionally charged scenes in Ruined? What is the most difficult scene for you to play?
The most difficult scene for me is to listen to Salima's story.
This is such an energetic role. Anything special you are doing to help you keep up your energy?
Yes I have to eat too many carbs to get through matinee days.
What has your experience been working at the Mead Center?
I have had an excellent time working at Arena Stage. The staff has been very supportive and friendly. The stage management team of Kurt, Jenna, and Alex are exemplary.
We learned about Tricycle Theatre when The Great Game came to town. Tell us about working with them.
I have been connected to the Tricycle Theatre for my whole professional life. I got my first break there because I came out of the Tricycle's youth theatre program. The Artistic Director Nicolas Kent is my mentor and godfather who has guided my career for over a decade. If you saw the Great Game then you know what a centre of excellence the Tricycle Theatre is. I am also a member of the Board of Directors.
What do you want audiences to take with them after leaving the Fichandler after seeing Ruined?
When the audiences leave the Fichandler after seeing Ruined I want them to ask themselves, "HOW CAN THIS BE HAPPENING IN 2011" and "WHAT CAN I DO TO MAKE IT STOP? HOW CAN I HELP?"
The Arena Stage production of Ruined plays through June 5, 2011 in The Fichandler at the Mead Center for American Theater.
Details here.
Buy tickets.
Thanks to Lorraine Treanor for her assistance in this article.
Related:
Debbie Jackson's review on DCTS.
Watch a multi-part documentary on the creation of Arena Stage's production of the Pulitzer Prize-winning play Ruined by Lynn Nottage.