The theatre continues to dispense its magic in mysterious ways. Before visiting the current Broadway revival of Larry Kramer's The Normal Heart, I'd thought of it as an old warhorse of a tract against the inertia on the part of government when the AIDS epidemic first reared its head in 1980. I remembered it as a loud howl of rage on its author's part, a piece of agitprop theatre of protest, in the manner of its predecessors, plays like Bury the Dead, The Cradle Will Rock, Native Son and Waiting For Lefty which dealt with demand for reform in the 1930s and 1940s. It smacked too of the Living Newspaper plays presented by the Federal Theatre during the depression years, plays like One Third of a Nation. To my surprise and astonishment, I learned that Heart is more than this. It is a play of great emotional power that has not only stood the test of time, but Kramer's long-sustained and continuing anger is totally relevant today, thirty years after it exploded onstage for the first time just as the insidious disease known as Acquired Immune Deficiency Syndrome was discovering its acronym, AIDS.
Written in two blistering acts, the play centers around Ned Weeks, stand-in for Kramer himself, a writer who cannot believe that the quickly mounting death toll from an undiagnosable disease does not inspire immediate and monumental support from the cities in which it seems to be most prevalent, that it is virtually ignored by the President of the United States as well as by the Congress, that men in quickly escalating numbers are being allowed to die without any leadership coming forth to attempt to stop the disease in its tracks.
It tells of Weeks' seemingly one-handed but two fisted work in establishing ACT UP, a non-profit organization trying to do what government was not doing. By dramatizing his theme, populating it with Weeks' brother, a dedicated doctor, his associates and eventually with the one man with whom he's ever been able to fall in love, he has written a play that excites, angers and moves us.
Of course, to do all that he must have a first rate production and a cast to match it. Under the original direction of Joel Grey (who once played Ned Weeks himself), and the followup work of George C. Wolfe, a first rate cast has been assembled and, perhaps because of a sense of dedication and commitment, has achieved a masterful blending of talents into a cohesive and totally effective ensemble.
Someone very wise asked Joe Mantello to return to the acting side of the footlights in the central role of Ned Weeks. Mantello began his career as a fine actor (Angels in America and The Baltimore Waltz), but in the past years has turned to directing with great success. His work in this is astounding; he's made the easily annoyingly abrasive Weeks into a true hero, a man whose dedication inspires us, whose pain reaches us and forces us to pay attention to its roots. There is no compromise in this performance. Mantello puts it out there; the relentless pursuit of answers and action from an apathetic government and even from the gay community, the one suffering most from the epidemic.
That the disease continues rampant today in the world only makes the play more effective and necessary all these years after it first poured from Kramer's hand.
John Benjamin Hickey is equally beautiful as "Felix", the one man who's ever gotten through romantically to the Ned who has little self love in him. Lee Pace as a very different sort of gay man, one who would rather work with the establishment than confront it, is equally effective. Ellen Barken as a polio victim who has dedicated her life to helping those who are relentlessly being mowed down is giving another powerhouse performance. Her second act monologue is a well orchestrated scream and it brings down the house as effectively as does Mme. Rose's in Gypsy and she does it without benefit of an orchestra, no mean achievement. Mark Harelik plays Ned's straight brother Ben, and makes believable his withdrawal from support, though he loves his brother and wishes he could bring equal passion to Ned's cause.
This must have been one project to which all actors wanted to be attached, for with a cast of 12 and many suggested settings (all designed most economically and efficiently by David Rockwell and David Weiner) there can't have been a great deal of money to spread around.
I noticed that Luke Macfarlane, who has played "Scotty" with considerable personal success on "Brothers and Sisters" these past several seasons, has agreed to play two very small roles, one in each act, without worrying whether or not this was a "career move". Jim Parsons, new to me but a winner of the Golden Globe, an Emmy and other accolades for his work on "The Big Bang Theory", plays a young gay man with great flamboyance but more astonishingly with great courage and conviction, turning his character into a fully rounded and very admirable human being . Each of the actors are in peak form, and together they deliver this powerful and relevant play to what must have been its author's total satisfaction.
The lovely part of it all is that Mr. Kramer, at 76, is alive and very much aware of the great success his master work is having. If you're lucky you might find him among other helpmates handing out flyers on the street as theatergoers leave the play, reminding them the battle against AIDS is far from over.
The Normal Heart runs thru July 10, 2011 at the John Golden Theatre, 252 W. 45th St, NYC.
Buy tickets.
———–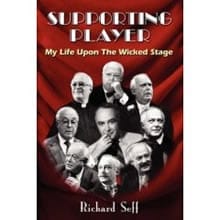 Broadway performer, agent, writer, and now librettist, among his many accomplishments, Richard Seff has written the book for Shine! The Horatio Alger Musical!, which debuted at the 2010 New York Musical Theatre Festival.
He is also author of Supporting Player: My Life Upon the Wicked Stagecelebrating his lifetime on stage and behind the scenes, available through online booksellers, including Amazon.com.
Richard Seff chats with Joel Markowitz: