Back by popular demand, the DC Hip-Hop Theater Festival celebrates its 10th anniversary by returning to Washington, D.C. with free and low cost events centered on hip-hop in the form of theatre, dance, art and music will be featured.  Beginning July 11 and continuing through July 16, and with historical venues such as The Kennedy Center Millennium Stage and Arena Stage serving as the backdrop, reservations will go quickly.
The Hip-Hop Theater Festival was founded 11 years ago in New York City.  It began with the production of a show entitled Surface Transit, the work of Tony award winning actress Sarah Jones.  Surface Transit, Baltimore born Jones' solo project, was taking place in a Brooklyn theatre one summer that afforded more space than needed for that show alone, so the quick thinking producers decided to invite more friends to the venue to perform and ultimately ended up calling it a festival and the Hip-Hop Theater Festival (HHTF) was born.
The event ended up being so well received that they decided to keep it going not only in New York every year but to send tours to Washington, D.C., San Francisco, and Chicago.
The realization that the HHTF had the potential to grow was always present in the back of the minds of its founding partners Kamilah Forbes, Clyde Valentin, and Danny Hoch.  They understood that the artist community was in need of a place where it could grow and present work to the public and that the work had a need to be edgy, and to push boundaries.  Speaking to the success of the event, Forbes says that though the festival itself has been a trial and error experience it has not veered too far off course from the original concept.
They also began to take notice of how the audience reacted and how the artists kept coming back each year to quench their creative thirst; that is when the light bulb went off, that ok maybe this is something larger than first thought .
In addition, artists showcased by HHTF began to get wider acclaim.  Surface Transit went on to be featured on Broadway garnering Sarah Jones critical acclaim and numerous nominations.  Festival writers Kristoffer Diaz and Eisa Davis have both been nominated for the Pulitzer Prize.  Diaz was also nominated for a 2011 Obie award as well.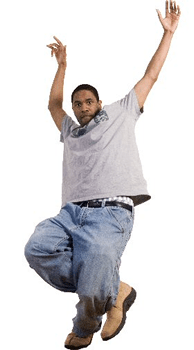 Psalmayene 24, another artist with the group, has received commissions all over the country as a playwright and performer.  He has appeared several times in DC and was just seen in Ruined at Arena Stage.  Marc Bamuthi Joseph received rave reviews when he performed his solo piece the break/s here  and has gone on to be a USA Rockefeller Fellow.   Many of the artists that come through the festival have gone on to do amazing things both nationally and internationally.
Theatre as an art form never really lost its fervor in major cities like D.C., Chicago and its mecca New York City.  Tourists flock to the bright lights of Broadway, otherwise known as the "Great White Way".  For the youth that represent a diverse ethnic background however, sitting quietly in a theatre quickly loses out to the quick pace of the technologically advanced society we live in.  Recognizing this, The Hip-Hop Theatre Festival incorporates events that speak specifically to a younger audience.
With hip-hop being the philosophy at the core of everything the group does, the cultural and generational integration and educational aspect is ever present and never an afterthought.  Hip-hop can reach the youth in a way that schooling sometimes can't; the education and breadth of learning that can be garnered from arts programs is priceless in the lives of younger generations.  This year, Words, Beats and Life in collaboration with All Ways Rocking and Lions of Zion in association with HHTF will present The Freshest of All Time.  Described as a celebration of one of the foundations of hip-hop – the Battle, The Freshest of All Time was attended by over 800 adults and teens in 2010.
Future plans for the festival include more sit-down productions that last longer than just the festival itself.
The Hip-Hop Theater Festival performs in DC from July 11-16, 2011 with events geared to reach and entertain a myriad of theatre goers.  Visit http://www.hhtf.org/hhtfdc/ for the complete lineup.
If any artist would like to get involved either by volunteering or showcasing his/her work visit the website at http://www.hhtf.org/ and submitting your work and/or inviting the producers to a showcase.  Internships are also available.  Those in the community at large who want to support the festival and those involved can continue to rally with other local arts organizations and to speak up for those programs that do have a positive impact on youth and can bring low to no cost productions to local areas.
Marc Bamuthi Joseph returns with his new piece Word Becomes Flesh Friday and Saturday, July 15 and 16 at 8pm, at Dance Place, 3225 8th St NE, Washington, DC.
Details and Tickets