Augustine is a fuzzy blue lobster. Stolen from his home and plunged into the strange, musical, underwater world of Pascal's Aquarium, Augustine has a lot on his plate. Squealing shrimp, a sassy seahorse, and a salty old catfish are some of the creatures that live in the decorative aquarium at Pascal's restaurant, and they are more than willing to help Augustine deal with the problems of being blue, furry, kidnapped, lonely in love, and possibly tomorrow's dinner.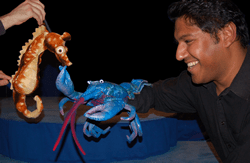 Pascal's Aquarium is an unexpectedly fun little puppet musical; it stays away from the oft-imitated Avenue Q style of shock puppetry, but still manages to appeal to adult audiences with its twisted "Finding Nemo"-like concept and dark humor.
The show's beautifully written and well sung-ballads manage to forward both the plot and the emotional impact of the play. However, the up-tempo numbers fall a little short; while most are very funny, they lack that elusive foot-tapping catchiness that all truly great musical numbers need ("Junky Turtle", a song about, well, a junky turtle, gets very, very close, but doesn't quite hit the mark).
The supporting characters are one of the highlights of this show: Gil, the lisping piranha (Cheryl Fanene Lane), Jean-Christian the pushy French shrimp (Joey Ibanez); and the herd of squeaky, jewel-eyed shrimp (Vanessa Strickland) are hilarious. But my favorite character, by far, was Le'nard the Narrating Catfish (voiced by Neil McFadden); if anything, Le'nard was underused.
This is a rare occurrence in the theater, but, at 60 minutes, I felt the show was not quite long enough. The many characters could have been put to greater use, and a little more length and clarity to Augustine's arc would have given the end (Spoiler Alert: Someone gets eaten) a greater emotional impact.
Pascal's Aquarium is, above all, really fun. The puppets are beautifully made and put to good use by the actors, the songs are very good (if not sheer perfection), and there are several laugh-out-loud moments. While it's not for everyone, if you are in the market for a musical puppet comedy about fish, this one is close to perfect.
A warning to parents: for all the good natured fishy fun in this musical, some of those fish use some strong language, better leave the kids at home for this one.
[Note: The puppets were built by puppeteer Eric Brooks of The Puppet Company of Glen Echo, MD]
Pascal's Aquarium has 4 more performances at The Mountain – Mt. Vernon Church, 900 Massachusetts Ave, NW, Washington, DC.
Tickets