If you like Fringe shows that are off-the-wall, crazy, and involve embarrassing audience participation, Assembly Required: Comedy A to Y is the right show for you!  Seen in last year's Fringe in the very funny Assembly Required: How to Write, Produce, and Stage a Musical – the Musical, Brian Sutow and Joshua Morgan (of No Rules Theatre Co) are back with their latest installment.  For adult audiences only, this show is high energy and super silly from start to finish!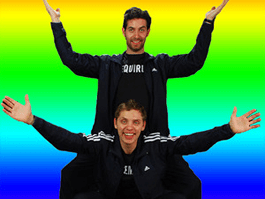 Sutow and Morgan, aka Rob and Flick, open the show by exploding into the theater, frisking various audience members in their seats and then jumping onto the stage like motivational speakers who just polished off an entire case of Red Bull.  And that is just the first three minutes!  Dressed in matching black track suits, they run around the stage and the theater, heckle the audience (especially late comers and the hot guys), and generally make asses of themselves while they attempt to teach the audience the fundamentals of comedy.  They also sing and dance occasionally.  Particularly funny is the "Practical Joke Song."  Their voices, while not great, do a good job with these pretty bad but funny songs.
Their educational "lecture" is built around teaching some core comedy concepts like physical comedy, joke telling and comedy techniques.  Since their goal here is to be funny themselves, they frequently offer hilarious demonstrations of the techniques like "slap stick" and "kick in the balls," which made the audience roar.   I particularly enjoyed the illustrations of the "double-take," and the "spit-take" (warning: if you are in the front row you might get a little wet!).
And of course it would not be a wacky comedy show without a discussion of "vomit and other cheap gags."  So be prepared for an in-depth discussion of the merits of using poop, pee pee, farts, and a few others I would rather not mention!  The audience could not contain their laughter.  I have to commend Sutow for his ability to maintain a straight face during many of these uncomfortably entertaining moments.
The show ends on a slightly strange note.  I will not give it away but I will share that a lot of clothing is removed and some jiggly parts become uncomfortably visible.  I was squirming in my seat and trying not to cover my eyes, while laughing uncontrollably. I have to hand it to these two zany and charming performers…they are comfortable in their own skin!
Sutow and Morgan are super talented, high energy and very funny performers who are having a great time together in this show.  The show has many highly inappropriate moments that you will laugh at and a few that you may not.  You may even learn a little bit about comedy along the way.
Assembly Required: Comedy A to Y has 3 additional performances at The Mountain at Mount Vernon United Methodist Church, 900 Massachusetts Ave., NW, Washington, DC.
Tickets
Ross rates this a 4 out of a possible 5.
Click here for more Fringe reviews