Grubargs, an Eh, and a Berganoff, oh my! Unveiling a sequence of fairy tales peppered with the whimsical vernacular of Dr. Seuss, The Foo Fah Show celebrated the bare bones of the theatrical experience, where grandeur technical elements are replaced by human foley noises, a large Post-it pad covered in Crayola marker, and ultimately, the power of the imagination.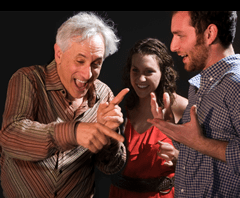 From the moment he appears on stage, performer and writer Marc Spiegel takes the audience through a series of fantastical vignettes and further engages them in the stories by making them part of the process. With the point of his "magic finger," he assigns a variety of onomonopias to the audience in groups, beckoning them to make these irreverent noises as the stories unfold. The audience interaction works in his favor, for the most part, setting the tone of general silliness and generating eagerness for what the next "sound" will be, yet consequently forces the audience to focus too heavily on the next cue as opposed to the plot, characters, and how one story connects to the other beyond the umbrella of the title (if at all).
Spiegel's got a knack for owning the Foo Fah world through his performance, transitioning in and out of characters pretty seamlessly and reeling off riddles as if they're part of his everyday speech. However, he  seemed uncomfortable during the improvisational moments when assigning the audience members sounds, awkwardly chastising them if they didn't own up to their involvement in the show with the same level of passion and talent that he possessed. It left a weird taste in my mouth, wondering if more encouragement from Spiegel for all of their creations would have given the audience interaction the extra dose of communal support it needed.
Thankfully, accompanist Kevin Alexander seemed to compensate in this department, complementing moments when Spiegel took a sip of water in between stories with an unexpected harmony from his keyboard, percussion instruments, or kazoo, making the audience smile every time. You rarely knew when he would come in with a zany musical underscore, which deterred from Spiegel's somewhat repetitive form that, while clever in theory, became a bit of a broken record when executed.
All in all, it's hard to determine whether The Foo Fah Show is better served as an extended theater game for children and families or if it actually engages adult audiences as a late night experience. Sadly, I attended the latter and suspect that the alternative would have been the right niche for the piece.
The Foo Fah Show has 3 more performances at Spooky Universe – Universal National Memorial Church, 1810 16th Street NW, Washington, DC.
Tickets
Amrita rates this 3 out of 5
Click here for more Fringe reviews