Abbott & Costello.  Martin & Lewis.  Now, add to the list of great comedy teams "Darwin and Squirrel."  That's Darwin as in Charles Darwin, the nineteenth century father of evolutionary theory, and Squirrel as in an American grey squirrel.  Squirrel, or The Original of a Species is an original new work from the imaginative pen of Michael Merino based solely on the amusing dialogue between the two of them.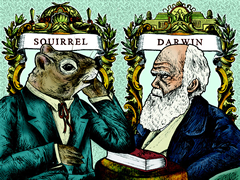 The play ostensibly takes place in Down House, Kent countryside, England from 1836 to 1858, The production, however, is a set of short skits that leap about in time and setting at the author's whim and can include some funny anachronisms (Darwin's curriculum vitae includes the fact that he as seen all of the "Planet of the Apes" movies back-to-back).
The play is loosely organized chronologically starting from Darwin's time as an uncertain college graduate in search of a career through his famous voyage on the H.M.S. Beagle to his later days finally putting together his theories when spurred by a letter from a fellow scientist.  The scenes are also organized conceptually with scenes based upon Erik Erikson's stages of psychosocial development (e.g., "Love:  Intimacy vs. Isolation").
The work's greatest strength is the terrific comic rapport of the two actors.  Darwin (Ian LeValley) is a slightly stuffy educated English chap who more often plays the straight man, while Squirrel (Carlos Bustamante) is the more adventurous and inquisitive comedian.
Their characters are supported by the wit and humor of the dialogue.  ("How do you want to die?"  "Curious or premeditation?").  In addition, director Kerri Rambow expertly helps the two actors make very creative use of the black box stage .
Many parts of the story actually do require Bustamante to be a squirrel, and he brings the creature to life with only a grey hat with ear flaps and his own inspired movements.  Squirrel, in addition to being a great poker player (it's hard to tell when a squirrel is bluffing), is also the one who occasionally hands out nuts, wears religious garb, and engages in texting.  It's a full role.
Yet even if Bustamante and LeValley were playing ordinary characters, you sense that they would still be entertaining.  Their ability to define their characters and play off each other is so superior that it really does bring to mind outstanding comedy teams.
The one weakness that holds the work back is how disparate and unrelated many of the skits are.  The work is based upon short segments originally written as podcasts, and the effort to shape it into a more cohesive form appears to be a work in progress.
Nonetheless, Squirrel, or The Origins of a Species is both well-written and well-acted.  The individual bits of humor or the funny lines may stay with you.  Following the performance, I am still haunted by the question "Is there such a thing as a rhetorical answer?"
Squirrel, or The Origins of a Species has 3 more performances in Redrum – Fort Fringe, 607 New York Avenue NW, Washington, DC.
Tickets
Steve rates this a 4 out of a possible 5.
Click here for more Fringe reviews