Those unfamiliar with the premise of Gilbert and Sullivan's Patience can imagine a smaller scale "High School Musical" production that takes place in England during the Victorian age. Complete with a fickle gang of boy-crazy mean girls, young love, love triangles and comically impressive young men in uniform who spend all their time strutting to impress their wayward girlfriends, it would remind anyone of their own melodramatic high school.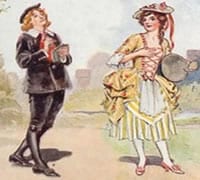 Greeting us sullenly as the lights come up is Chorus of Rapturous Maidens, sighing and moaning over the effeminate, aesthetic poet, Reginald Bunthorne. Bunthorne, however, has set his eyes on Patience, an ordinary milkmaid. Patience longs for the life- hanging experience of loving her childhood sweetheart, Archibald Grosvenor, who has since grown into a charming poet and borderline narcissist. In addition to these four is Lady Jane, the leader (or maybe just the tallest) of the maidens and certainly the most lovesick over Grosvenor. Last but not least is the Chorus of Officers of Dragoon Guards, the uniformed boyfriends of the Rapturous Maidens. What follows is a series of pairings, mis-pairings and re-pairings of lovers all to music culminating in a delightful finale where everyone ends up with their aesthetic equal.
Overall it was an entertaining production. The heightened language of the period makes this a more mature youth production that can definitely keep the audience's attention. The set made use of the space well with cherubs and vines and costumes where elaborate and accurate to the time period.
Congratulations to director Pamela Leighton-Bilik, who managed to fit all twenty-one performers on to stage at one time,for utilizing the house as a creative entry way for character introduction, and for the quick pace of the production. My kudos must also extend to Clive Woods the Music Director for his work in bringing the chorus together as well as he did.
The Gilbert and Sullivan Youth Company are devoted to providing performers of various ages and backgrounds with the opportunity to be part of a close knit ensemble. There exists only small problem that sometimes occur with youth productions. Young chorus members get distracted by the audience of family members and some performers seemed more focused on their costumes than on the number they were a part of.
However, with a degree of patience (no pun intended) and faith one is able to enjoy the really well done parts. The duet between Patience and Grosvenor, for example, is the best number in the show. There is never a missed note with Alissa Roca, the very talented actress who plays Patience and Grosvenor's player Michael S. Dunavant exudes charm and carries notes with ease. Coming in close second is the especially comedic duet between Lady Jane and Bunthorne. Lizzy Marmon, who plays Lady Jane, has found her niche in comedy and every scene she appears in is bettered because of her skilled timing and tonality.
Patience is by far the most amusing youth production I have seen in a long time.
Patience has closed.