Grease is one of those Broadway musicals that's been grown, shrunk, and re-shaped over time so that each version you see can be rather different from the last. The Olney Theatre's sprightly but not completely satisfying take on the show resembles more recent Broadway and London iterations, circa 2007, with perhaps a snip or two.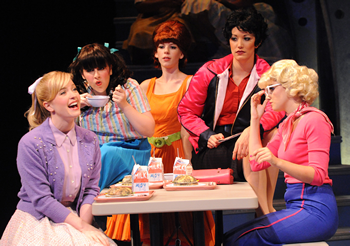 The original Grease, first staged in Chicago in 1971, was actually more of an R-rated docu-drama with music, with each song growing organically from almost self-contained scenes. Its episodic, dramatic action—not all fun and games—focused on the lives and hard times of this rough city's even rougher working class kids, the macho ones who were more interested in Brylcreem, fast girls, and V-8s than they were in high school or college.
This ur-version, with some adaptations overseen by Jim Jacobs, one of the two original writers, was recently revived in the city of its birth by the American Theater Company.
Not long after its debut, however, Grease was re-tooled, cleaned up, and trimmed down to become the Broadway and film hit that most audiences know and love today. The Olney production follows this safer trajectory, transforming our young Chicago toughs into a bunch of Fonzi clones with attitude. They're just quirky counterculture kids who just wanna have fun. While maybe being a little naughty on the side.
Grease revolves around the on-again, off-again relationship of good-girl Sandy Dumbrowski and bad-boy greaser clan-leader Danny Zuko. After much stürm und drang and a lot of singing and dancing, Sandy ultimately discovers that the path to true love is a makeover.
Although some critics are prone to sneer at Grease's music and faux menace, the show's songs are actually incredibly ingenious and inventive. Each one either mimics or parodies the various flavors of rock music that were in fashion in the 1950s without resorting to using the actual Top 40 hits.
Better yet, the songs, while a bit bubble-gummy, are memorable and fun, from the vigorous "Summer Nights" and "We Go Together" to novelty numbers like "Mooning," "Look at Me, I'm Sandra Dee," and, of course, "Hopelessly Devoted to You" and "You're the One That I Want."
In the Olney show, the evening's best moments are the ensemble dance numbers. The cast executes tight choral harmonies with marvelous precision, often in the process of executing choreographer Ilona Kessell's crisp, snappy dance moves.
And the cast really gives this show its all. The ensemble players are terrific, particularly Abby Hart as the impossibly perky cheerleader, Patty Simcox; Kyle Schliefer as the geeky Eugene Florczyk; Alan Wiggins as the irrepressible Doody; and Caroline Bowman as the smoldering and near tragic Betty Rizzo. Matthew Anderson also does a nice turn as obnoxious deejay Vince Fontaine.
Ultimately, though, this show revolves around the charisma of its two leads, and in this case, it's not firing on all cylinders. Jessica Lauren Ball (Sandy) and David Bryant Johnson (Danny) are clearly modeling their characters on Olivia Newton-John and John Travolta who played the pair in the popular 1978 film. Ball is almost a dead-ringer for the former, and plays her character to the hilt, with a crisp, warm, and passionate voice to boot.
But Johnson, alas, doesn't move the needle much on the romantic chemistry meter. He's supposed to be the leader of his gang but often comes off as a bumbler. Onstage, he's so socially inept when it comes to remaining a tough guy while serving as a believable romantic lead, that it saps Grease's already thin plotline of its last shred of credibility. Unlike Ball, he just didn't seem to have inhabited his character, at least as of Saturday's opening night performance. The song and dance skills were certainly there, particularly in "You're the One That I Want." But not much else seemed to click.
The production itself, designed by Robert Klingelhoefer, was economical but quite functional. The blue backdrop emulated the kind of cheap decorations we all remember from the high school prom, and the uncluttered stage gave the performers maximum room to strut their stuff during the dance ensembles. But the budget did make allowances for creating a really hot, fire-engine red convertible whose flashy appearances conjured up an era when V-8 muscle and cheap gas ruled both roads and fantasies alike.
Lighting was a little weird, most obviously in Act I where dancers at the stage apron disappeared into the gloom without rhyme or reason and during which spotlights seemed halfhearted in their attempts to highlight the soloists. Things were better in Act II.
Sound was good and as a result, the lyrics were generally quite intelligible. But the five piece band that accompanied the players was not quite adequate to the task. A rock ensemble, amplified as it is, doesn't need many players to get across. But a couple more guitars and a couple of additional saxes and/or horns would have perked things up with the Motown or Chicago-style punch that this ensemble lacked.
Olney's production of Grease is nice summer fun. The time will fly by and you'll appreciate the nice touches in this blast from the past. But the show would be a lot better if David Bryant Johnson could reach down and put a little more pep in his step. Jessica Lauren Ball is a pretty hot Sandy, and she could stand a lot more appreciation from her guy.
Grease runs thru Aug 28, 2011 at Olney Theatre Center,  2001 Olney-Sandy Spring Rd. Olney, MD
Details
Tickets 
Grease
by Jim Jacobs and Warren Casey
Directed by Bobby Smith
Music Direction by Aaron Broderick
Choreography by Ilona Kessell
Produced by Olney Theatre Center
Reviewed by Terry Ponick
Rating: Somewhat Recommended
Running time: Two hours and fifteen minutes including intermission.
Other reviews: