This import from the National Theatre in London, at the Beaumont Theatre in LincolnCenter, is more an experience than a play, and as such it's a hum-dinger.  As a play it is less than that, for stripped of its trappings, which are tremendous, it's more or less "Lassie Come Home" minus dog, plus horse.  I don't mean to belittle it, for it's a masterful piece of theatre and even at close to 3 hours in length it holds its audiences and gives them everything in the book — laughter, tears, thrills and a glimpse of a little known aspect of warfare as it was played out in the "war to end all wars", World War I.
Based on a young people's novel by Michael Morpurgo and adapted for the stage by Nick Stafford in association with the Handspring Puppet Company, under the masterful direction of Marianne Elliot and Tom Morris, an event of stupendous proportions has been fashioned from the simple tale of a teenage boy called Albert and the horse he has loved and cared for since its birth, one called "Joey", simply because of all the names suggested to the animal, that's the one he responded to.  So it is we come to know Joey is quite remarkable for, among other sterling qualities,  he has to be the first horse ever to name himself.
Albert Narracott ends up owning Joey by winning a bet that he can teach it to plow, and we marvel at watching him accomplish that. Backed by film images, a vast sound design that will include bombings and artillery fire when England enters the war with  Germany, lighting by Paule Constable that helps enormously throughout to establish mood,  and supported by superb performances, War Horse is a memorable and highly artistic achievement, and we are in debt to Lincoln Center Theatre for bringing it to us.
It's a mighty endeavor, with a cast of forty, and  the best use of puppets onstage ever.  The three men and women who manipulate Joey as a foal and as a mature animal, as well as those who do so for three other horses and a goose, are given proper billing as actors, for they manage to extract from their charges all sorts of nuanced expressions and sounds that cause them to breathe life, to involve us in their inner lives. It should be interesting to learn if the master Steven Spielberg can accomlish that with live animals in the film version he's releasing  this coming winter.
Seth Numrich, Julliard trained, plays Albert with tremendous force and his final moments with Joey will require use of at least one of  the four handkerchiefs I recommend you bring with you.
It is so refreshing to see a play dealing with the horrors of another time, if only to give us respite from the horrors of our own time, and to do it with such artistry and eloquence.  It's also encouraging to note that a vast general audience is discovering this play, which defies all the sages who claim that plays on Broadway must have film stars in them to attract profit-making audiences. There was not one seat or one dry eye in the house at the matinee I caught on the last day of July.
I hadn't reviewed this production earlier (it opened April 14) because I had covered the London production last year.  This one is just as fine as was that one, and I recommend you put it at the top of your list of Must Sees when next you visit New York.  With its revolving stages, elevated sets, very complicated settings, light and sound, it's not likely to tour, and it's a rare treat, one you'll remember and cherish.
War Horse continues at Lincoln Center Theater-Vivian Beaumont Theatre, 150 West 65th Street (Between Broadway and Amsterdam), NYC.
Tickets
———–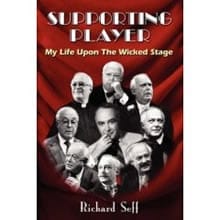 Broadway performer, agent, writer, and now librettist, among his many accomplishments, Richard Seff has written the book for Shine! The Horatio Alger Musical!, which debuted at the 2010 New York Musical Theatre Festival. He is also author of Supporting Player: My Life Upon the Wicked Stagecelebrating his lifetime on stage and behind the scenes, available through online booksellers, including Amazon.com.
Richard Seff chats with Joel Markowitz: