The pre-production version of Deborah Margolin's Imagining Madoff was largely composed of dialogue between the notorious criminal named in the title and the famous writer, holocaust survivor and philosopher, Nobel laureate Elie Wiesel. The choice was easy to justify: there is probably no one living more widely respected for his moral responsibility that Wiesel, whereas Madoff is a slimy crook. Plus, Madoff swindled Wiesel in real life, as he swindled thousands of others.  But there is another aspect of the two compared to each other worth noting: Wiesel is also fabulously lucid; one of the clearest thinkers on the planet, and his writings are models of the powerful use of language. Madoff, on the other hand, used the opaque grammar of the options trade business to obfuscate his intentions and to hide his criminal dealings. Margolin makes Madoff's nature clear in an early scene, in which Madoff describes how he fooled his mother as a child.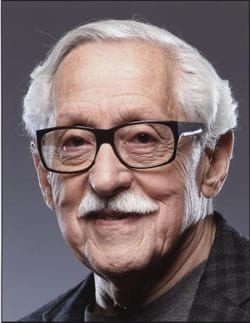 Wiesel, however, was – well, let's just say that he wasn't in love with being in Margolin's play. So Margolin recrafted the work, substituting a fictional character, Solomon Galkin, for Wiesel. While Galkin is unquestionably not Wiesel, he does have Wiesel's respect for the power of words, and for the value of clarity. He is, after all, a poet and a translator – as well as a holocaust survivor.
To play Galkin, Theater J turned to a well-known Chicago actor named Mike Nussbaum. Nussbaum is a busy man. He has recently finished a run as Ben, the curmudgeonly grandfather in Neil Simon's Broadway Bound, at Drury Lane Theatre in the Windy City. The Tribune's Chris Jones, described his performance as"…one of the most remarkable comedic performances I think I've ever seen. …[it was] underpinned by precisely the right blend of warm sentiment and unstinting sadness that this carefully toned play…demands."
That wasn't Nussbaum's first rodeo, either. He's been in films – including "Men in Black" and "Field of Dreams" but his primary business is on stage. He won a Joseph Jefferson Award – Chicago's equivalent of the Helen Hayes – for his performance as the Reverend Lionel Espy in David Hare's Racing Demon and received a Drama Desk nomination for his work in David Mamet's Glengarry Glen Ross. He does a lot of Mamet. He knows Mamet, and likes him. Nussbaum played Teach in American Buffalo. The first production of American Buffalo, actually.
I meet him after the day's rehearsal in the capacious lobby of the DC Jewish Community Center. He is a slight man – in the sense, say, that the fearsome welterweight Manny Pacquiao can be considered a slight man – with a brilliant white van Dyke and snowy flowing hair. He's – peppery is not quite the right word. He moves in a compact way, with an athlete's easy grace.   He doesn't work out with weights any more, he admits. But he still tries to walk four to five miles a day, in the good weather.
Mike Nussbaum is eighty-seven years old.
Well, all right, I suppose that a man of such a mighty age is still working regularly, and effectively, as an actor and is in excellent physical condition as well is rather remarkable. But it's not unique, and it's not the reason he's playing this role. Galkin, like most of the roles Nussbaum plays these days, is actually younger than the actor. There are few roles being written for actors about to embark on their tenth decade.
No, Nussbaum is an easy fit for this role because he understands the importance of words, and he treasures their correct and powerful use.
"I met Mamet first when he was a 14-year-old kid working backstage in a non-equity theater I was working at," he says. "[H]e was the gopher working backstage. Some years later I was doing a play by Dick Cusack, the parent of John Cusack. And David took a part in the play. And so we became friends again. And he was dreadful. Just a terrible actor. And I teased him about being a bad actor. And he came back to the theater the next day and he gave me a copy of The Duck Variations."
Nussbaum recognized good writing as easily as he recognized bad acting. "I thought it was brilliant," he says now. "It smelled of Beckett and of Pinter but it was original. I realized, and I told him, that he didn't have to be an actor. He was a great writer."
At the time he reviewed Mamet's script, Nussbaum was no tyro. He had been an Equity actor for years. He knew good work in part because he had gotten his card in one of the most dreadful productions ever – Norman Mailer's The Deer Park.
"Deer Park, [was] one of the worst plays I've ever been in." He laughs; the memory has lost some of its bite. "It was Paul Sills, of the Second City Theater Company, who was the founder and director of the theater. Some brilliant actors were in it. Byrne Piven and Tom Erhard and a whole bunch of other superb people. But the play – Mailer's play – was a very bad play. In fact, it was racist. The community at the University of Chicago was being picketed by African-Americans, because it displayed African-American women in a dreadful fashion, but that was Mailer."
The Deer Park had an unfortunate feature to it – a sort of countdown, which played to unhappy effect. Nussbaum recounts it:
"One of the flaws of the play was that it was a whole bunch of short vignettes. Sixty of them, in fact. And at the back of the stage was this large fluorescent sign. Starting at sixty, and going down to one. And the audience was so wrapped up in praying for one to happen," he laughs, "that we lost their attention early on."
So his professional debut was in a dreadful play, picketed by its neighbors, ridiculed by its few patrons. Was he discouraged?
"I was not discouraged by [the audience's] reaction, I was discouraged by the failure of the play. [The bad reaction was] justified," he says, shrugging his shoulders. "And there I was. I had my Equity card. Who knew what was going to happen?"
The Equity card was a long time coming. "I always wanted to be an actor," he says. "I acted in high school, I acted in camp, I did some radio work as a young person, Chicago was a big radio town in those days, so yes, that was my dream."
But, coming back from the war, recently married and newly introduced to fatherhood, he had to do some quick and hard-hearted calculations. "By then my wife had had a baby and I rethought the whole issue of being an actor. Coming out of the army, we wanted what was then the American dream. A wife, and children, and a home, and that kind of life – the dream Americans all had in those days – and I realized that, or I felt that, as an actor that would never be possible for me. So I decided to give up theater, professionally, and to go into business."
He became an exterminator.
He never regretted it. "It was, I believe, the right decision. It was a good marriage, a happy marriage…My brother-in-law and I began an exterminating business. We did all the work for a long time." In the evenings, done temporarily with rats and bats and insects, Nussbaum turned to community theater – what he calls "non-professional, high quality theater."
Nussbaum's exterminating business "finally became successful and we moved back into the office." Nussbaum had an opportunity to reach out into the professional theater world again. "I began to do a lot of commercials. A lot of industrial films.  Things of that nature." The work encouraged him. "It made me believe I could make a living as an actor, because salaries for actors are traditionally very small, and if one could make a decent living doing commercials, it would allow you to act. And that's what I did."
The gimlet-eyed realism that guided Nussbaum to first walk away from his acting dreams and then back to them also informs his approach to acting. He was the first Teach – or, if not really the first Teach, the Teach of American Buffalo's first production.
"There was a Teach before me who lasted for two weeks. They let him go, that guy. He was a good actor, but he was a drinker and a very aggressive, violent type." This, of course, sounds exactly like Teach. "That's why he was so good. And they couldn't get along with him, and they fired him. And they asked me to take the part."
In a cast which featured William H. Macy and the superb Chicago actor J.J. Johnston, Nussbaum was a bit of a neophyte. "They carried me along." Nussbaum says. "They were great. I'm still friends with both of them."
Nonetheless, forty years later, the man who first put Teach on the map has a very specific perspective on the iconic scary-guy character – one which might surprise some Mamet fans.
"Teach is…a schlub. His anger comes from several things. One is from his despair, being really down on his uppers. He has no money; he had to hock his watch in order to get the gun; JJ [Johnston] – who played [American Buffalo] for years with Pacino – told me that he always thought of my Teach as a mad poet. I was this short guy wearing cowboy boots, and I was as volatile as could be, but I was desperate… He's not a successful hard man. He's not that. He's pretending. When he hits the kid with the gun, that is unlike him."
Attempts to treat Teach as a hard man miss the point, Nussbaum says. He has particular disdain for the way Robert Duvall played him in a recent Broadway revival. "When I saw it on Broadway, Bobby Duval played it, and he was terrible," Nussbaum says. "He played it like a killer."
Nussbaum played him like a human. It's the approach he takes to every role – including his acclaimed performance as Shylock at Chicago Shakespeare Theatre in 2005. He sees the iconic figure – so dyspeptic in Mark Nelson's Shakespeare Theatre performance earlier this year – as a good man, whose claim for "a pound of flesh" against Antonio is meaningless trash-talking, until his daughter abandons him.
"To me, Shylock is a man who has accepted his life until his daughter betrays him. That's the incident that makes him go mad…I felt – here is a Jewish businessman, who has made a loan to the most successful businessman in town, and he's giving it to him without interest. And he pulls this thing – maybe subconsciously it's a violent thing – but he pulls it out as if it doesn't mean anything, that there's no way that it will happen, to reach that development. I see these images in the beginning of him walking by. He's unhappy with the way the Christians in the town treat him, particularly this man, but I don't think he wants to murder him, until his daughter leaves him, takes his money and changes religion." Nussbaum has Shylock say Kaddish – the Jewish ritual prayer for the dead – over his daughter to show us how profoundly her conversion has changed the stakes for Shylock, and for us.
We won't be able to evaluate Nussbaum's portrayal of Galkin, of course, until the production manifests itself tonight. But judging from the past, we can anticipate a shrewd, sympathetic, real-world interpretation, driven by a profound fealty to the text. Where does this fealty to the text originate?
Well, some texts are more important than others. Back during the war, before Nussbaum was an actor, or an exterminator, or a father, or anything, there was a message…well, let Nussbaum tell it.
"I was a Tech Sergeant attached to SHAEF, which is the acronym for Supreme Headquarters Allied Expeditionary Force…Around 1.30 or so in the morning or so I got the message – I was the message center chief and so I assigned myself the message, which said on this date General Jodl has signed the instrument of surrender at 0124 or something in the morning."
It was signed "Eisenhower."
Nussbaum profoundly understood the significance of the memorandum. It meant that the terror of Nazi Germany had turned to dust. As an American and a Jew, he knew that the Nazi surrender meant a restoration of the rational world.
As center chief, he exercised his authority to send the message on personally. But before he did, he – as protocol demanded – put his own identification on this page of world-historical significance.
"Nussbaum," it said.
Imagining Madoff runs thru Sept 25, 2011 at Theater J, 1529 16th St NW, Washington, DC.
Details
Tickets 
Related: