Once in a while all of the stars align to create a magical theatre event like MetroStage's production of John Patrick Shanley's Savage in Limbo.  The script, the cast, the direction, the performances, and the venue are all so perfectly in tune that the production inspires nothing but praise.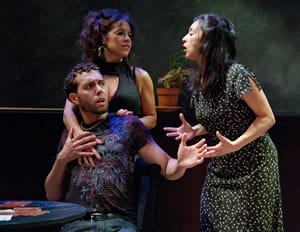 The title character of the play, Denise Savage (Natascia Diaz), visits a seedy bar one Monday night full of determination to break out of her own personal limbo.  Although 32 years old, she has yet to experience much of life, especially when it comes to sexual relationships.   That puts her in stark contrast with Linda Rotunda (Veronica del Cerro), a promiscuous acquaintance from high school days.  She's trying to cling to her boyfriend Tony Aronica (Michael Kevin Darnall), who has suddenly decided he wants to start dating "ugly girls."
Also among the denizens of the bar is April White (Jenna Sokolowski), another former classmate at St. Anthony's.  Her original career aspirations were as pure as her last name (become a nun and go to India).  Instead, she's become a slightly unbalanced alcoholic, making her a suitable companion for the businesslike and taciturn bartender Murk (Sasha Olinick).
John Patrick Shanley may be best known for his Oscar-winning screenplay for "Moonstruck."  Yet he is among the finest playwrights of his generation, as more recently demonstrated by Doubt, which earned him Tony and Pulitzer Awards.  Few people can write successfully for realistic characters in such a lyrical manner.   Shanley can be fiercely funny or brutally honest while still maintaining compassion for the lovable losers that populate many of his works.
Carolyn Griffin's casting of Savage in Limbo is insanely inspired, especially since so many choices are against type.  Who would picture the charismatic and outgoing Natascia Diaz as a dowdy loner?  How do you imagine Veronica del Cerro, so classy and optimistic in My Children! My Africa!, as the slutty and discouraged Linda?  What is there about Sasha Olinick's work as Mozart in Amadeus or other roles (other than consistent excellence) that would indicate he would be so perfect as Murk the bartender?  We now have an early frontrunner for the year's best cast.
The late film director John Frankenheimer once claimed that casting is 65% of directing.  That may be a stretch, but Lise Bruneau's contributions to the success of the production are also considerable.  Even though the writing of Savage in Limbo is exquisite, it is a challenging play to direct due to the some sudden shifts in tone, the need to manage both pointed exchanges and long solo runs, and the simple setting.  Yet Bruneau's direction is pitch perfect, fully realizing the wicked humor of the piece while letting the characters pour out their emotional difficulties.
The play develops a wonderfully offbeat romantic triangle between Denise, Linda, and Tony.  Without ruining any of the play's turns, Denise's burning desire to change her life prompts some novel offers to Tony.  Tony, a romantic player who just had his first tryst with an intellectual girl capable of discussing the former So-VI-et Union (funnier than you can imagine), is a potential kindred spirit to Denise because he's trying to decide if he wants more from a relationship than he's known with Linda.  Linda, who manages to plow forward despite the fact that "my life eats it", has a major bombshell to drop which could change the relationship she shares with Tony.  Natascia Diaz, Veronica del Cerro, Michael Kevin Darnall all nail these parts with bravura acting that makes it seem like these roles were written especially for them.
Though the roles of Murk and April are smaller by comparison, Sasha Olinick and Jenna Sokolowski are equally polished.  Olinick maximizes the comic opportunities of his role while also revealing a touching depth of compassion for April.  Sokolowski is similarly skilled in her comic timing and her ability to connect with the pathos of her role.
Savages in Limbo was originally produced in 1985 but the work hasn't aged a day, unlike this reviewer.  (Oh to be able to proclaim with urgency "I'm 32" once again.)  It is a timeless play about the human condition and whether we can commit to making meaningful changes in our lives or just talk a good game and remain in limbo.  Denise's appeal to the group that "We've got to break the sameness!" is one of the most heartfelt pleas in modern theatre.
John Patrick Shanley's Savage in Limbo pulls off the neat hat trick of offering resonant life observations, unexpected comic jolts, and cathartic personal connections.   It is a perfect play for an intimate venue like MetroStage.   You should definitely make the trek to visit the regulars in this bar before closing time.
Savage in Limbo runs thru Oct 16, 2011 at MetroStage, 1201 North Royal St, Alexandria, VA.
Details
Tickets 
Savage in Limbo
by John Patrick Shanley
Directed by Lise Bruneau
Produced by MetroStage
Reviewed by Steven McKnight
Running time:  1 hour 25 min with no intermission
Highly Recommended
Other reviews